Moderation.
Remember when I mentioned I had two holiday parties coming up that I knew I'd indulge in food and alcohol? The first one was on December 6th; it was Michael's work holiday party. It was held at Union Pine, a very cool event space, was catered with Hawaiian BBQ and there was a full bar. Michael's company told everyone to take a cab to the event and expense it to them–sweet!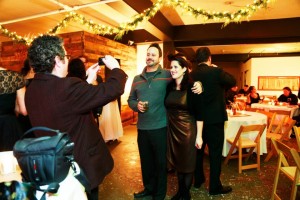 Is this room spinning or is it just me?
Yeah….so that moderation thing? I didn't do so well at the first party! I ended up drinking 4 Ketel One Lemon Drops that evening–twice the amount I normally drink ever. And I'd been taking a break from drinking for about 3 weeks leading up to the party.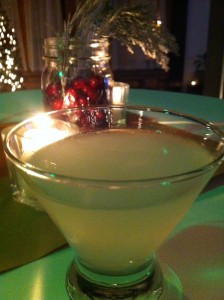 I definitely drank too much (probably 500 calories worth) BUT I didn't overeat. It was a buffet and the chances of overeating were strong, but I didn't. I was so busy socializing, meeting people, dancing and talking that I didn't eat much.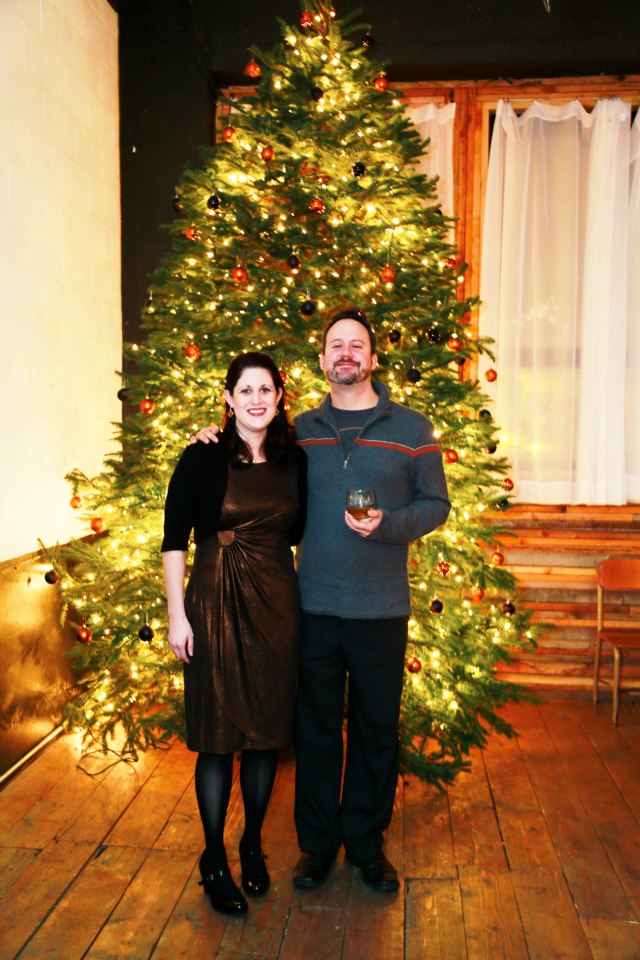 The liquid calories were definitely more than I planned on having and I only sort of regretted it the next morning (luckily the hangover wasn't too bad). (On a completely unrelated note, I wish I didn't look so pale in every photograph that is taken of me. I think the flash washes out my already ghostly skin tone. Any tips on that??)
Creatives sure know how to party. It was a really fun event and I am so glad that Michael got a fantastic job at such a cool company.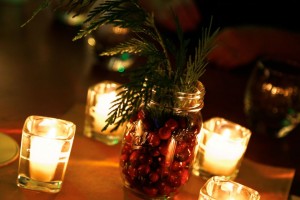 The second party I was worried about was my family Christmas party. There is always so so much amazing food, it's hard not to indulge. My family is full of good cooks. My uncle Pete (seen below) is the king of the grill. He did a prime rib and pork chops on the grill for the party (massive amounts of meat). The meat was cooked perfectly, juicy and flavorful from the smoker. I had 1 piece of of the prime rib and wanted a ton more but I was too full from everything.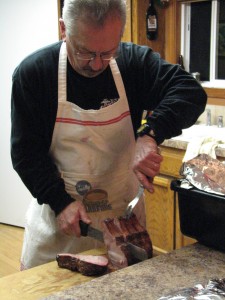 We'd all been snacking all afternoon on veggies and dip, crackers and cheese, fruit, deviled eggs, nuts and I did too. I managed to pace myself and eat only little bites instead of gorging myself. Dinner was the meat, a potato casserole, several choices of salads, crusty french bread and of course…mac n' cheese!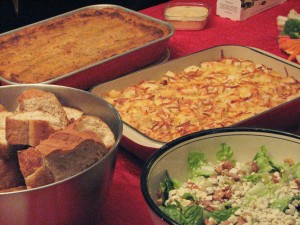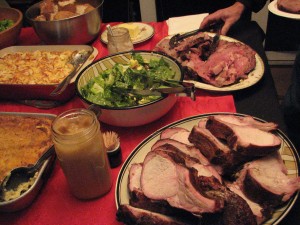 Michael made is famous mac n' cheese because I don't think we would have been let in the door had we shown up empty handed. His mac is requested at every event we take it to. My aunt requested it specifically. He made a double batch because last time not everyone got a chance to try it. Look at how good it looks: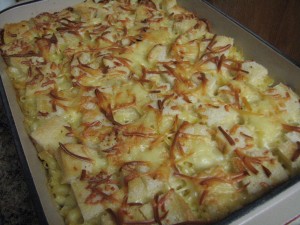 The wine was flowing, lots of Cabernet sauvignon and California reds. There was tons of other alcohol , including eggnog, but I limited myself to two glasses of wine–unlike the other  party.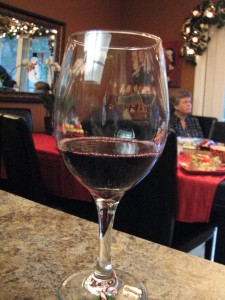 Almost everyone was there, just a few family members were missing, like my brother. I had family come to Oregon from Wyoming, California, Texas, Florida, and Washington. My grandma celebrated her 91st birthday the day before the party. Look at how beautiful she looks: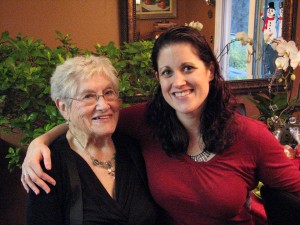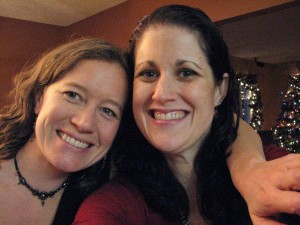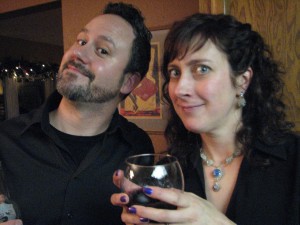 And of course, the family was visited by Santa Claus! (Whom is really my aunt's actor friend who kindly does it every year for the kids.) Santa sang Christmas carols with the little kids and might have gotten a little fresh with Grandma. 🙂 It was all good fun. After Santa we did the white elephant gift exchange and it got very loud and rowdy.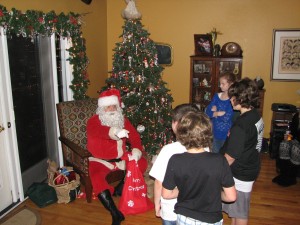 Here is one of Michael and I: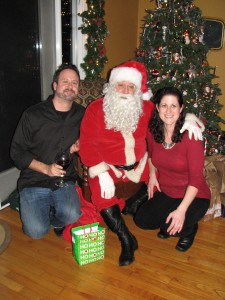 Despite a few slip ups, I am still doing really well on my holiday plan to limit alcohol and sugar. I'll be stepping on the scale this week and crossing my fingers the moderation has paid off.
QUESTION: Do you have a lot of holiday parties to attend this time of year? What's harder—food or liquid calories?