I was a little apprehensive about the 4th of July this year. I was worried about how Bella would deal with the fireworks. Our street kind of shuts down and the neighbor puts on quite a show. We all get together, have a kind of impromptu potluck, Michael and I invite friends over…In the past when I just had the kitties, I'd check on them periodically throughout the evening when the fireworks started, they were clearly disturbed by the loud noises but didn't seem too freaked out.
But Bella? I knew she'd be freaked out. She got pretty agitated in a thunder storm we had in the winter–not too bad but agitated enough. And the fireworks show was going to be right in front of our house essentially.
I looked online to find some tips on how to take care of pets during the fireworks show and I also talked to our dog walker. She had some great tips. She suggested Rescue Remedy, to put a few drops in Bella's water, as it's a natural relaxer. She said to turn on all the TVs and radios to try and drown out the noise. She said Benadryl can be good too. Bella already takes Benadryl on occasion when her allergies start flaring up (per her vet) so I planned on doing that too.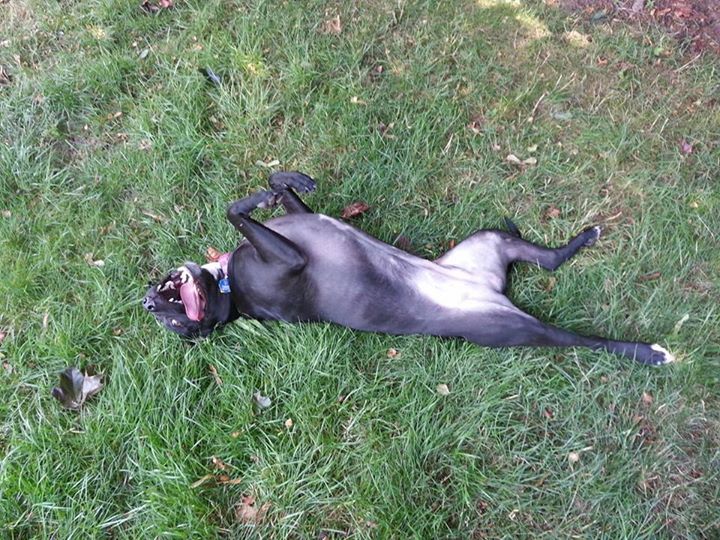 My poor baby. 🙁 I guess it's pretty common for pets to run away on the 4th of July because they are scared and somehow get outside and run off. We were having friends over for a BBQ and the fireworks so I put the cats in a room with the litterbox, food and water and shut the door just to be sure they couldn't get out.
We had 7 people over for a BBQ. Bella was outside with us all working on her social skills! There were a lot of people over and that made Bella a little freaked out but once she got treats and pets and they threw the ball for her she was good. Michael grilled up hot dogs and one friend brought a delicious baked bean dish, another brought a Moroccan sweet potato salad and there was also an amazing potato salad (it was so good!). Everything tasted great. I made a quinoa salad that turned out well, too:
[amd-zlrecipe-recipe:110]
I didn't have parsley so added some chopped green onion and I really liked that addition. I think chopped celery would be really nice in this salad, too. When I make it again I'd probably skip making the carrots into ribbons and just chop them into small pieces. That would be easier to eat. (The quinoa salad was even better the next day for lunch.)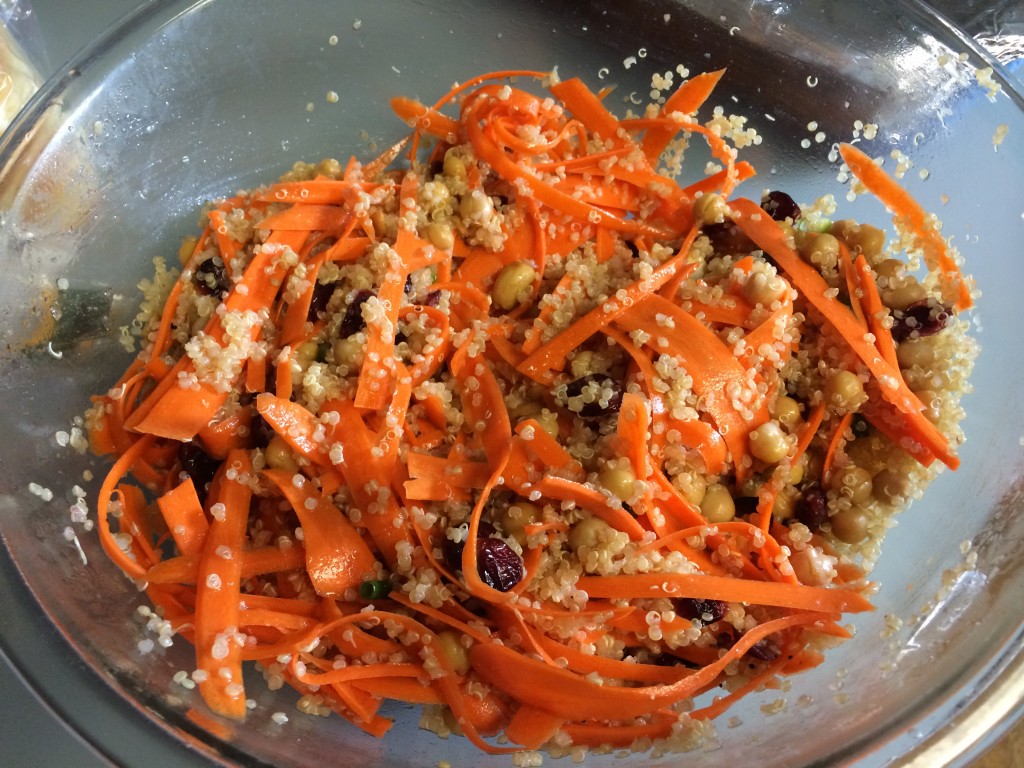 Michael got these ridiculously large hot dogs from Costco–like bigger than the actual hot dog buns–but they were a hit and tasted great after being grilled. I'm not a huge hot dog fan but there is something tasty about a grilled hot dog that has a little crisp to it.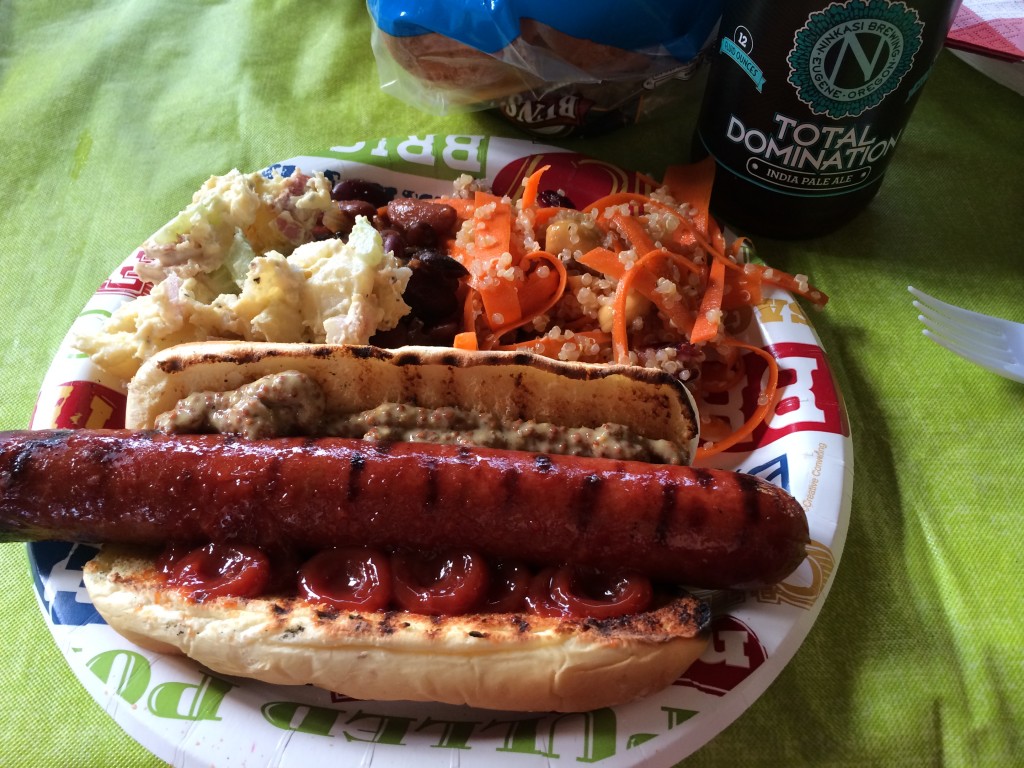 We hung out for a bit drinking beer and finishing up dinner and then the fireworks started. I gave Bella a little Peanut-Butter-Benadryl treat and put her in her crate in the bedroom with her blanket. I turned on the TV and the radio and shut the door. I checked on her a few times during the evening and unfortunately the Benadryl didn't put her to sleep. She was kind of wired and her eyes were really big but she didn't seem too scared, so that was good. Our poor neighbor's dog was another story. He was shivering and crying in their house. 🙁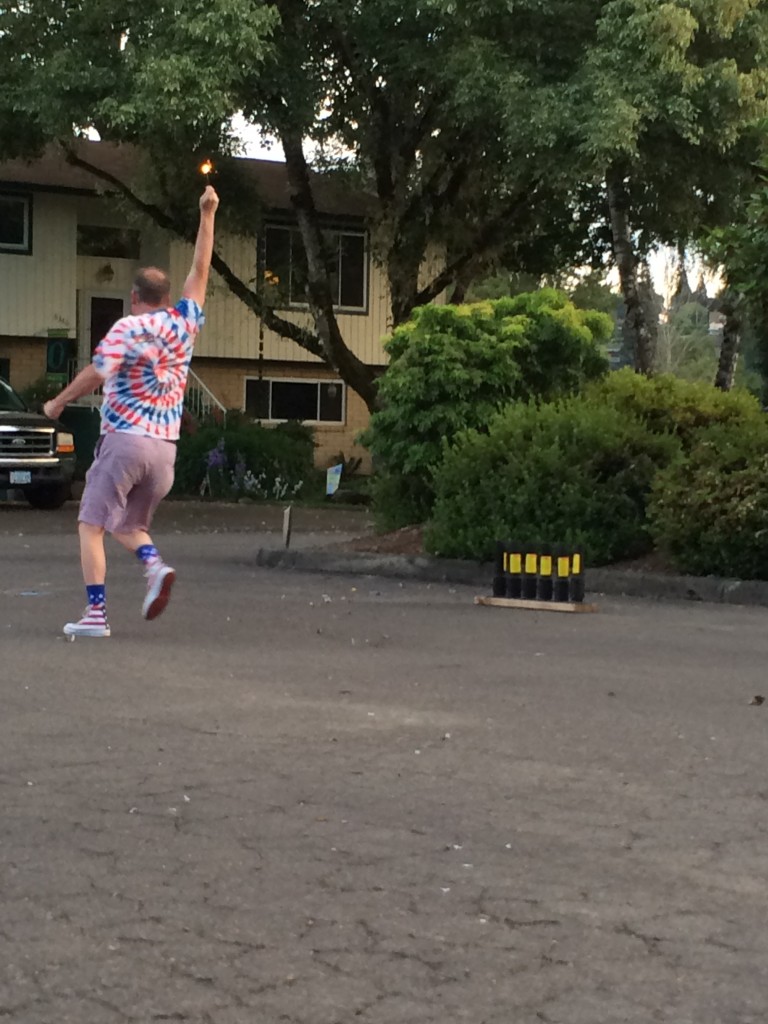 We set up our camping chairs in the neighbor's driveway and they started the show. I'm not really sure what was happening here–it was kind of like the opening ceremonies of the Olympics. One of the neighbor's friends did laps around the island holding a lit sparkler, running while everyone encouraged him, until it fizzled out. It was pretty hilarious. The kids did their fireworks first.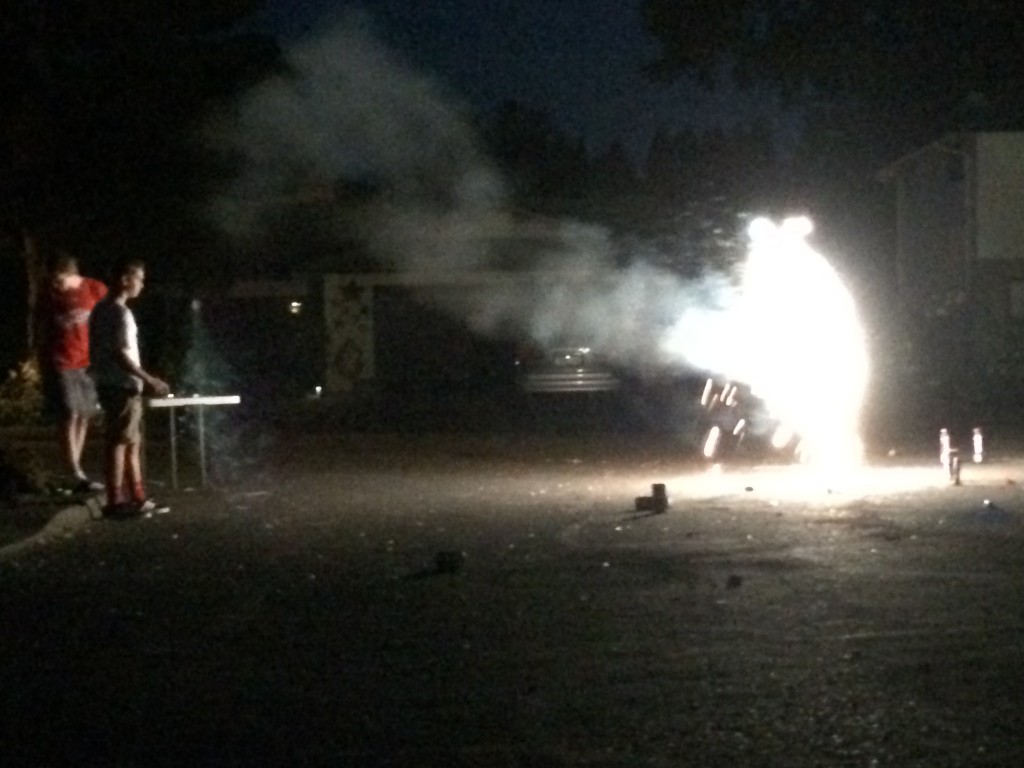 The neighbor turned on properly patriotic hair metal and then the teenagers did their fireworks. The neighbor stepped in a few times to do some REAL fireworks and then we all called it good a little earlier this year. The fireworks were gone by 10:30 and while there were still some going off in other neighborhoods nearby, it was mostly done. It was more low-key this year, which was fine because I had been worried about Bella and I was also getting sleepy from the 2 beers I'd had that night. God when did we get so old?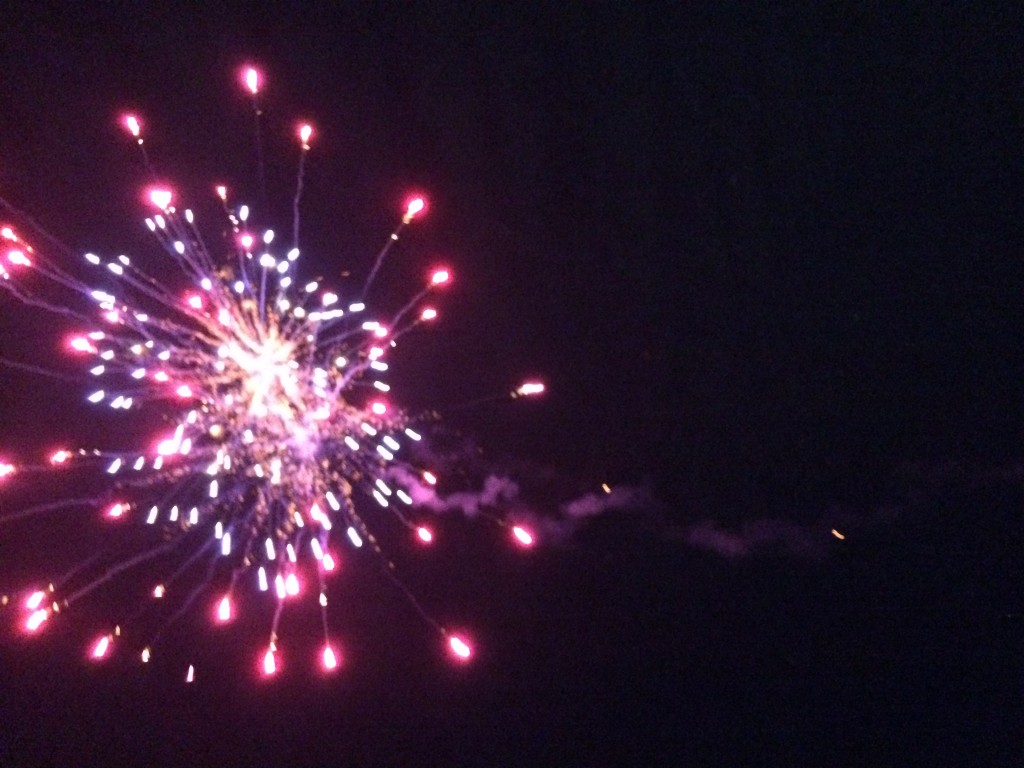 After everyone left I took Bella outside to do her business and Michael sat with her for a bit outside. She was overly excited and kind of spazzy but didn't seem scared so that's good! All in all she did great on the holiday. I slept like a rock and thankfully wasn't hungover for Boot Camp the next morning. 🙂