We've had scallops in the freezer from Costco for awhile now. The reason why we haven't cooked them is because neither Michael nor I know how to cook scallops. Which sucks, because I love scallops and order them in a restaurant whenever it's an option.
I decided it was TIME. We just have to learn or fail. Either way, we're never going to figure it out if we don't at least try. That's the funny thing about cooking: it can go horribly bad, but it takes practice to get better. Time to suck it up.
[amd-zlrecipe-recipe:15]
I'm surprised that the calorie count is so high for a seafood. Especially considering bacon wasn't involved in this recipe (darn it). Maybe it's the butter that makes it high? Oh well. Scallops are awesome.
I steamed some broccoli and made salads while Michael cooked the scallops.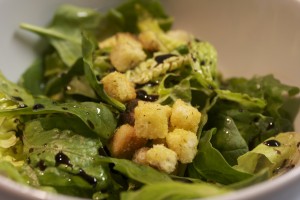 It was fast. I think maybe 3 minutes total for the scallops. He seared them seasoned with salt and pepper, then added the garlic and I squeezed the lemon over the skillet to add the lemon juice.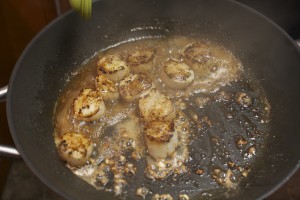 The scallops looked perfect! We dug in and they were absolutely delicious. They were prepared perfectly–not raw or overcooked (chewy). My fork cut through the scallops like it was soft butter.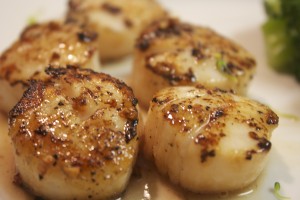 The flavors of the garlic, lemon and butter was fantastic. The scallops themselves were mild in flavor. I am so excited that this recipe turned out so wonderfully! Scallops will become a regular in our dinner rotation.
The other bonus: scallops are super fast to cook. Dinner took probably 15 minutes from start to finish and the part that took the longest was mincing the garlic. 🙂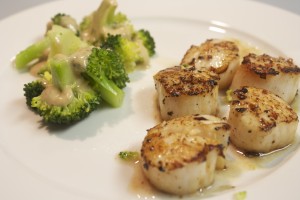 Definitely give this one a try!
QUESTION: Can you cook scallops? How do you prepare them?