Since I worked out Wednesday morning before work I had my night free! I went out for sushi with my friend Kat. We went to Sushi and Maki in Clackamas. It's near the mall but not a mall sushi place. The food is good there.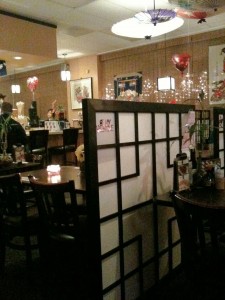 I started with a glass of chardonnay and a cucumber salad.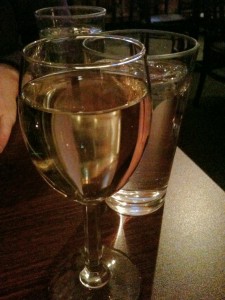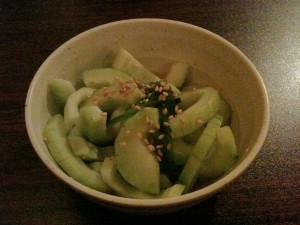 Kat and I split three rolls: The Philly Roll (my favorite), Spicy Tuna and the Alaska Roll (spicy salmon, crab and avocado). They were all so tasty.  The sushi really hit the spot. It had been too long since I'd had sushi and was craving it like mad.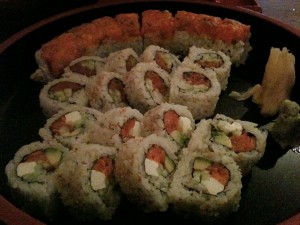 After sushi we gave in to the temptation for dessert: tempura ice cream!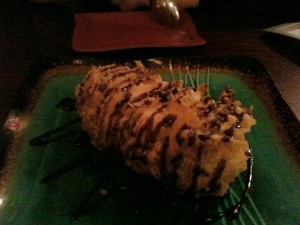 Mmmm is there anything better than creamy vanilla ice cream deep fried and drizzled in chocolate? We split the dessert and enjoyed every last bite of it. It was nice having some girl time. After dinner I went over to Kat's place to check out her new Kinect.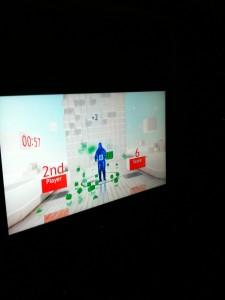 It was REALLY fun! I had such a blast. I didn't know much about the Kinect. I assumed it was just like the Wii Fit (which was just "meh") but I was immediately impressed at how well it worked without having to use remote controls.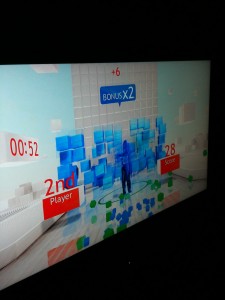 The first game we tried was basically kick boxing. You had to kick and punch across your body in order to make the blocks blow up. It was fun and surprisingly hard work.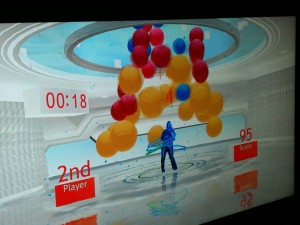 Next was the Hula-Hoop. You had to do the motion of a hula-hoop continually in order for the hoops to not fall on the screen. The more you moved the more hoops you got. It was cool.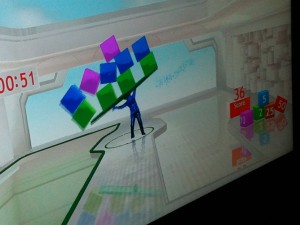 The next game was a little weird. The object was to hold your hands up above your head like you're holding onto the plank collecting the blocks. You have to stay balanced so the blocks don't fall and then you can dump them into the pool for points.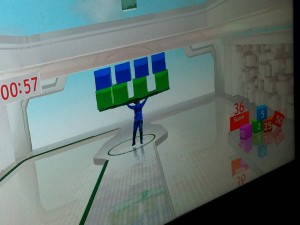 At first I wondered what the point of this game was–like what fitness came out of just holding your arms above your head? But I realized pretty quickly that your arms get TIRED!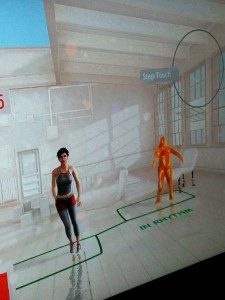 Next Kat showed me the fitness routines that she does. There's Zen (yoga), kickboxing and cardio. The workouts are guided. In the right corner is "me" and the left is the guide. There's a voice that gives instructions and you have to be in sync with the guide or they remind you to do better.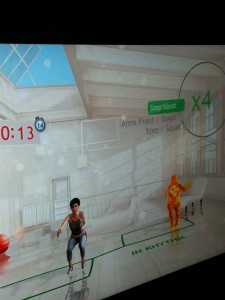 The squats, the lunges, the side lunges…ouch! My legs were burning. I think that holding two 5 pound hand weights while doing these programs will be a really decent workout.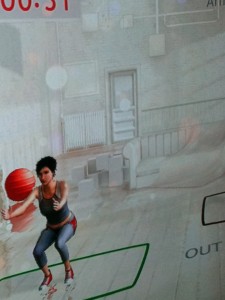 I have to admit…I was a tad sweaty and hot by the time the demo was done. I can see it being a really fun way to workout! I'm trying to figure out how Michael and I can get one. 🙂 After the fitness games she showed me the real games they have. Those too were fun and even though they are games they'd be good workouts too.
I had such a good time on Wednesday. Despite the crabby mood and the bad doctor appointment I had a really good day. Dinner was fun, hanging out with a friend and trying the Kinect was fun. My workout Wednesday was good and I felt like I peaked in my fitness…so of COURSE I'd wake up Thursday morning sick, right? My fitness level had reached an awesome level–so I guess my body is telling me it needs to rest. I stayed home today with a sore throat, swollen glands, my eyes hurt and my whole body aches. I see lots of Airborne and Netflix in my future today.
QUESTION: Do you have a Kinect? What do you think of it? Any game/workout recommendations?