Ingredients
2 large heads of broccoli
1 small red onion
1/2 cup raisins
1/3 cup sunflower seeds
10 slices of bacon
3/4 mayonnaise
2 tablespoons white vinegar
salt and pepper to taste
sugar or sugar substitute
Instructions
Chop the broccoli fairly small.
Halve and finely chop the red onion.
Crumble the cooked bacon.
Mix the wet ingredients and then mix into the dry ingredients to coat.
Serve and enjoy!
http://www.110pounds.com/?p=26785
I've had variations of broccoli salad many times and always enjoyed them but this was the first time I made it myself. I used Carbzilla's recipe. Since I was going up to Seattle for my family Christmas party I wanted to bring a healthy potluck dish, but I was also going up the day before the party. I knew I wouldn't have time to make it in Seattle so I prepped all the ingredients and put them in little baggies separately. I mixed the dressing and put that in a tupperware dish to transport. I figured this would prevent it from getting soggy and/or gross.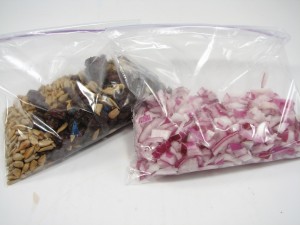 For the dressing, I used about 1/2 cup of lite mayo and mixed in about 1/4 cup plain Greek yogurt. I'm not a huge fan of mayo and wanted to try it with yogurt instead but was too nervous to use only yogurt.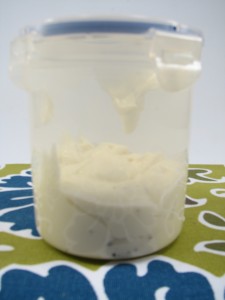 My main flaw when it comes to cooking is that I sometimes forget how important it is to READ THE ENTIRE RECIPE before I commit to it. For this recipe I skimmed the ingredients and called it good–and I was good. I had all the ingredients on hand. However, I started to cook and realize I did not have COOKED bacon. That set me back a good 30 minutes when I was trying to just throw everything together and hit the road.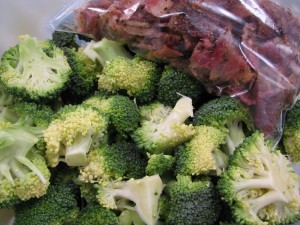 When we got to the party the next day I mixed all the ingredients together. I was so glad that I had kept them separate! It worked out fantastic.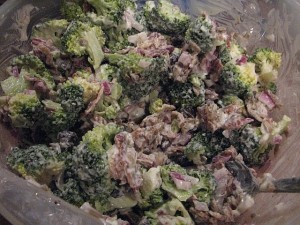 It took no time at all to mix the salad for the party. And it was a hit! The salad was gone in no time. I was happy I got a spoonful to test it out. I loved this salad and I would most definitely make it again. It's a great potluck food, too.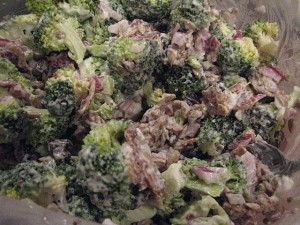 I would recommend this recipe to anyone who's going to a holiday party. It will be a hit! Plus, substituting some plain Greek yogurt was a good choice. I might try it next time with just the yogurt. (Also, my aunt said when she makes it she uses Rice Vinegar instead of white vinegar. I might try that too.)
QUESTION: Have you made a broccoli salad before? What's your method?