It's early in the morning…
The changing seasons mean more darkness when I get out of bed. It's harder to get out of bed, especially with Fat Kitty warm and purring by my side. He helps me pump my bike tires even though I'm barely awake.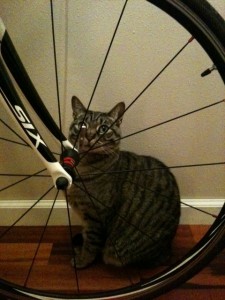 I peek my head out the window to see if it's raining. It's rained all week long. The roads are dark and wet but it's not raining. Yet.
I zip up my warmer rain jacket, lower my helmet onto my head and clip into my bike. I'm off. It's not even 7 a.m. yet and I'm on the road. It's quiet out on our little street. The kids wait for the school bus, their parents are still in their warm houses, and I'm biking through the neighborhood on my way to work.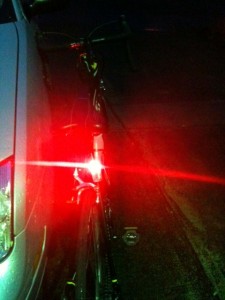 I started doing this to train. I love my car, I love the convenience of getting place quickly. It surprises me when I realize how much I love being car-free on days I ride to work. It is just me and the early morning air, this time very cold, and my bike. I continue biking to work long after the race is over. I'm saving money on gas (which is expensive here in Portland), a few times a week I am one less car on the road, and I am getting in a two hour workout by riding to and from work.
Biking makes my legs lean and strong. My stomach has shrunk a little bit over the summer of hard training. I am feeling stronger and more confident.
It's dark…
I have a head lamp jerry-rigged on my bike handles because I don't have a proper light. Safety is my number one concern. I want cars to see me in the darkness of the morning.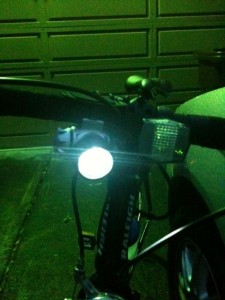 A light rain starts and it is cool on my face. I'm not cold because my rain jacket traps the heat in. I peddle along. I feel slow. I have not been on the bike in over two weeks. I focus on the road, cautiously because the roads are a bit wet. I do not think about anything in my hour long commute but the road in front of me. It is a nice change.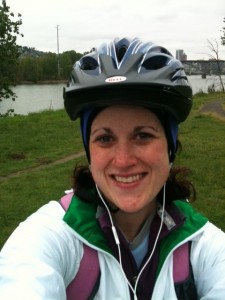 By the time I make it to OMSI on the Springwater Trail it is light out. The rain has stopped. I feel damp but not uncomfortable. I make it to the office with a decent time despite the cautious pace I was keeping.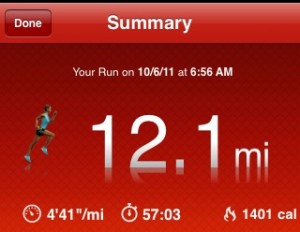 Morning Stats:
Time: 57 minutes
Calories Burned: 483
Distance: 12.18 miles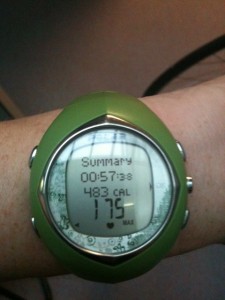 I'm wet. I do not have a fender on my bike so my clothes are damp and muddy. No worries, I have a change of dry clothes at the office. I hope for dry skies on my commute home. At least it won't be dark.
AFTERNOON COMMUTE
I dress in my gear–rain jacket and long pants. No more riding home in the afternoon in just my shorts and jersey. I head toward the waterfront, even though the Occupy Portland protesters were down there.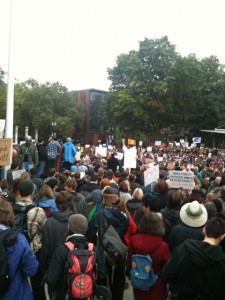 There are thousands of people downtown, starting at Waterfront Park. There is no way I could ride my bike through there so I take a detour.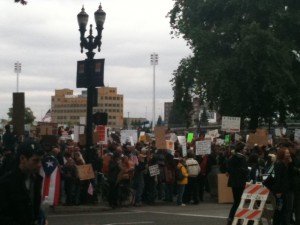 I bike passed Portland Police officers and the crowds clear. The march is moving on from the Waterfront.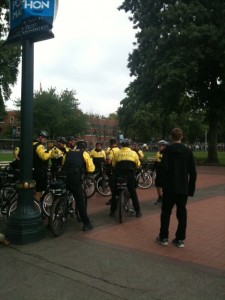 It's clear sailing the rest of the way. It's brisk out but the gray sunshine was bright. I'm a bit tired from the week. I feel slow on the bike.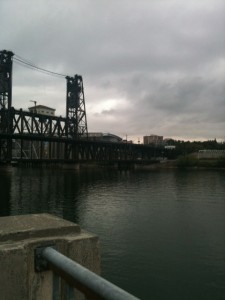 Four miles in it starts to rain and it is a steady downpour for the remaining 8 miles.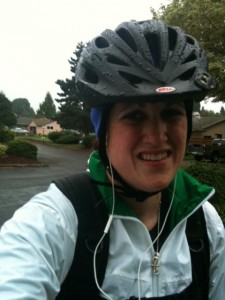 It is not what I would call a fun way to end the day. I get home and Michael has the door open for me, snacks ready and a kiss. It makes me feel a bit better.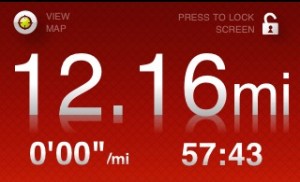 I get out of my soaked clothes and take a hot shower, feeling unhappy. It isn't a good day.
Afternoon Stats:
Time: 58 minutes
Calories Burned: 465
Distance: 12.16 miles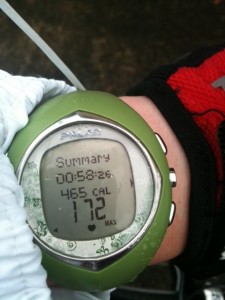 Total Distance: 24.34 miles.
QUESTION:  Want to vent about something bad that happened this week?