When I got home from my romantic weekend Sunday evening I checked on my garden and saw that everything had exploded.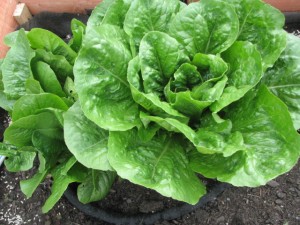 ALL of the lettuce had flourished over the weekend (it must have been warm and sunny while we were gone). I harvested several of the heads of lettuce, washed them and prepped them for the week.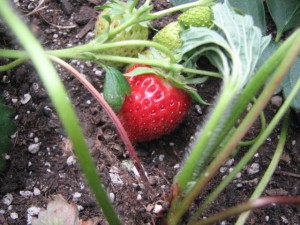 Look! I have REAL strawberries growing! I cannot wait to eat them. I'm glad our lettuce is a success and that we have tons for salads.
Dinner is my favorite meal of the day. I like the simple foods we eat. I am happy that we are getting away from processed foods. I cannot remember the last time we made a dinner that came out of a box. I like it that way.
SUNDAY
We wanted something quick, easy and small when we got home from the beach. I made us salads with lettuce from our garden. I added sliced strawberries, toasted walnuts and Gorgonzola cheese to the salads.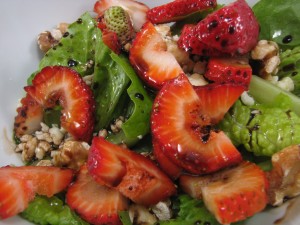 Michael cooked some chicken thighs in the skillet with just salt and pepper and it turned out delicious.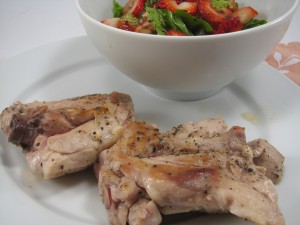 We bought the chicken thighs at Costco so we have a ton in the freezer. We'll have chicken on hand for awhile. Sometimes just salt and pepper is all that's needed for food.
MONDAY
I got some thin cut pork chops at Trader Joe's. The thin ones cook fast, and it's also difficult to avoid drying them out. It's a tricky thing to cook. I steamed some peas as our side.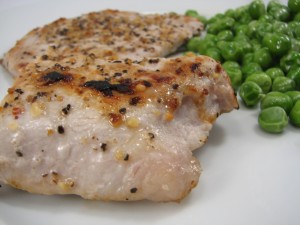 Another salad (strawberries on mine):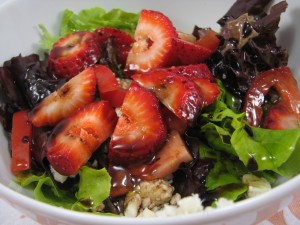 TUESDAY
Another go at the most excellent steak with caramelized onions and Gorgonzola cheese. Michael added a little salt to the onions and they were even better. I am obsessed with this new dish in our rotation. I could seriously eat it every single day I think!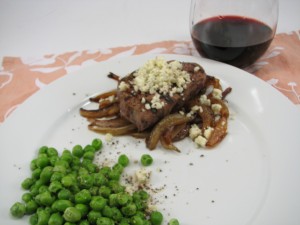 Yes, those are peas again. We didn't go grocery shopping for veggies for the week so we're relegated to frozen peas or salads from the garden.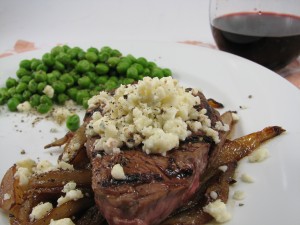 I had one glass of a nice Barbera wine. It was strong and dark and the earthly flavors went well with the steak and sweet onions. I kinda want caramelized onions on everything now. Is that weird?
WEDNESDAY
Kind of a funky, off day. After biking in the rain, we went OUT!
THURSDAY
Thursday I checked my garden and the lettuce was doubling in size. I decided we were having salad! The original plan was blackened salmon, an old stand-by, but after eating meat several days in a row I usually want to switch to fish. However, we had leftover pork chops that we had to cook asap.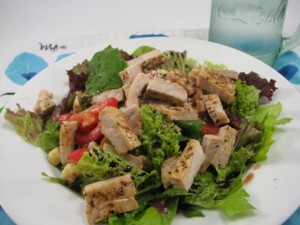 I made the salad with a Roma tomato, croutons and Gorgonzola. Michael cooked the pork and then chopped it up into bite size pieces. It was a nice way to eat the pork without doing the old same ol' same ol'.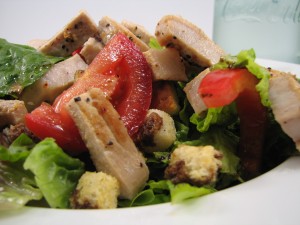 FRIDAY
Tonight's menu: fresh salad with blackened salmon!
As you can see, our meals are pretty simple. A protein and a veggie. That's kind of how we're eating these days. Kind of a Caveman Diet:  nothing fancy, nothing processed. As more things grow in my garden the menu will change. I'm anxiously awaiting things I can make with the zucchini, acorn squash and tomatoes.
I think I have the fixings to make homemade salsa too! I cannot wait! Four different kinds of tomatoes, jalapenos, peppers and cilantro.
QUESTION: What do your dinners look like? Do you rotate the same things throughout the week or have variety?