[blackbirdpie id="102448246235996160″]
Yeah that was the plan, but it didn't quite work out that way on Saturday. We were half way to Hagg Lake (it's out in the middle of nowhere) when the engine light came on for Michael's car. Not good news. A long stop at the VW Dealership in Beaverton (the armpit of Portland as far as I'm concerned) wasn't great news so we headed home. The lunch I had packed for after our ride at Hagg Lake was still good so we ate that and then decided to just ride around town.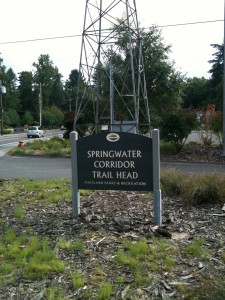 We rode to Johnson Creek and chatted a bit about which direction to go. We had a lot of options. Honestly I just didn't feel like doing the 40 mile loop through the city like last weekend. Instead, we headed east on the Springwater Trail. It was a bit cool out, and overcast so there weren't a lot of people on the trail.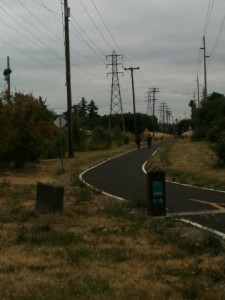 We biked east on the trail. I wasn't feeling especially fast but I wasn't feeling lethargic either. I think we biked about 14 miles before taking our first break. There were a bunch of blackberry bushes with plump blackberries on them and I snacked on a few of those. I love blackberries! Some were ripe, some were not ripe yet.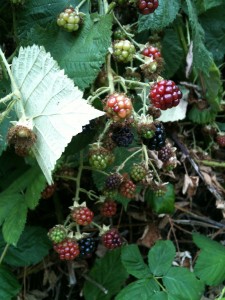 I saw a bunch of critters on the trail this time! Maybe because there weren't a lot of people out on the trail. First I saw two stray kitties frolicking in the bushes at two different times. Then there was a bunny on the trail. It was brown and tiny and it hopped along beside my as I biked along and then scampered into the bushes. There were also a bunch of horses on farms that we biked passed.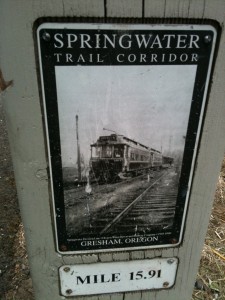 The ride is pretty flat. This proved for a good place to practice sprinting. I did a LOT of sprinting on the bike ride. There weren't a lot of people on the trail and it was a long, straight trail. Lots and lots of sprinting! I think it added something extra to my workout. PLUS I was struggling to catch up with Mr. Speedy!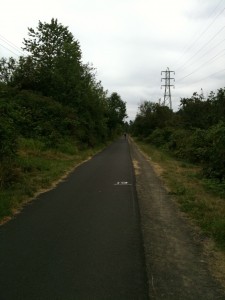 For some reason Michael was flying down the trail like it was nothing and I was puttering along trying to keep up. Ugh!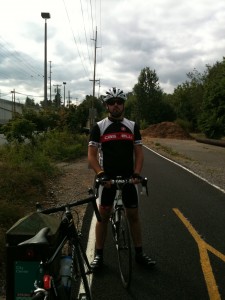 It's also pretty scenic, with wildflowers and farmland. When the sky is clear and not overcast, Mount Hood can be seen in the distance. Unfortunately it was too gray to see.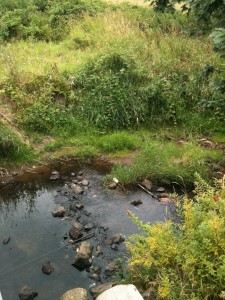 We stopped again for some water and snacks. This time: apricots. I got some at Costco to try using instead of the GUs on long rides. I feel like the natural sugars in the apricots might do the trick just as well as GUs.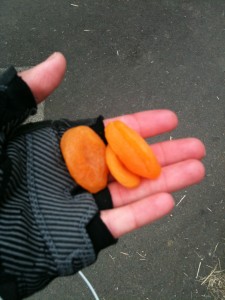 I like the apricots. I think they worked really well. At least until the very end of the ride.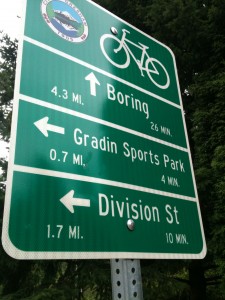 We continued on and rode out in the middle of nowhere, aka Boring Oregon–yes there is a city named Boring, Oregon. This is where the path ends. The Springwater Trail doesn't really end but it turns to gravel for an unknown amount of miles. Unfortunately gravel is not good for skinny road bike tires so that was where we called it quits. We took a short break at the end of the trail. I saw people with mountain bikes continuing on the trail.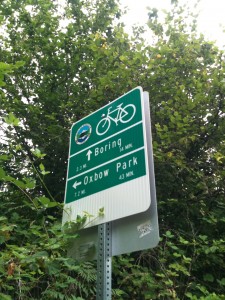 I also saw a sign for Oxbow Park and I realized that we were out where part of the Portland Century will ride next weekend! So exciting! We turned around and headed back on the trail toward town.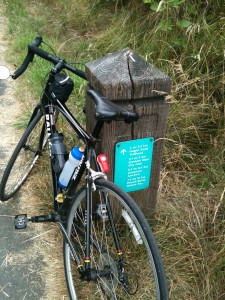 As we started riding back down the trail a guy on a big hybrid bike passed both of us. I didn't really care at this point. I was starting to get a little tired, my back was sore, and catching the Hybrid Guy didn't matter to me. Michael on the other hand? Mr. Super-Competitive-No-Matter-What zipped off determined to catch and pass Hybrid Guy. And he did. And totally left me in the dust! That meant more practice sprinting! I eventually caught up to Michael.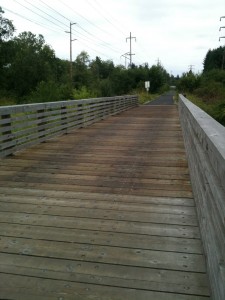 One thing I really dislike about the Springwater are the weird wooden bridges that are SO bumpy and awful to cross. They are the worst. Seriously. They are long stretches and so bumpy I am always worried I'm going to wreck a tire because of it. We biked home and made it in no time at all. The last stretch of the ride was difficult. My back hurt and I was tired and mentally just done with the whole thing. 🙁
Ride Stats:
Time: 3:07
Calories Burned: 1234
Distance: 37 miles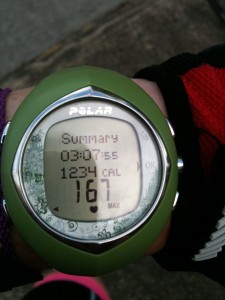 Michael's using a new ride app (he'll be writing a review of the app soon) so here are the stats from Saturday's ride: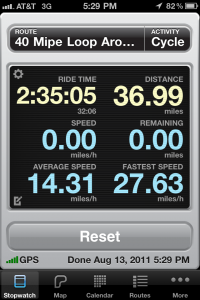 I like how it stops counting when we are stopped for a certain amount of time. That means instead of 3 hours we were actually riding 2:35! Nice! We wanted to eat an easy and quick dinner after the trying day. Good thing we already had some things on hand. Corn on the cob with a little butter, red sea salt and chili powder: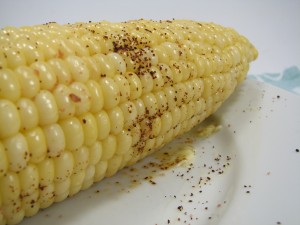 Michael grilled up some steaks and I topped mine with pesto. I've missed pesto! The combination of steak and pesto is a really good one. I discovered it last year when we were eating our steak with gnocchi and pesto. So delicious.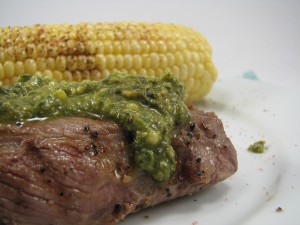 It was the perfect kind of dinner after a long ride. I'm disappointed that our training at Hagg Lake didn't happen. Doing 20 miles of hills would have been good practice for the challenges we are going to face next weekend. But getting in some long miles instead is better than no riding!
QUESTION: When your training goes awry, what do you do?