My physical therapy appointment last week went really well. My therapist said that my quad strength and IT Band flexibility was a +4 out of 5! Woohoo! Sounds good to me, right? I asked him about the snowshoeing and he said that I needed to start doing squats on the bosu ball, as well as a few other exercises, to get prepared for snowshoeing. He seemed positive about it happening, which made me feel hopeful. All this time I've been wondering if I'd be able to do it ever again.
At the gym on Saturday I added two of the exercises he asked me to do. I hadn't done squats in at least four months so I went easy the first day. I didn't want to do too much too soon. I have one month to get ready for snowshoeing! I also ran another mile on the treadmill. This time was just okay–I had to walk a little mid-mile because my left knee was bothering me a bit. The knee pain wasn't too bad and it didn't last, so that's good I guess.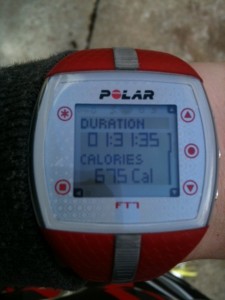 I had a quick lunch of leftovers at home and then Michael and I went to BikeCraft. It's the first time we've been but we've wanted to go for a few years and things always got in the way. Bikecraft was at a cool studio in NE Portland with tons of crafty people selling their things for the weekend. I was just going for fun, but Michael was on the lookout for a small bag to hold his electronics in his messenger bag–kind of like those tool rolls you can get for cycling tools.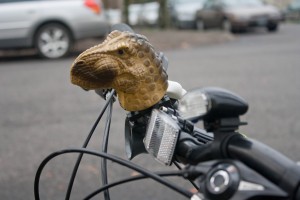 Had the weather not been so ugly, we could have ridden our bikes–tons of people did, which was cool. While Michael is okay with riding in the rain, I am so not interested. Yes, I am a fair-weather cyclist and I'm ok with that!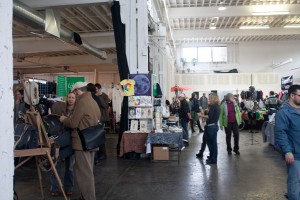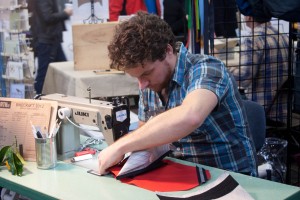 It was fun looking at all the crafts. Some of them were really extraordinary, some were beautiful art that was outside of my budget, and some was clearly amateur-craft. It was a cool event and I hope we can go again next year. I saw lots of cool gift ideas. Michael found his gear bag that he wanted and also ended up buying a seat cover made of gortex so he doesn't have to use plastic bags anymore. I ended up getting a t-shirt and a necklace with the same bicycle design as the plates below: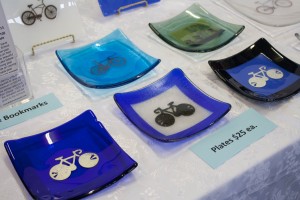 My good weekend continued with some quality (if not short) time spent with my brother! Andy was in town with his wife for her sister's wedding over the weekend. Because of their wedding festivities, the only time I got to see my brother was for breakfast the morning of their flight home to Philly.
It was so good to see him and spend some time together since we don't get to see each other too often.
We went to Pine State Biscuits. It's one of those "we must go there someday" restaurants because it's such a popular place, but we've never been because of the notoriously long wait. I'm not really willing to stand in line for a restaurant for more than maybe 30 minutes and there are too many Portland hipster places that are least an hour wait (ahem, Pok Pok, Tasty n' Sons, Toro Bravo, Broder, Screen Door….to name a few).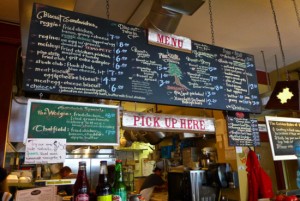 I got some time off at work on Monday so that I could go out to breakfast with Andy and I figured that was the perfect time to try Pine State! The four of us went to the one on SE Belmont and thankfully there was no line.
I ordered their biscuit breakfast sandwich–egg, cheese, sausage patty between their famous biscuits. The biscuits were flaky and light and tasted like butter and reminded me of Texas for some reason. The egg and cheese part were ok and the sausage patty had a little zip to it.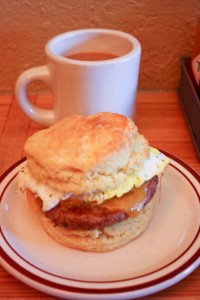 My sister-in-law got the biscuits and gravy and said it was amazing. I was glad we got to catch up AND try a restaurant that had been on our list for a long time. What did I think of Pine State? It was good but not "wait for an hour" good.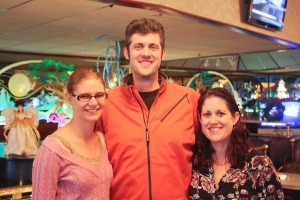 The restaurant was also small and didn't have very many tables so we were sitting at the bar. After we were done eating we ended up going to some divey hotel restaurant near the airport to get coffee and just hang out for an hour until they needed to be dropped off for their flight. It was a much better environment to chit chat in! My brother is receiving his master's degree in history next week and we talked about their lives in Philly. Finally, it was time to go and we dropped them off before going into work. It was such a nice weekend. 🙂
QUESTION: How long are you willing to stand in line for a restaurant?