What a gorgeous weekend! The weather was absolutely beautiful and I brought out the shorts and t-shirts. Saturday afternoon Bella and I drove with the windows down to meet my friend Robyn at Mount Tabor Park for a sunny walk. Mount Tabor is a pretty park in SE Portland built on a volcanic cinder cone overlooking the entire city. There are tall trees, running/hiking trails through the forest, people skateboarding, biking, running and walking. There are places for kids to play on toys, picnic areas and it's also the location for the annual Soap Box Derby race.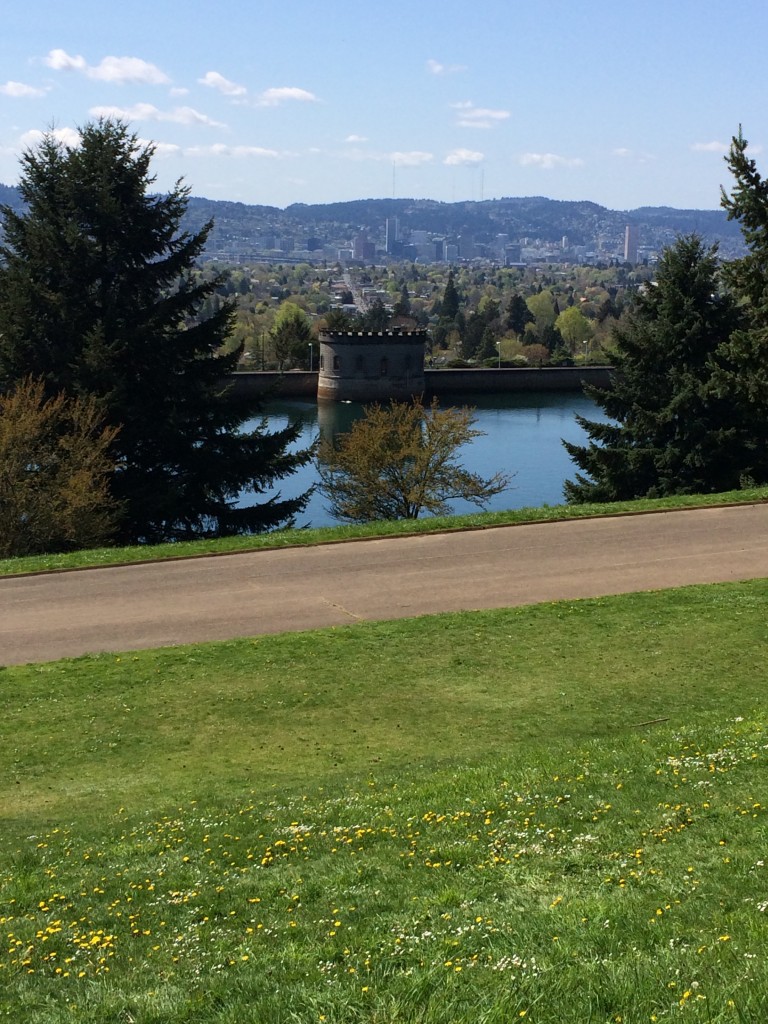 I met Robyn at the entrance of the park with Bella and we started walking up to the top. Not only was this a nice afternoon walk with a friend, it was also a little training for Bella. I want her to get more socialized so we can take her places without her barking at strangers. She did so well! She barked at Robyn, then remembered who she was and she was fine. There was a ton of stimulation in the park, tons of people–kids and people on bikes and other dogs–and Bella didn't bark at any of them. I was pretty proud of her showing restraint! Of course, lots of treats probably helped.
Robyn and I walked for a little over an hour and did 2.87 miles! It was a great walk and it felt good to be outside in the sunshine!
On Sunday afternoon it was even nicer out. I had plans to meet my cousin Anna for a late lunch/early dinner. We met at Produce Row–a restaurant that used to be a dive but got cleaned up really, really nicely in the last few years and they have an outdoor patio which is CRUCIAL for a sunny weekend!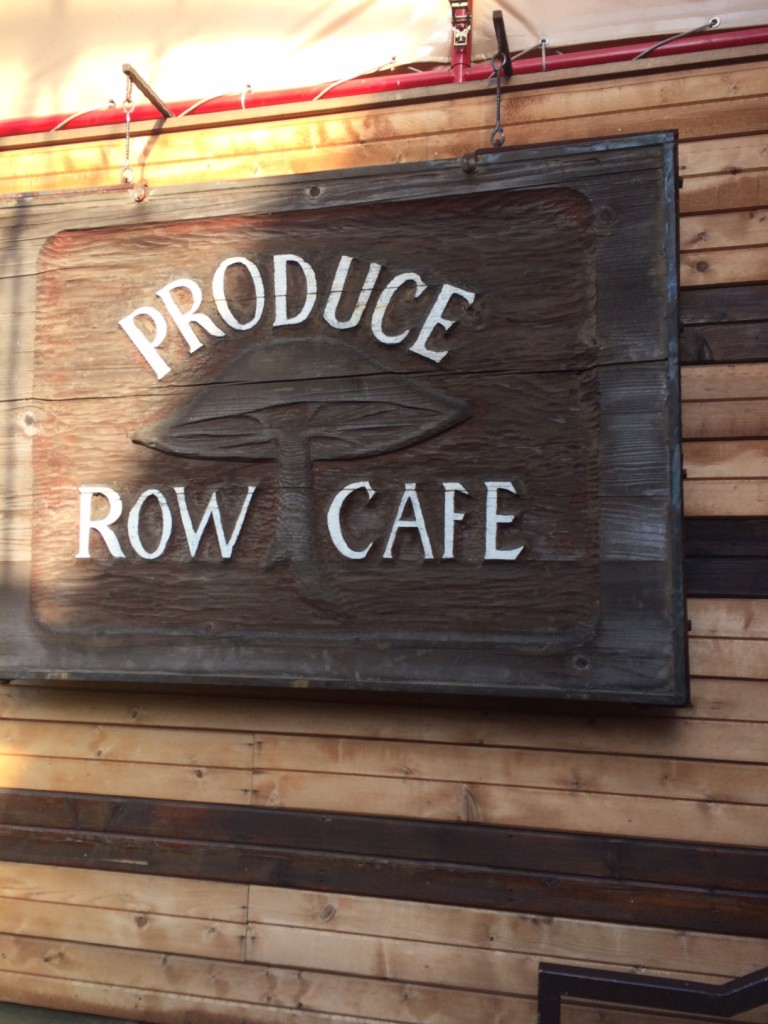 Anna snagged a table on the patio, which was covered but the sunshine still shone through. The patio was packed–everyone had the same idea. Soak up as much sunshine as possible. I was on a quest for finding the best Bloody Mary in town and I decided to test out theirs.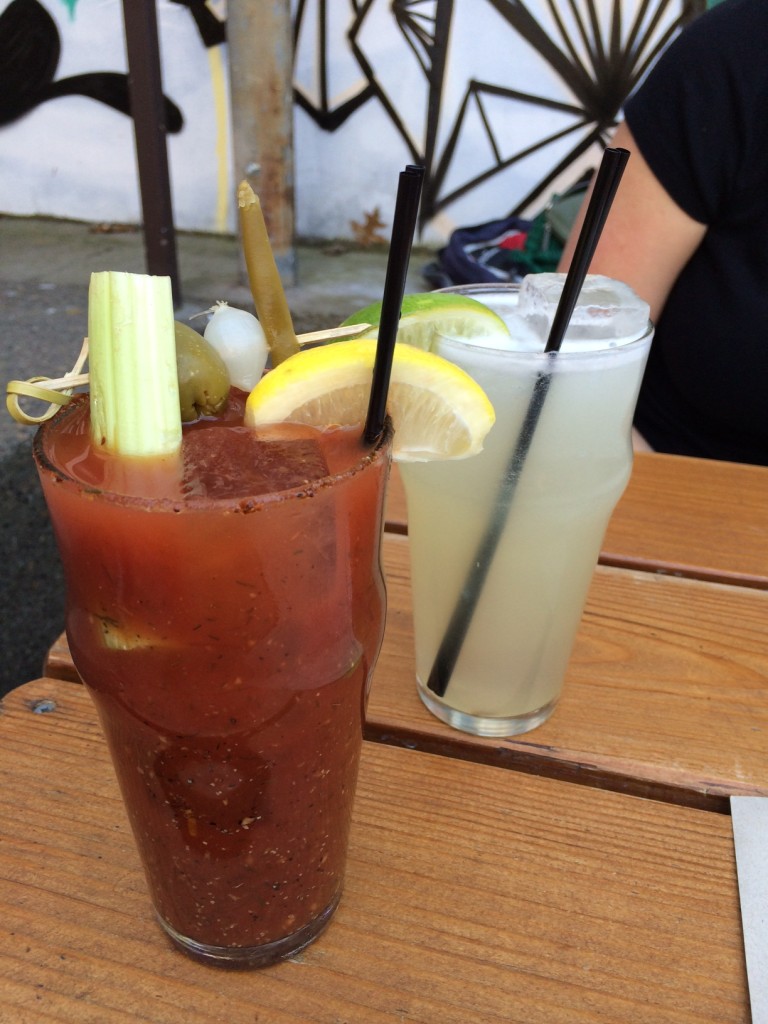 Anna got a Moscow Mule–vodka, ginger beer and lemon or lime juice. I had a taste and it was quite tasty! A very nice summery beverage. The Bloody Mary was very good–thick and spicy but not intolerable. It came with pickled green beans, onions, olives and celery. I liked it a lot–it wasn't the best Bloody I've had but I liked it!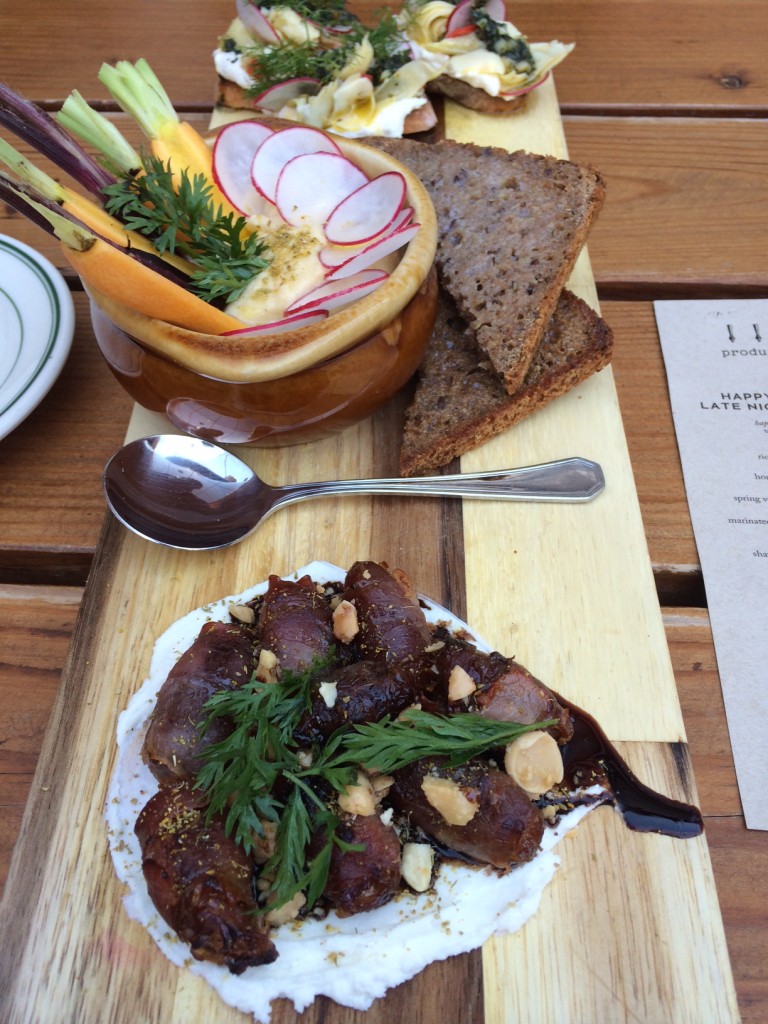 We got the combo snack option–choose three appetizers for a discounted price. We chose the hummus–which came with fresh carrots, radishes and delicious spelt toast (I've never had spelt before, it was wonderful!). We also got the crostini topped with ricotta cheese, artichokes, walnut pesto and some garlic and onion. I loved the crostini. It messy but so tasty. Not only did they taste good, but they were little miniature works of art: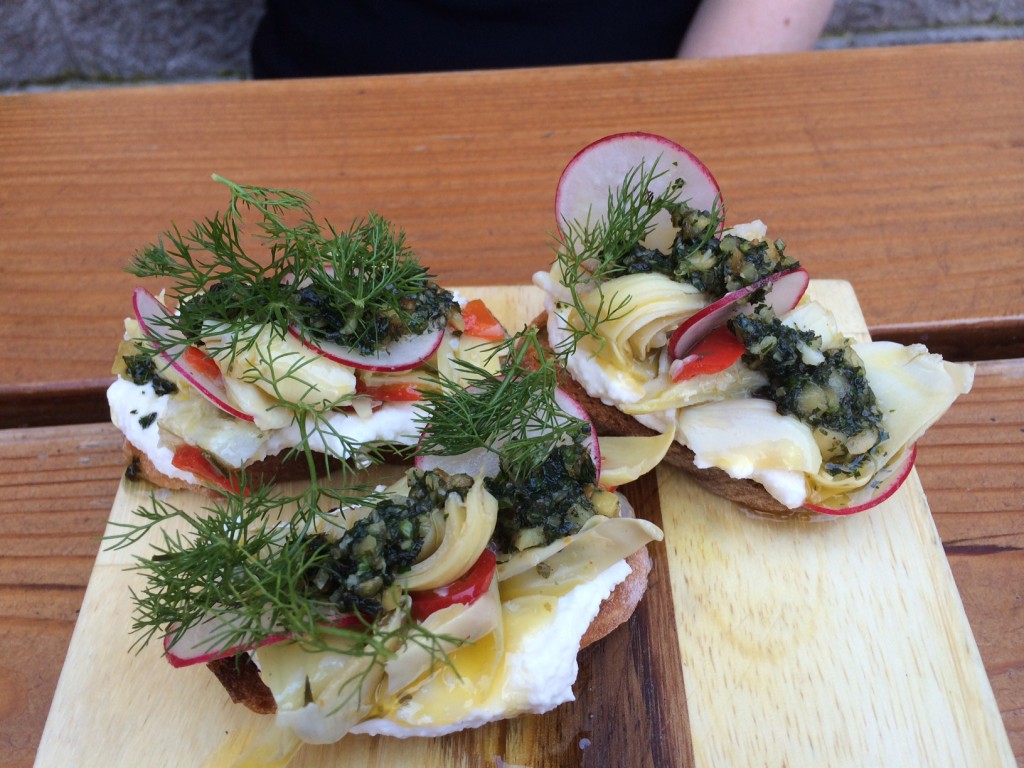 Topped with fresh dill. Wonderful, huh? Lastly, we got the bacon wrapped dates that came atop some chevre cheese, topped with a balsamic reduction and some hazelnuts.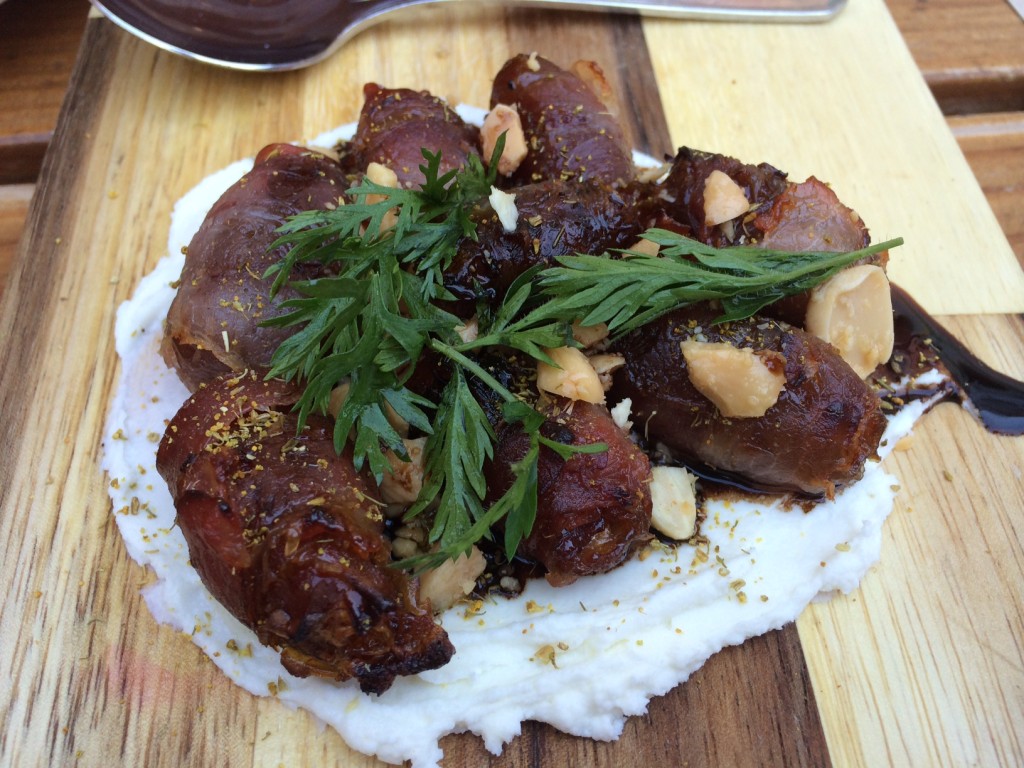 The dates were tiny, which was good, and I was glad that they weren't stingy with them. Sometimes restaurants bring out two dates on a plate! Two are not nearly enough.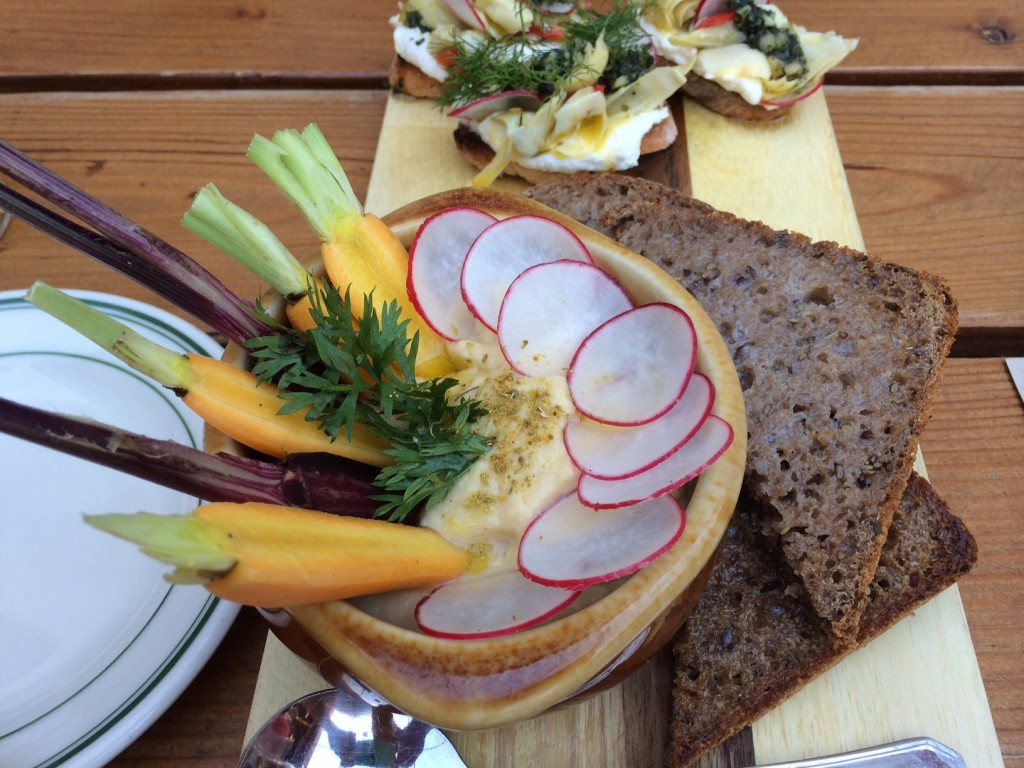 This was dinner! And it was enough food for the two of us. Anna ordered another Moscow Mule and I tried something different–the Jules Verne. It was dark spiced rum, coconut and lime. It was really good!!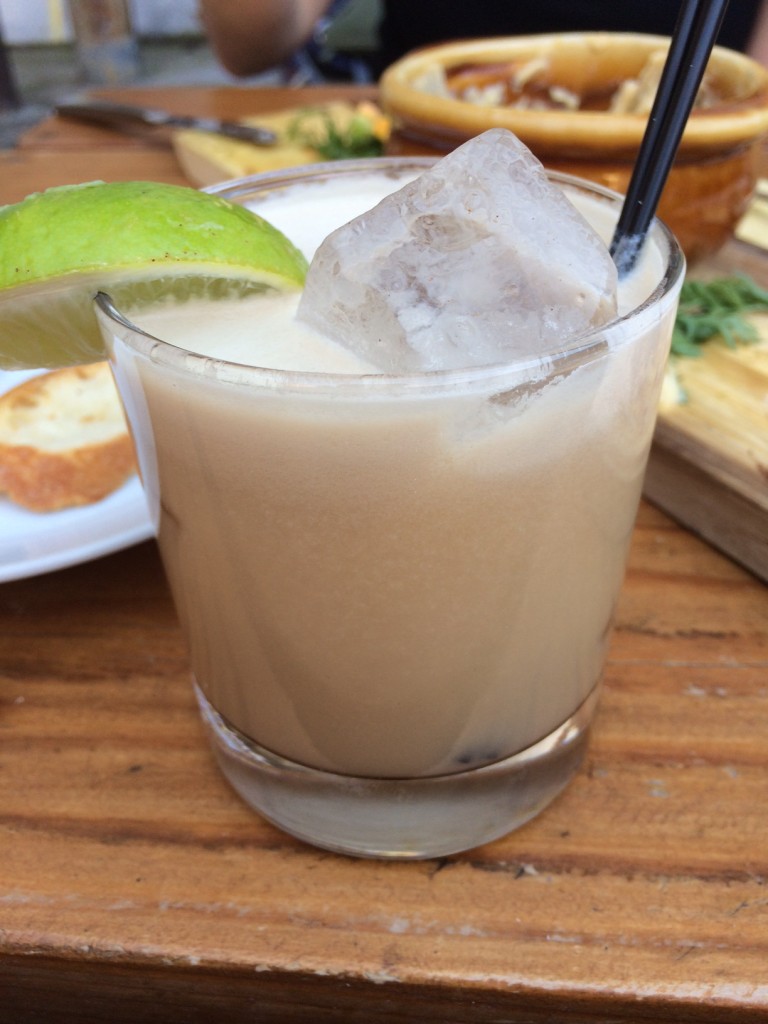 Loved loved loved the presentation of everything! Everything was so great and I loved the outdoor patio. I was indeed drunk on sunshine! It was a great end to the weekend and I only wished it could last just a little bit longer……