Over the weekend we had some house guests! Michael's dad was visiting from Texas and my parents came down from Seattle to meet him. Unfortunately Michael's stepmom wasn't joining us, she was home in Texas. Michael and I have been together around 6 years now and yet it never quite worked out to have my parents come meet Michael's dad. It took forever for us to schedule and coordinate a meeting with Michael's mom and stepdad and they live in Portland! (You can read it here: Meet the Parents.) It just happened to work out this time that my parents were going to be in Oregon for something else at the same time as Michael's dad's visit. Finally!
On Sunday morning Michael, his dad and my dad went golfing together. I went for a quick swim and then came home to get ready for my mom and grandma to come over. They'd been at a party at my aunt's house on Saturday. I fixed up a small snack-y lunch for the three of us to enjoy on the deck. It was a nice day, 80 degrees and sunny but there was a nice, cool breeze so it never felt too hot out there.
For lunch I made caprese and then put out some crackers, cream cheese and freshly smoked salmon my aunt made. It was so good! I love the fresh stuff and hers are the best. I also put out some stuffed olives and cantaloupe–just a few things to munch on.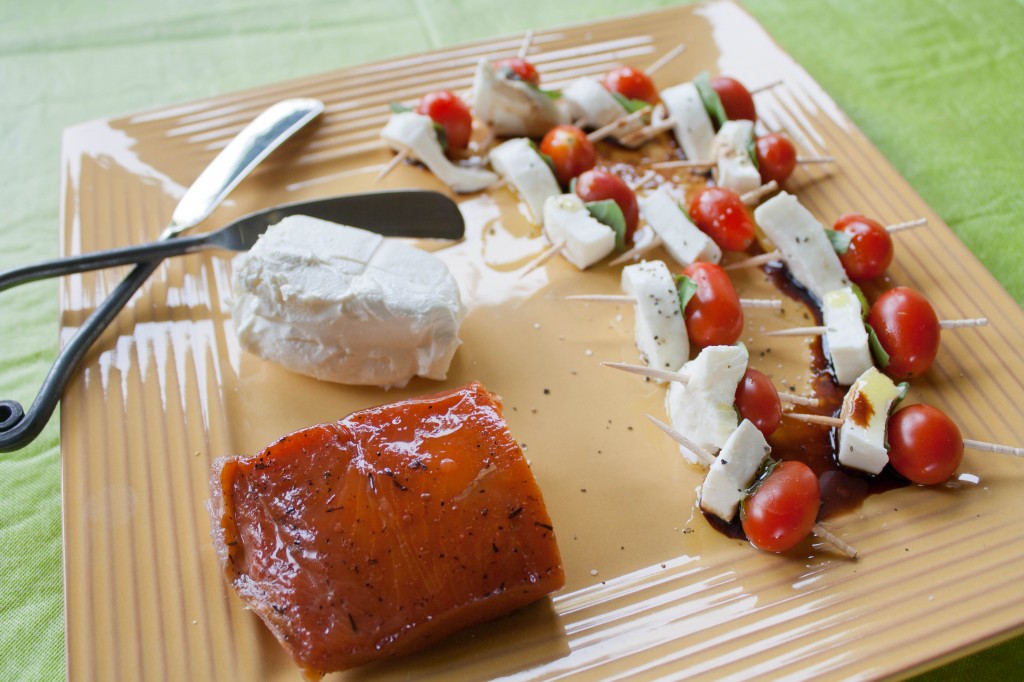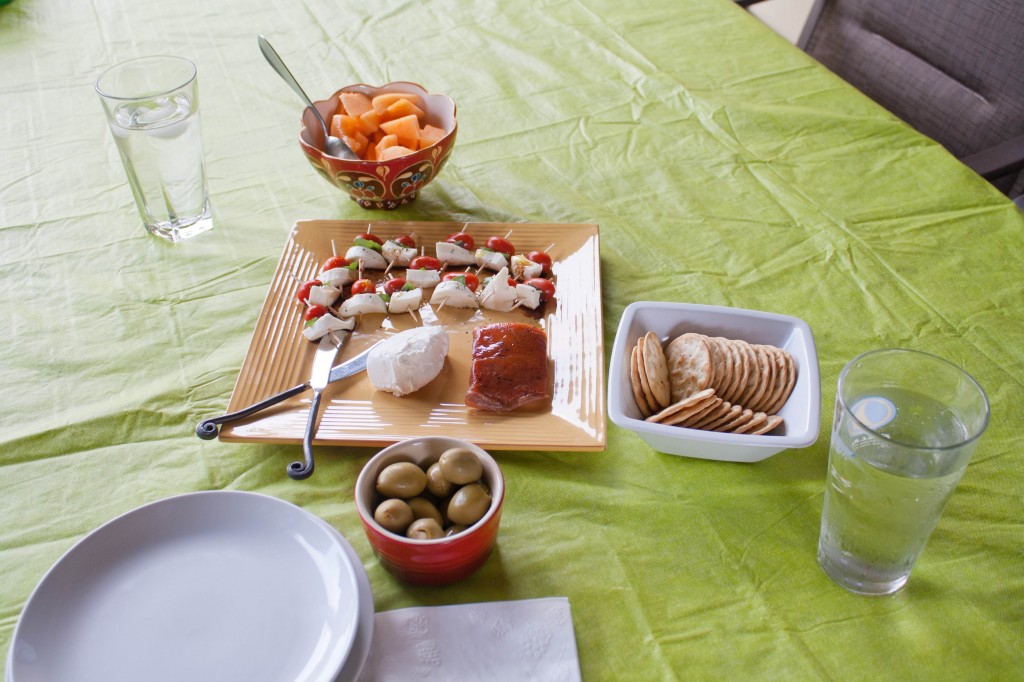 It was so nice just hanging out with my mom and grandma. We talked about the wedding plans, Grammy shared some family stories I hadn't heard before and we just relaxed. My mom periodically went out into the yard and play ball with Bella who was having a BLAST. She never gets sick of playing ball. 😉
The boys got home from golfing and Michael started grilling up the ribs. He'd seasoned them and wrapped them up the night before so they were all prepped and ready to go. While Michael was grilling, us girls played a game of Sequence. 🙂 Now that was funny! My 92 year old Grandmother playing a board game… LOL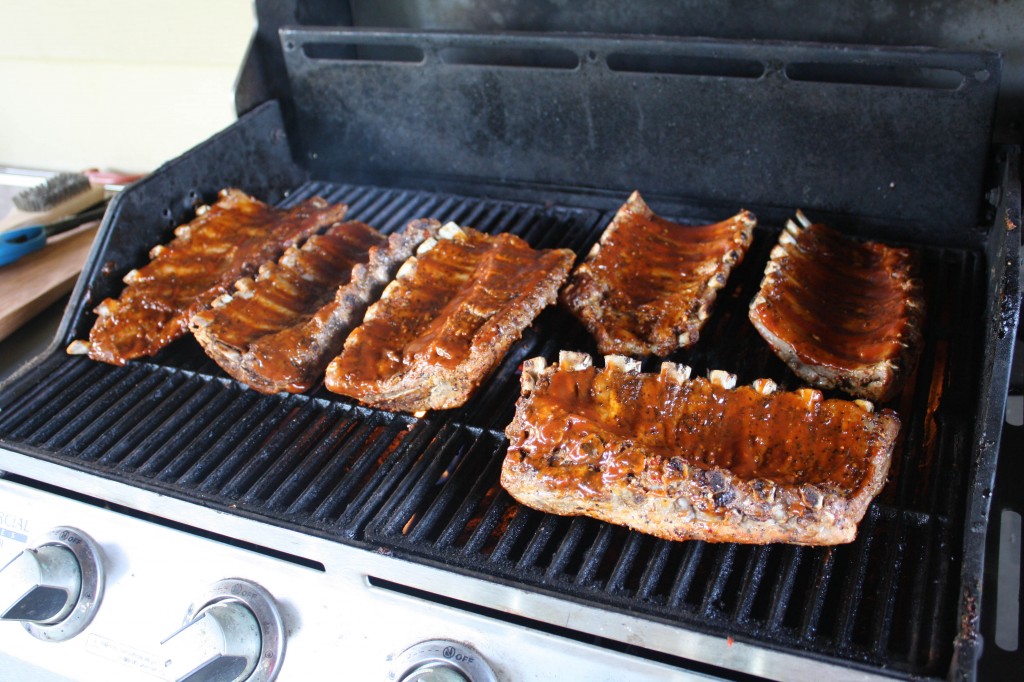 I made a cucumber salad to go with the ribs. I've made a few different versions of the cucumber dill salad and while it's always good no matter how you make it, I liked the previous recipe I made more than this one. Not sure why–maybe because I used fresh dill for this recipe? In the past I used dried dill so maybe that makes a different. Either way, it's a refreshing summer salad that is really low in calories. This recipe is somewhere between 30-60 calories depending on the size of the cucumbers you use. I used three medium sized cucumbers and I also added some freshly chopped red onion–which was a good addition.
[amd-zlrecipe-recipe:108]
I'm glad I went with a cucumber salad because it was a lot lighter than a pasta salad or coleslaw would have been. The ribs are so rich and heavy that you need a lighter side dish with it.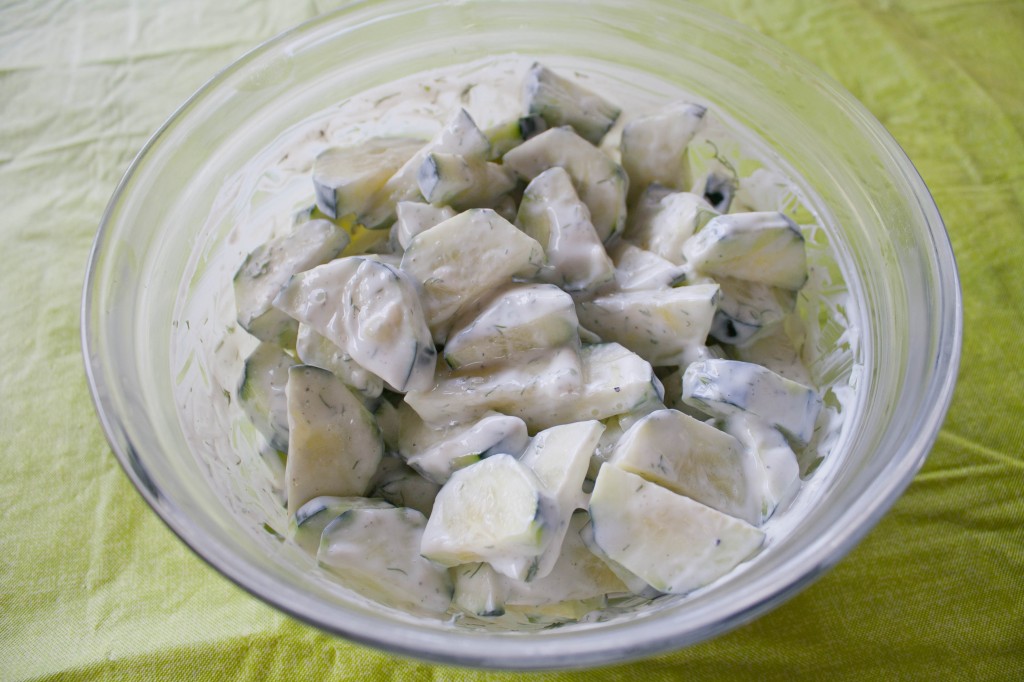 Finally, the ribs were ready! They were pork ribs–Michael gets them at Costco. They are so good and so meaty! He did a great job grilling them. We used traditional flavored Stubbs BBQ sauce instead of the spicy (like we like it) but they were still great. I had a Ninkasi beer with dinner and we sat around the table. The first few minutes of dinner the guys were watching the last (unfortunate and disappointing) part of the US World Cup game and eating ribs so no one was speaking much. 😉 The game was over and they shut it off and we had a great dinner just chatting about different things, family, travel, etc.
Mmmm! Nothing better than some red meat, beer and summer! After a leisurely dinner with cantaloupe for dessert (I forgot to make a real dessert!) my parents were heading back to Seattle. I got one last picture with Gram before they left. (She hates the camera.)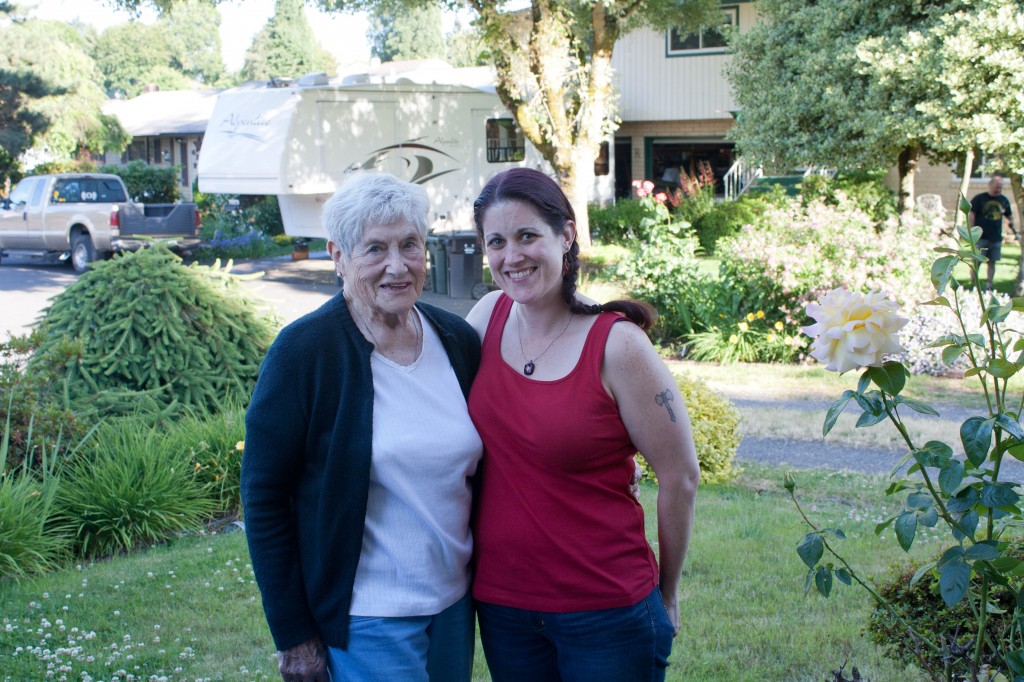 Words cannot express just how much I cherished my Sunday afternoon. From noon until after 6pm I just relaxed and did nothing but spend time with family. I wasn't frantically trying to check off the stuff on my never-ending to-do list, or messing with my phone, I was just present and spending quality time with people I don't see nearly enough. I know the reality is my Grandma is older and won't be with us forever. When I see her and see just how much she's aged, it makes me sad. I WANT her to live forever. She's 92 and will be 93 in December. She's a feisty old bird!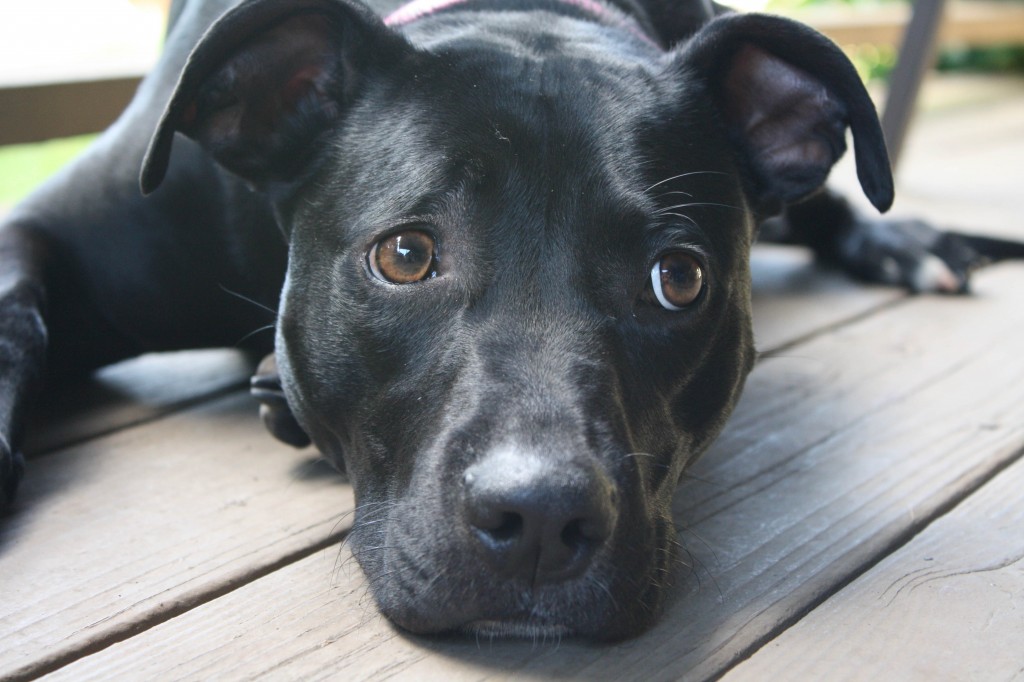 Lots of hugs goodbye and they were off to Seattle. Michael's dad was staying with us for a few more days so the boys watched more sports (there's always SOMETHING on…), Bella was one pooped puppy! I decided to have a little me time and read. Nice end to the weekend. 🙂