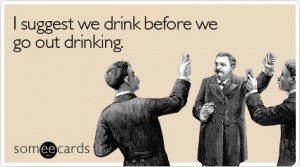 New Year's Eve was a memorable one. The snowshoeing we did earlier in the day was fun and scenic. We laid low the rest of the afternoon until it was time to get ready to go out to dinner. I made dinner reservations at Meriwether's for 7:30pm. We went there for happy hour months ago and loved it. I'm glad I made reservations too because the place was packed when we got there.
I took a long shower (which felt great after the 10 degree weather), did my nails and got all dolled up to go out. I really wish I had gotten a better picture of my dress because this one doesn't do it justice.
Neither of us drank before we went out. I was feeling dehydrated from the snowshoeing so I stuck with water. I was also smart the rest of the night by drinking a LOT of water! I did not want to start 2011 feeling crappy.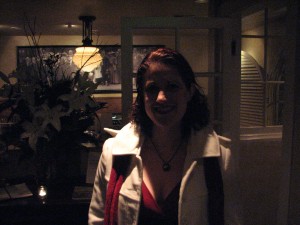 It was COLD out! I was glad I chose to wear tights but they weren't nearly as thick as they should have been to keep me warm. The restaurant was nice and dimly lit; very romantic (and also a hard environment to take good photos). We were seated by a window and there was Christmas music playing. It was wonderful.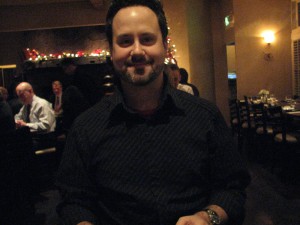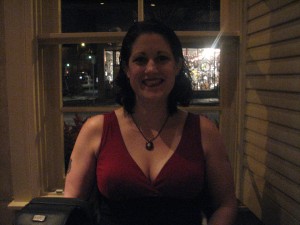 I ordered a glass of a Chilean Syrah that was heavy, sweet with cherries and honey, and the perfect glass to celebrate the occasion. I probably should have ordered a glass of white to go with my dinner but I really enjoyed my selection–so who cares about "proper" wine pairings?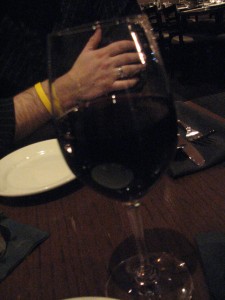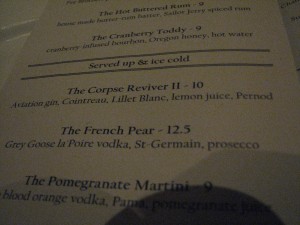 Although, the Corpse Reviver sounded very intriguing….! There was bread to start with. It was thick, moist (heh), salty and absolutely divine. The olive oil was rich. The bread was so good it really didn't need the olive oil.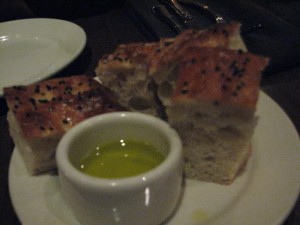 Instead of appetizers we each ordered a small cup of soup. I ordered the soup du jour which was a creamy tomato bisque with Parmesan cheese and basil. It was probably one of the best tomato bisques I've ever eaten.  Michael ordered the French Onion Soup–which was very very sweet but amazing as well. I will definitely be ordering that next time we eat there!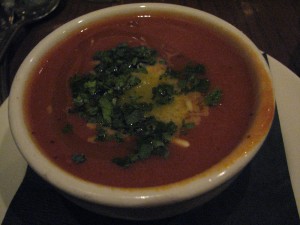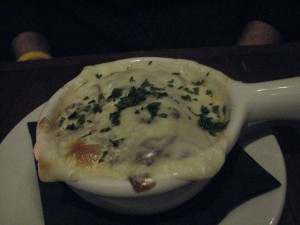 Now look at that gooey cheese and just TRY to tell me you wouldn't want that soup! I ordered one more glass of the Syrah to go with dinner. The menus came and the entree I had already picked out (pork with polenta and veggies) wasn't on the menu anymore. Bummer. I scoured the menu for something else. There were so many yummy things to choose from.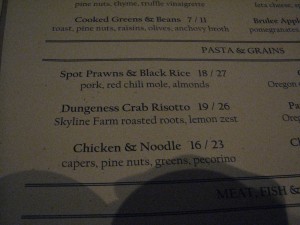 I ordered the Dungeness Crab Risotto. It came with fresh (amazing) crab, some crunchy veggie I couldn't figure out and lemon zest. It was really decadent. I liked the crab; it was soft and plentiful. The dish I ordered was so rich I am REALLY glad I ordered the half entree size. Wow!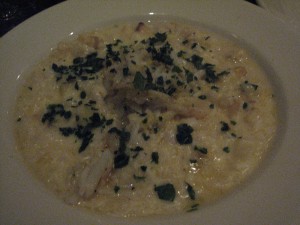 Michael ordered the steak of the day from a local Oregon Rancher. It came with scalloped potatoes, mushrooms (yuck) and sweet potato fries. He said it was the best steak he's had in Portland. I had one bite and immediately had Entree Envy.  I will definitely be ordering a steak there next time.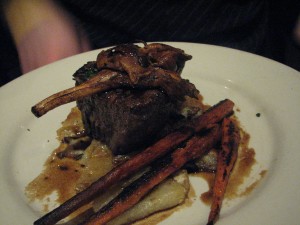 Another reason I ordered the small entree instead of the large was that I wanted to have room for dessert. Michael and I split the Creme Brulee. It was the perfect end to a great meal!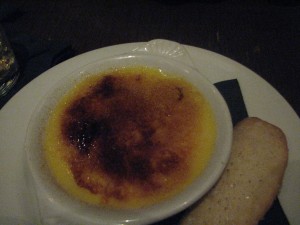 After dessert we headed downtown to the Shanghai Tunnel Bar to meet up with friends.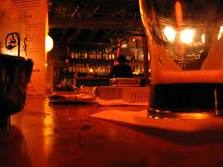 We had such a great time! It was so much fun hanging out with them. I bought Michael one drink and myself one beer and we both sucked down lots of water. I was feeling really good and despite leaving a bit before the stroke of midnight I enjoyed myself with my friends. We got home just in time to celebrate 1/1/11 together. It was a wonderful night!
QUESTION: How was your New Year's Eve?