Oh summertime! How I LOVE thee! Sitting outside on the deck in our tranquil, beautiful backyard surrounded by trees and farmland…listening to the sounds of the crickets, the wind in the trees and the happy squeals of the neighbor kids on their trampoline, and the distant crack of a metal bat hitting a baseball at the school next door–these are all things I love about summer! Summer may not quite be in Portland but it's been giving us a tease lately with gorgeous, hot weather and sunny blue skies. My hope is that two weeks of divine weather wasn't our entire summer. 🙂
One night after I rode my bike home from work, I told Michael that I was craving something grilled. I didn't have anything in mind, really, but something "summery" and delicious that we could cook and eat outside as the sun quietly set over the trees. Michael gave me a choice of defrosted chicken thighs or hamburgers he formed into patties and froze for future use. Hmmm. Enticing. I suggested that we make BBQ chicken thighs.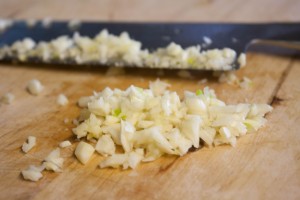 We did not have BBQ sauce in the fridge or pantry, so Michael set out to make some from scratch while I ran to the grocery store for some veggies we could grill with the chicken. Here is the recipe we used and it was AWESOME!
[amd-zlrecipe-recipe:34]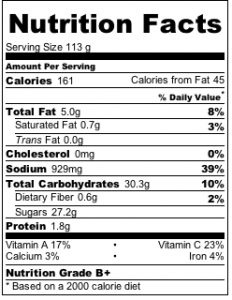 I got home just as Michael was simmering most of the ingredients. I guess while I was at the store picking up corn on the cob, he minced garlic and onions until it was almost a puree, cooked it in the pot and then added the rest of the ingredients.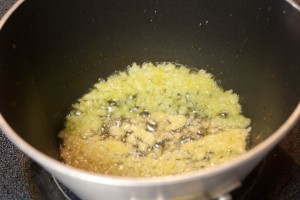 I was in charge of stirring. Michael went outside to get the grill ready and start boiling water for the corn on the cob. I tasted the sauce and it was delicious, sweet and tangy. Michael said I could make it as hot as I wanted it so I started adding a teeny bit more cayenne pepper to taste, then I'd let it simmer a bit longer, stir, taste, add a teeny bit more. The spice took a few tastes to really get the full POW! of the cayenne, but that bite was there. I loved the smokiness of the BBQ sauce, too.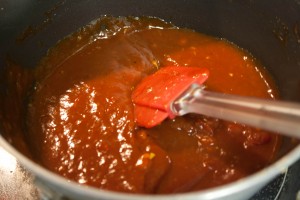 So Michael and I sat outside on our deck relaxing. He enjoyed a beer and I had a glass of white wine while we ate our spinach salads and waited for the chicken to cook. It ended up taking a lot longer.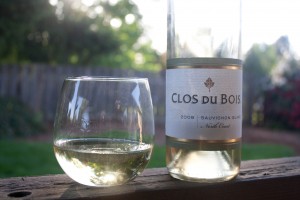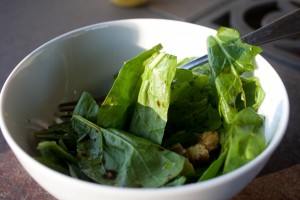 The chicken definitely took longer than expected, perhaps because there was a bone in it. Michael flipped it a few times and added some more sauce to the chicken thighs as it fell off.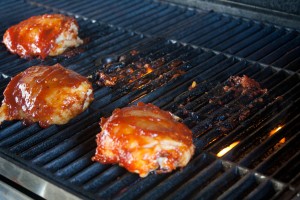 Finally, dinner was ready. And the chicken with the homemade BBQ sauce was absolutely fantastic. We both took a bite and moaned "Oh my god! This is so good!" The sauce is probably one of my favorite BBQ sauces I've had, and so much better than anything from a bottle.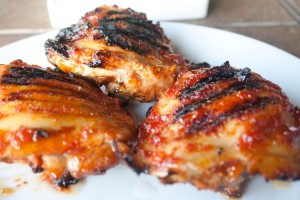 Doesn't that look good? The grill marks were great. I ate one chicken thigh and corn on the cob. The corn was sweet and perfectly prepared.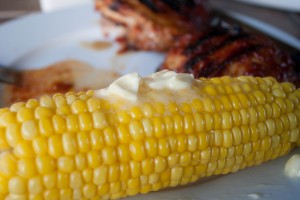 All around, dinner was one of the best we've had in a long time. This will definitely be in the summer rotation this year! Give this recipe a try. You won't be disappointed!
And on a side note, Michael and I saw The Avengers this week. I highly recommend the movie! It was such a well-done film. I thought the acting was great, the pacing for such a long movie was just right and I was never bored. There were a few cheesy moments, but nothing too over the top. I thought the 3-D technology was a lot better than the other ones I'd seen (I never felt nauseous or got a headache like other 3-D movies did for me). And of course it didn't hurt that two of my favorite guys were in it (Mark Ruffalo and Robert!).
QUESTION: Have you ever made your own BBQ sauce? Spicy or sweet?