I finally had a Tuesday evening free for a change–usually it's a gym night but I had an appointment in the morning before work so I just worked out before that appointment. It's nice having some time in the morning to get my workout out of the way because I'd much rather have my evenings free. I just can't commit to getting up super early all the time to do that, so it's just a once in awhile thing.
A nice calorie burn for an early morning workout (when I am groggy and so not awake).
I planned on having a friend over for dinner recently as a thank you for kitty-sitting while Michael and I were in Texas. It was really just an excuse to invite her over and make her dinner. 🙂 She does so much for everyone in her life and I love having a chance to thank her in a way she'd like. She LOVES all of Michael's cooking and had a special request: his fish n' chips. It had been a long time since we'd made it, maybe sixth months or longer? I got all the stuff for dinner and then she had to cancel. An elderly friend of hers fell and had to go to the ER. Thankfully, her friend was okay.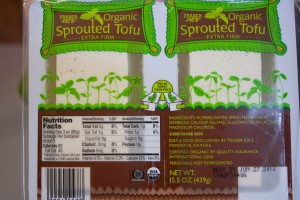 We rescheduled and I wanted to try this recipe.  I already had some tofu in the fridge for another recipe I never made (miso soup) and decided to try this recipe because another blogger recommended it highly. It sounded really good to me.
[amd-zlrecipe-recipe:38]
While I waited for Star to come over, I checked on my garden and cut some fresh kale to go with dinner. My veggies are doing very well. The kale is still awesome, the lettuce is holding on. Unfortunately the spinach is dead and gone. The tomatoes are just starting to get little itty bitty babies on it and the jalapenos are starting as well: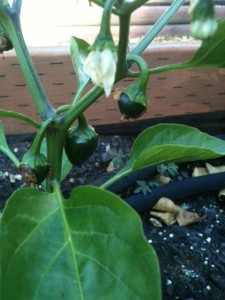 I made a salad with lettuce from our garden and I added some raw broccoli and cauliflower to it. When Star came over she brought her absolutely delicious bean salad and I tossed that on top of my green salad (perfect). Then I got to work.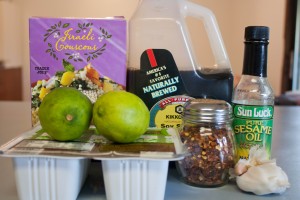 Poor Michael wasn't much help in the kitchen–he was a complete zombie because he'd biked 97 miles in the last 7 days and had clearly just hit a wall. I gave him the task of cooking the Israeli Couscous.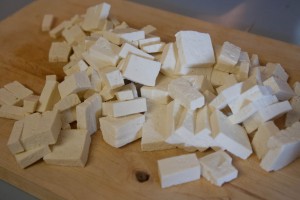 While he did that, I made the sweet chili lime sauce. It was super easy. I added more garlic (2 instead of 1) and next time I'd probably add a third clove to it.
Star showed me how to press the tofu and then she cut it into small pieces while I got the other things going. I've never worked with tofu before and had no idea what to expect, what was normal, how long to cook it, etc. She definitely helped a lot with that.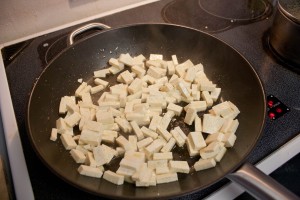 At first I was going to sautee some kale from the garden and mix that into the couscous but there was just too much going on. I decided we didn't need a salad and couscous and tofu AND kale. So no kale and it was fine without it. I started cooking the tofu in the skillet with sesame oil (it smelled so good) and then eventually poured in the chili sauce.
It smelled fantastic as it cooked down! I was so excited to eat dinner!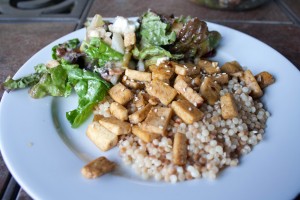 I dished it up on the couscous (no butter or oil added) and sprinkled sesame seeds on top. The three of us went outside to eat dinner on the back porch. It was a warm night after an 85+ degree day and the breeze was pleasant. We ALL LOVED the recipe. Hands down, this is the best recipe I've tried in a very, very long time. It was the kind of meal I didn't want to end. It was the kind of meal that I was SO glad I worked out that day for because I had second helpings! And I don't usually do that.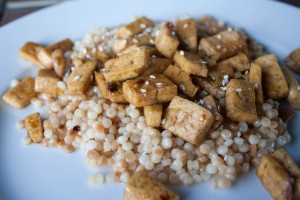 In fact, all three of us had seconds–even Michael who doesn't like tofu! I kept my second helping to just more salad with some leftover tofu on top and skipped extra couscous.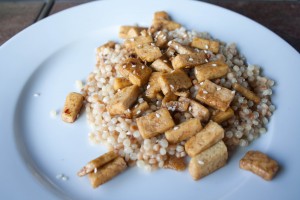 All in all, I loved every single bite of this recipe and Michael and I are already looking forward to making it again with chicken or shrimp. We both think it would work well with either of those things. While we were sitting outside eating, Fat Kitty jumped onto the counter to watch us (bad kitty!).
Try this recipe. Seriously. SO good. I was kinda bummed there weren't enough leftovers for me to have for lunch the next day….
We sat outside chatting as the sun started to set, enjoying the late summer evening. I brought out strawberries for dessert and Star had the brilliant idea to dip them in my Wax Orchards chocolate sauce (it's low calorie and diabetic-friendly). She's a genius.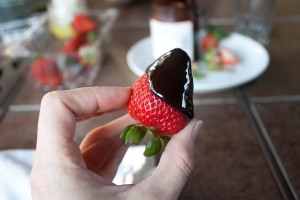 How good does that looked?
Give this recipe a try, with tofu or chicken it doesn't matter–it tasted so good and I will definitely be making it again.
QUESTION: What is your favorite way to use tofu?