My friend Star came over for dinner and to help us write our wedding ceremony. She's the officiant and we both have been working on the ceremony and vows for a bit now on our own. It was time to come together and make it all fit.
Since she's a vegetarian, I wanted to make a recipe that was veggie friendly and that also used up some of the zucchini from our garden. I found a few different frittata recipes and decided to make one of them. I used two different frittata recipes to make my own. I liked the spicy ingredients in this recipe, but I also liked that the other recipe called for ricotta cheese (which I needed to use up).
[amd-zlrecipe-recipe:115]
The recipe called for 6 eggs and said it fed 2-3 people. I think it actually fed more like 5 people. We each had a fairly large serving and there were two more servings left over (which I had one for lunch the next day). I put most of the spicy jalapenos on one side of the frittata and used the banana peppers on the other because they are less spicy and that was for Star.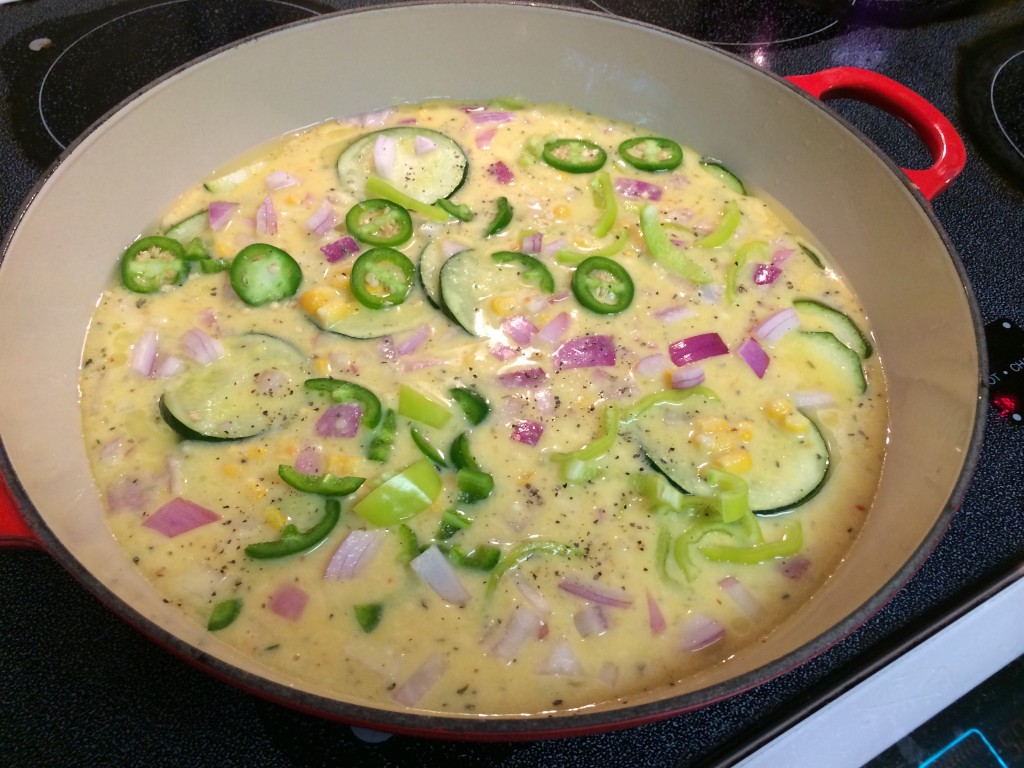 The recipe called for cooking the frittata on the stovetop for 5-6 minutes. I ended up cooking it for more like 10 I think. It was really jiggly and a little too wet still. This was the first time I made a frittata so I used some of Michael's experience to figure out when it was ready to be baked. Perhaps using a cast iron skillet is why it took longer…? Who knows.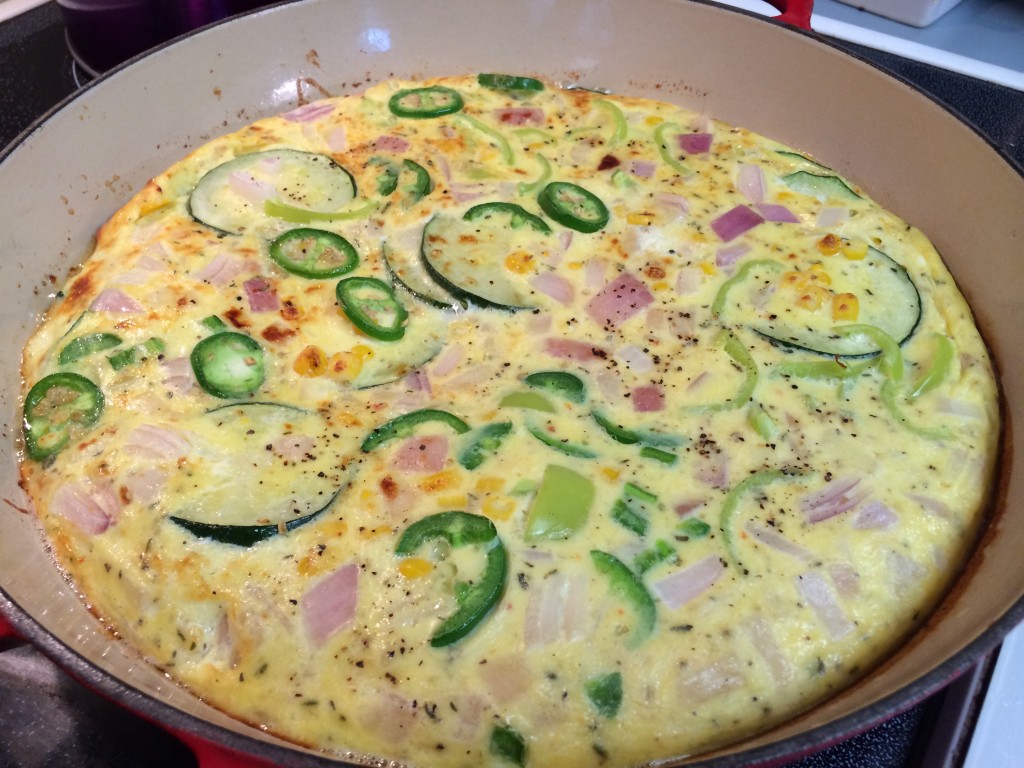 It was looking much better. I put it in the oven under the broiler. Again, the recipe called for 2 minutes. I did more like 3-4 minutes. I took it out twice and tested it with toothpicks to see if it was done. It was pretty obvious when it was done. Here was the finished product: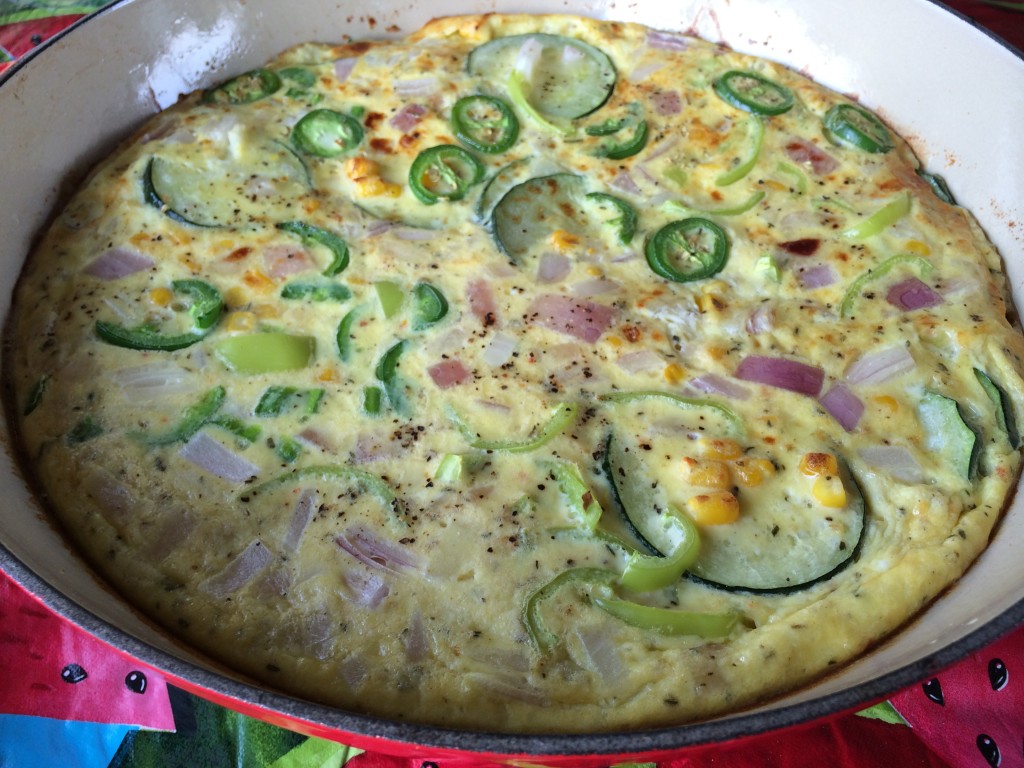 Star brought over  a loaf of olive ciabatta bread from New Seasons. It's A-MAZING. Oh my gods, between the three of us we almost ate the entire loaf of bread. I can't remember the last time I had this bread–maybe a year ago? It's not something I eat very often and usually when I eat bread it's the Costco gluten free stuff. So this was quite a treat! I also brought out some of the pickled red onions I made. Star LOVED them. 😀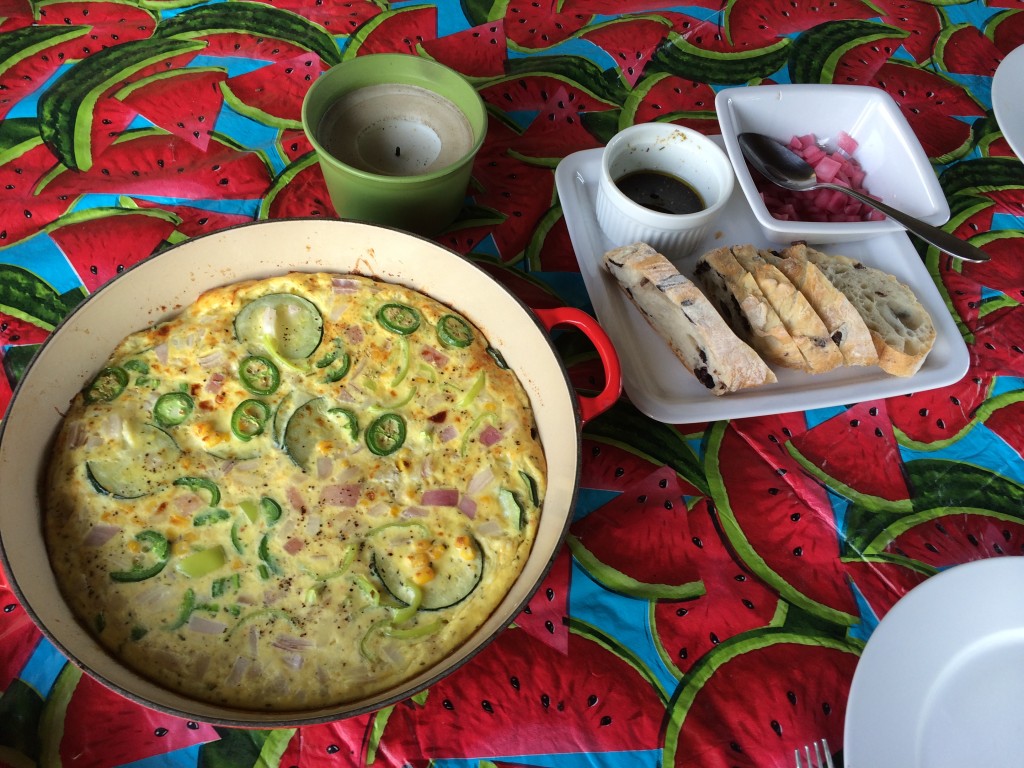 We sat outside on the deck and listened to the kid's football (or soccer) game going on in the distance. The crickets were singing nearby and the there was a lovely breeze that cooled down the hot day. I had a glass of the Trader Joe's Coastal Sauvignon Blanc wine (it's fabulous) with dinner and lots of water. Dinner was good but Michael and I both agreed that it needed a meat. Chorizo would have been nice. I think diced ham would be great, too. The dish would definitely be better with some salty, flavorful meat in it. Despite that, it was a decent vegetarian meal and Star loved it so that's what counts.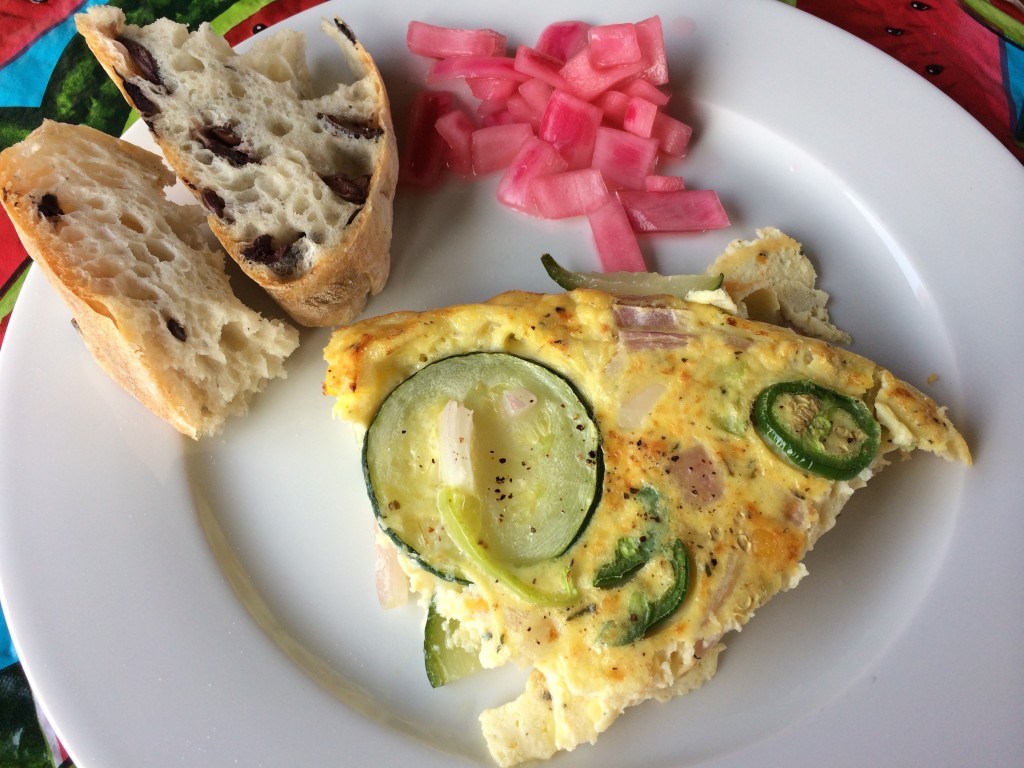 After dinner we worked on the ceremony. We ended up getting it done, a rough draft that still needs a little tweaking, but it's done. One more thing to cross off the to-do list!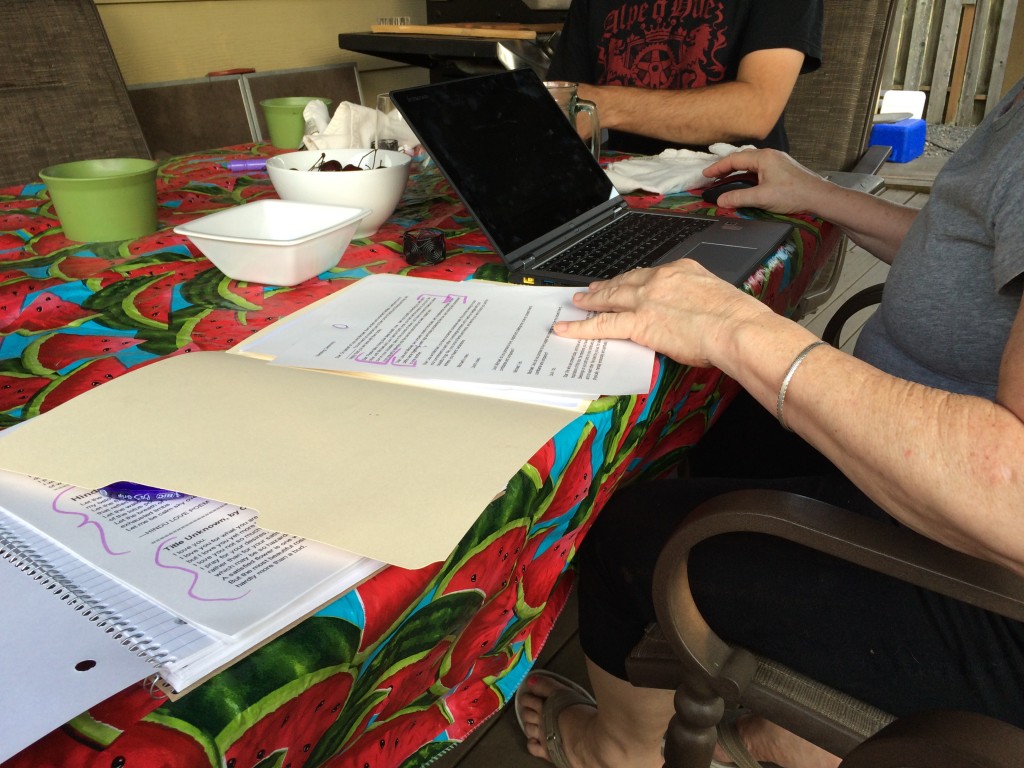 I also printed out a bunch of poems I liked. One of my friends will be reading a poem during the ceremony. I narrowed it down to four and Michael read them all and picked his favorite. The runner up, that I still love, is this one:
TITLE UNKNOWN
~ By Carl Sandburg ~

I love you for what you are, but I love you yet more for what you are going to be.

I love you not so much for your realities as for your ideals.

I pray for your desires that they may be great, rather than for your satisfactions, which may be so hazardously little.

A satisfied flower is one whose petals are about to fall.

The most beautiful rose is one hardly more than a bud wherein the pangs and ecstasies of desire are working for a larger and finer growth.

Not always shall you be what you are now.

You are going forward toward something great.

I am on the way with you and therefore I love you.
Isn't that wonderful? Still love it. We ended up choosing something else for my friend to read. TBD. Star is Najavo and we are including a Native American blessing in the ceremony as well as some other elements that mean a lot to me. Michael seemed more interested in the words, as I was more interested in the symbolism, and he picked out things he liked for the vows from various print out examples. I liked all the ones he picked, as well as a few others. Despite what he says, there will NOT be the words "obey" in our vows. 😛
On Sunday I went to yoga and then spent some time in the yard pulling weeds (god it's been never ending this summer!). After that we went to Cartlandia for lunch. I got a buffalo chicken wrap in a spinach tortilla from the Good and Evil Wrap. I love that place and was craving it lately.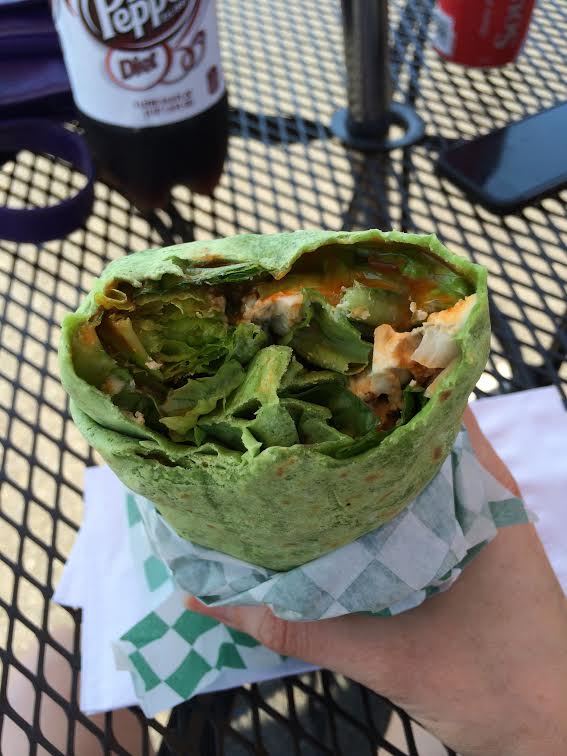 SO GOOD. After lunch we had a dance lesson. The DJ we hired for the wedding also teaches dance. I brought the shoes I am going to wear for the ceremony (my grandmother's shoes) and also my favorite pair of heels just in case. They had converted their garage into a dance studio. It was pretty nice. The private lesson was an hour and we got a discount due to hiring them for the wedding.
I have some dance experience. I took ballroom dancing classes but it was over a decade ago. At that class I learned the basics of ballroom dance–tango, salsa, box step, etc. I remember it being hard and a  really good workout. I was hoping some of that would come back to me once we started but…not so much.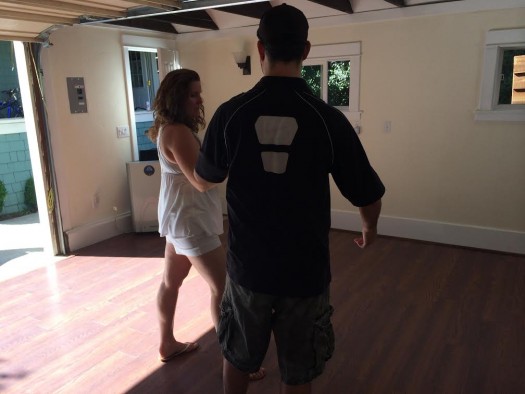 Lynn and her husband Mark taught us how to dance to our first song and showed us a few choreographed moves. It was so hard! It just didn't come naturally like I thought it would and I felt like Michael and I were out of sync often. I also noticed that *I* try to lead too much. It's just not in my nature to follow. LOL. We spent an hour with them and when we switched partners and I danced with Mark or even Lynn, I was impressed with how good they dance. I also noticed that I danced better with them because they were confident leaders. I think Michael and I need a LOT of practice still!
We may end up doing the typical prom dance sway if we don't practice…