I'm feeling pretty good about myself right now. I am now on Day 3 of no candy at work! Remember I wrote about The Candy Room in my office? The insane amount of candy, chocolate, sweets, munchies have been the bane of my existence for my work life. I can control WHAT I have in my house and what I eat at home. I cannot control the food that is in the office. And honestly, the temptation to graze is really strong, especially since I walk into The Candy Room at least a dozen times a day to use the printer in that room. It's the most obnoxious thing ever and before I know it, I've added about 300 calories to my day.
[blackbirdpie id="162030056871444480″]
Tuesday I left the office and had successfully avoided eating ANY candy. There was even a fresh stock of those Pucker Pals that I adore–kinda like Sour Patch Kids. Mmmmm. I resisted! Instead, I ate the food I brought to work, chewed a bunch of gum and then headed to the gym.
I can't say I was feeling super motivated to workout. My body was actually rather sore from snowshoeing over the weekend AND the massages Michael and I got on Monday night. But I hit the elliptical and got my sweat on, following up with about 30 minutes of weight lifting.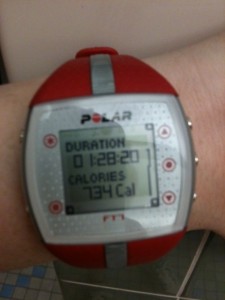 Gym Stats:
Time: 1:28
Calories Burned: 734
I got home and Michael and I made dinner together. We had pork chops from Costco and this time we cut them in half lengthwise so they were a normal sized portion. The pork chops were perfect and not dried out.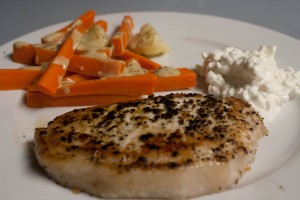 I steamed some cauliflower and carrots, topped them with Goddess Dressing and gave myself a scoop of cottage cheese too.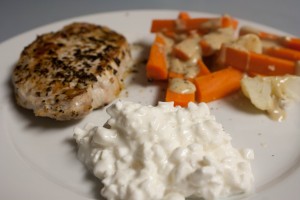 The "No Candy At Work" edict wasn't something I decided to do. I just got so busy at work that I honestly forgot to eat any. And then I felt really good about NOT eating any and decided to keep it going. I don't know how long I'll do it. I'd love to erase the "habit" of snacking at work. Maybe this will do the trick. This is not to say that I didn't have some dessert. I had a small bowl of ice cream at home and I still had over 400 calories left over for the day. 😀
Michael seems to be doing alright. He's keeping busy around the house and seems to be in good spirits. I'm glad. Hopefully he finds a job soon, or at the very least gets some leads. The cats are loving having him home! Fat Kitty and Maya are being super social–especially Maya! She's such a scaredy cat and hides all the time but she's been spending time with Michael when he's home! It's fantastic. Look at my babies: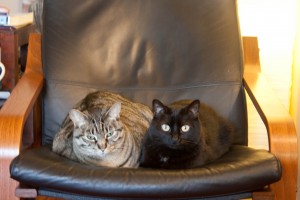 I might be impartial, but dang, they are adorable little monkeys!! Fat Kitty has been glued to my side since we got home from Bend. He definitely missed his momma.
QUESTION: What foods are hard for you to resist? Have you ever given them up?