First things first: WORK OUT. It started out rocky. My knees weren't too happy for some reason. But once I warmed up, they felt pretty good. I started with the exercise bike at the gym, light resistance, and then worked out with the kettlebells and weight machines. I was feeling stronger and much better by the end of the session.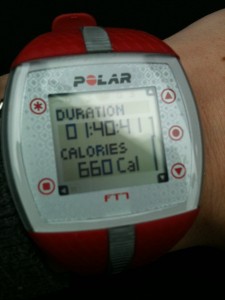 After the gym, Michael and I went out for lunch. He was craving a burger and I didn't care either way. The only things I've been craving lately are soup. The rain has returned to Portland and I think the gray, wet weather is making me hibernate early this year! We went to Killer Burger in Sellwood. It's a fairly new burger joint that Michael has been to before. He went when it first opened and said it was really salty. Because of that, I never had a desire to check it out. He figured it had been open long enough that maybe they'd remedied the salt thing.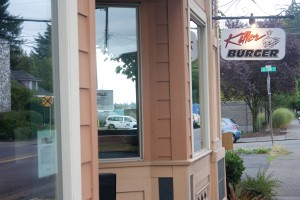 It wasn't too crowded even though it was peak lunch hour. I had checked out their website before we went and I already knew that I was ordering the "Girlie" burger. It was essentially the child's size burger. I ordered the "Jose Mendoza." It was a small burger with Jack cheese and green chilis on it. It sounded really good at the time.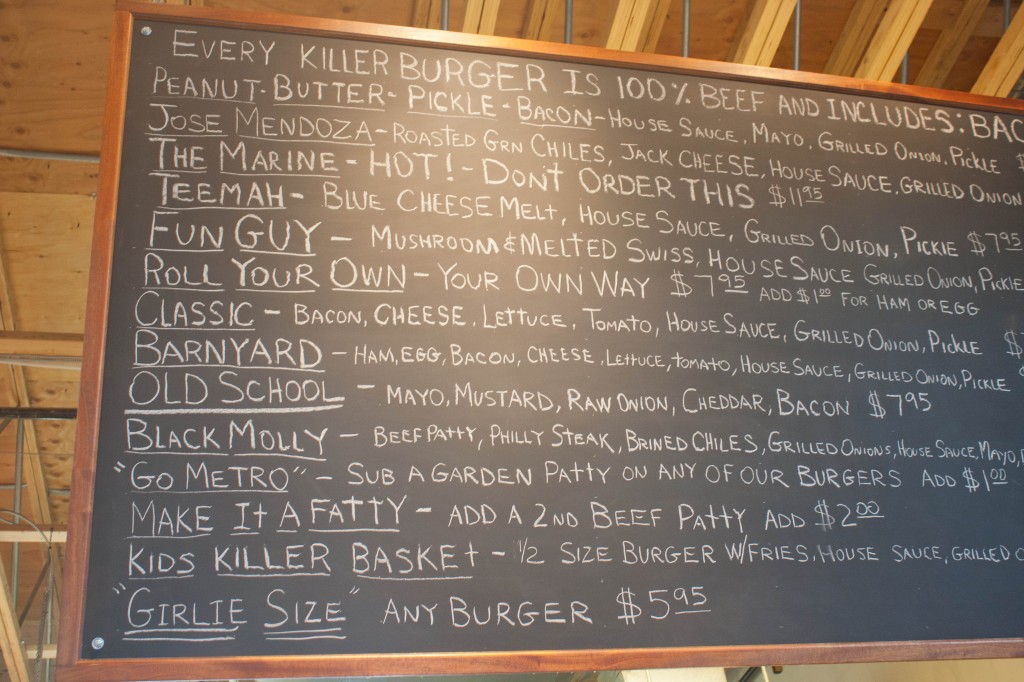 Do you see the first option? Peanut Butter, Pickle and Bacon. Is that like "The Pregnancy Craving" Burger or what? Gross! Michael's burger is on the right side in the photo below. He got the Swiss and mushroom burger. See the the size difference?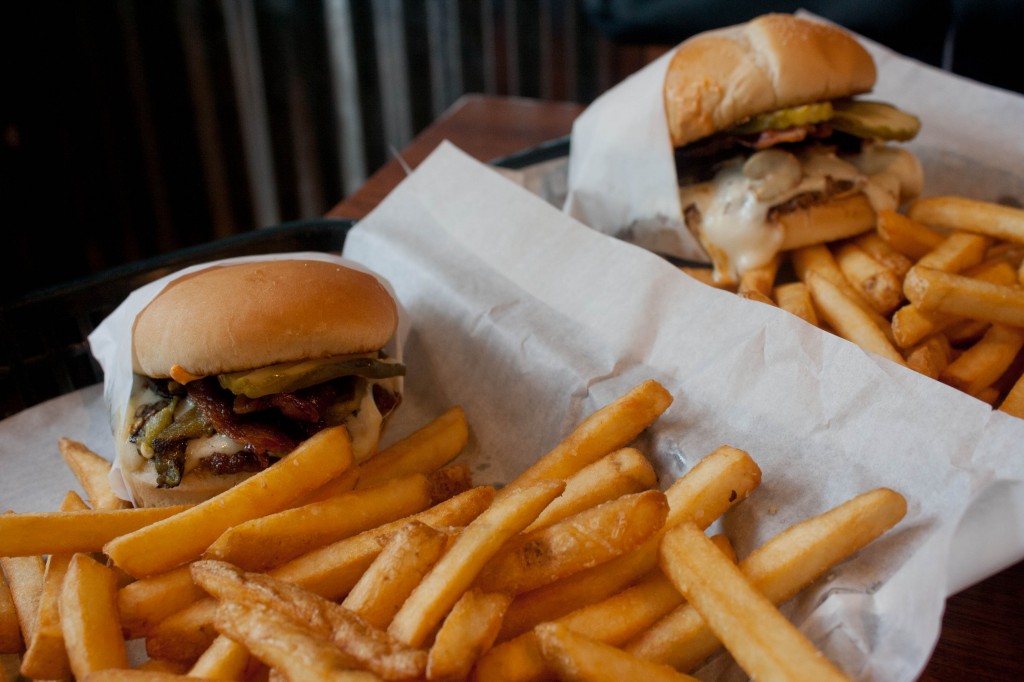 I was glad my burger was small. It was the perfect size for me. The first few bites weren't that impressive, honestly. The roasted chilies were kind of bitter. But the more I had, the more I started to like it and the bitterness was gone. I liked my burger but it wasn't anything particularly special. It did not make my Best Burger List.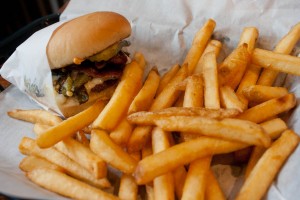 Later that night, I made what *I* had been craving for dinner: soup! Broccoli Cheddar to be exact. I wish I could credit where I found this recipe, but I have no idea. It's been in my stack of things to try forever. I'm so glad I finally made it!
[amd-zlrecipe-recipe:47]
The recipe was super easy. Michael shredded the cheese in the food processor for me and I chopped up the onions and broccoli florets. I used chicken broth because I was out of vegetable. Either would work well.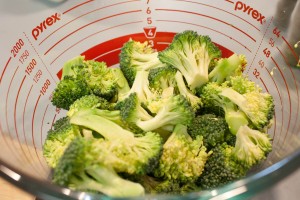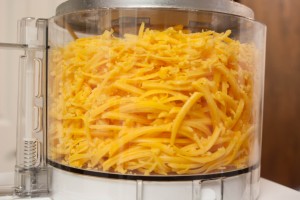 While I was cooking, Fat Kitty entertained himself with the grocery bag.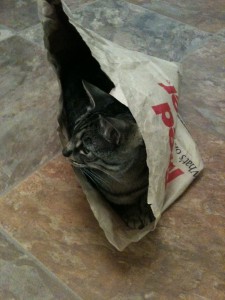 I didn't have tarragon so I used dried rosemary. I also added some salt, marjoram, and a dash of dried parsley. I sampled the soup as I went along and it was a bit on the bitter side. I added a small pinch of sugar and that fixed it right away. I didn't need to use very much.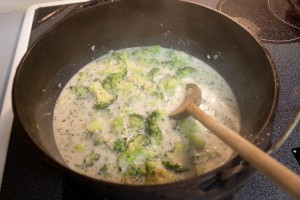 I used the food processor to make it smooth but only just a little bit. I wanted to have some larger chunks of broccoli in the soup. I put it back in the pot and let it simmer. I was a tad worried that it wasn't thick enough but as I added the cheese it thickened up nicely. The recipe called for 1 cup of shredded cheese. I use sharp cheddar and ended up using 1.5 cups of cheese instead of one. So if you change that in the recipe, adjust the calorie count accordingly. 🙂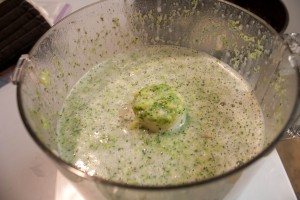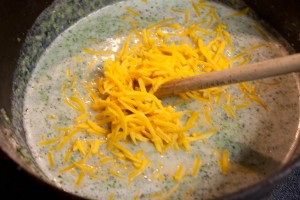 While the soup was simmering, I baked some french bread (not from scratch, sadly). It was a whole wheat loaf with nuts and grains in it. It went perfectly with the soup. I sprinkled some shredded cheese on top of the soup when it was done.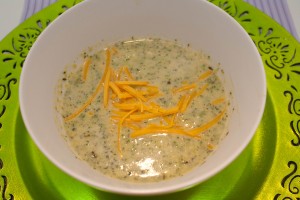 I LOVED the soup! It had thickened up properly and the cheese. It was creamy and savory and the flavors of the cheese and broccoli were perfectly balanced. I was a bit sad that the recipe didn't make more leftovers. I wanted to eat it for days.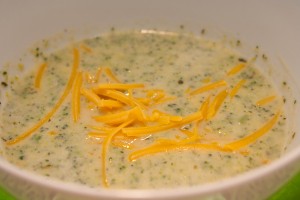 This was the perfect soup on a rainy, dark night. I loved how healthy it felt and I definitely liked it better than any store-bought broccoli cheese soup I've had.
QUESTION: What is your favorite homemade soup?