After my breakfast I happily headed to the gym to do my new Saturday Weight Routine. A few weeks ago, I had Michael take some "Before" photos of my trouble areas. My goal is to work on those areas while I can't run. I'm not sure yet if I will ever post those "Before" photos. The "Before" of my arms are okay–just a bit flabby. But my stomach is the part that I hate the most. I want to tone up my abs and actually have some definition there. At least that's my focus for now.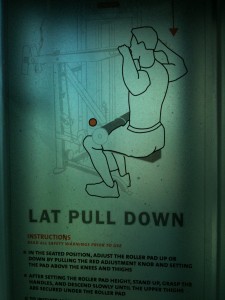 I'm targeting my upper body right now and trying to focus on toning my arms. To do that I'm doing the arm machines at the gym and then doing the abs, then back to the arms and so on. The Lat Pull Down works the biceps and the sides of my body which works both of my target areas.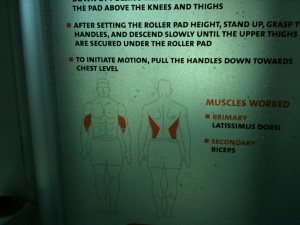 I warmed up on the exercise bike for 15 minutes before hitting the weight machines. Luckily I was feeling really good — no muscle soreness — and I felt good as I lifted. To work my "Lunch Lady Arms" dilemma, I'm doing a lot of machines that work my triceps.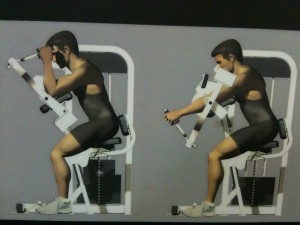 I did my routine: 2 sets of 15 reps on each machine. The weight depended on the machine and the part of my body I was working. My biceps are much stronger than my triceps. By my third time around the circuit, my muscles were starting to shake. What a good feeling!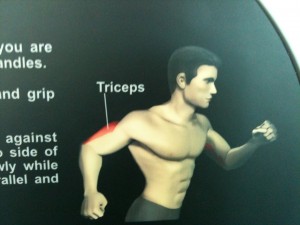 I used a new machine too. It's the Pec Fly machine that works either the front or the back depending on how you sit in it. I'd been too intimidated to try the machine because I couldn't figure out how to use it. I watched other people use it but everyone used it differently! A co-worker of mine used to be a body-builder and she gave me some tips to reach my goals. One of the suggestions she gave me was that Pec Fly machine.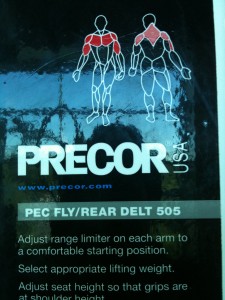 I figured out how to use it and it went well! It felt good too, and I will be adding it to the routine.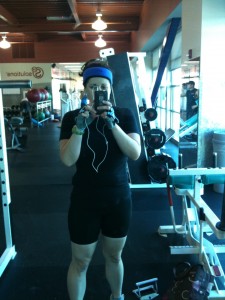 Next up: Ab Work. I did the crunches with the half ab ball.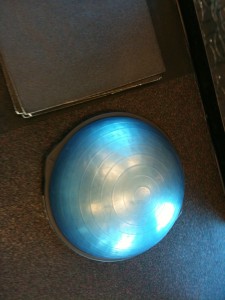 The crunches were burning but it felt good. I also used the medicine ball.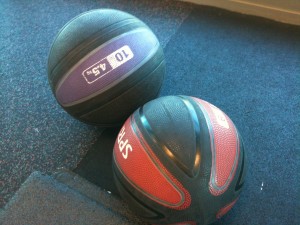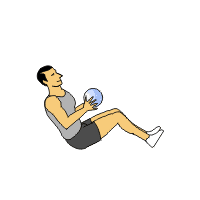 If you ever feel like doing ab work isn't a good workout, give that move a try! You'll be sweating in no time! My heart rate increased and I was definitely sweating. I had planned on canceling my personal training session scheduled for Tuesday with Ding-Bat Trainer but when I got upstairs she was with another client and no one else was around. Damn! I'm going to have to take care of it soon.
I did very gentle weights on my lower body to test it out and see how my knee feels. I guess I will know tomorrow.
Gym Stats:
Time:1:33
Calories Burned: 500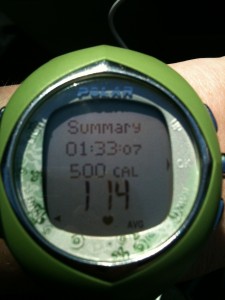 After the gym, Michael and I went out to lunch at Hopworks. It's a gorgeous day in Portland–almost 80 degrees! We got a seat outside in the sun and enjoyed the afternoon. We ordered the Pint O'Pretzels for an appetizer. It came with some spicy mustard and really hit the spot.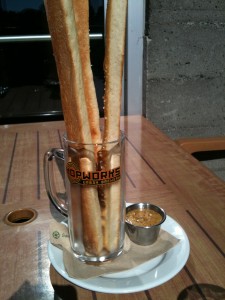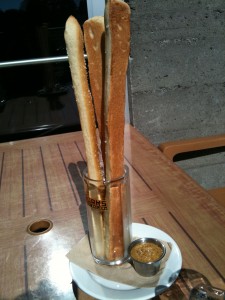 I ordered the lunch special: 1 slice of pizza, salad and a diet soda.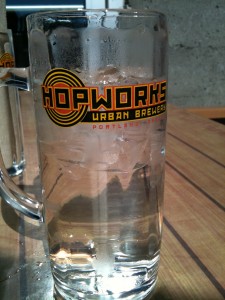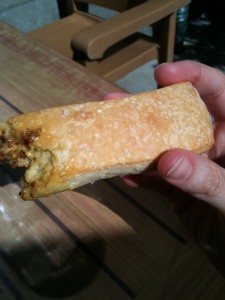 Everything was delicious! Now, out to enjoy the sunny day!