Bad News: I had to go to the dentist Tuesday afternoon. I was having sensitivity to hot/cold and my worst fear was having to go through another root canal like last summer. Good News: No cavity! She just slathered on some fluoride and I was on my way. More Good News: she asked me if I'd lost weight since she last saw me in December. That made my day!
Bad News:  The insipid rainy weather that has been drowning Oregon lately is depressing me and frustrating me. It's really cutting into my training time for the Portland Century. I have one month to go and the most miles I've done in a week was 50. I need to be doing 75 miles. Sure I could get out there in the rain on my bike and train but I don't want to. This is supposed to be something I'm doing for fun. Biking in the rain is not fun to me. Good News: A friend reminded me today that I can do anything, even if I'm not "properly" trained. She reminded me that I ran Hood to Coast and I thought, she's right. So what if I'm only at 50 miles a week instead of 75? Race Day Excitement will kick in, along with GU's an the energy of the crowd. If the day arrives and I really doubt my abilities to complete 75, there's no harm in doing 50.
Bad News: The atrocious weather has soaked our yard through and through. Good News: Apparently the garden loves it. I've spotted TONS of zucchinis that are ready for plucking.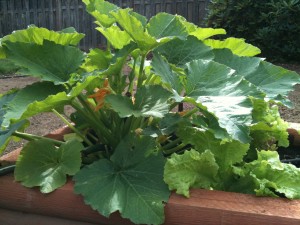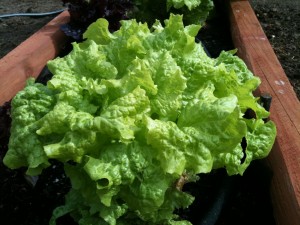 Plus, I spotted some baby jalapenos!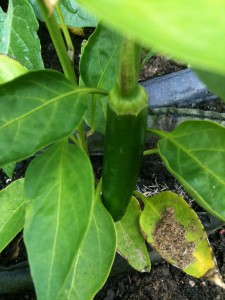 Bad News: The stress eyeball/twitchy eye/strained calf muscle thing I've had for a week has me stressed out and annoyed. Plus I'm popping Advil like it's candy, which I hate to do. Good News: Stress eyeball seems to have improved (finally)!
[blackbirdpie id="91991534387474432″]
Bad News: My calf muscle has been tight and achy (and very angry with me when running lately). Therefore I've been avoiding cardio since last Wednesday (except for swimming and a stint on the stairmaster. Good News: I went to yoga class with my friend Robyn on Tuesday night and felt like a million bucks afterward! Seriously, I haven't felt this awesome after yoga in a long time.
Robyn warmed up on the treadmill then she joined me for some weight lifting. Since my dentist appointment turned out to be a quick one, I had the time to fit in some cardio. I started to consider it…Thinking…"Hmm, maybe I'll do a little running before yoga…" But I stopped myself. I vowed to REST and not do cardio until my calf felt better. We did some of the weight machines and then did some free weight routines and finished up with a bunch of ab work. I did the Russian Twist with some other ab exercises–this time using the 10 pound medicine ball instead of the 8.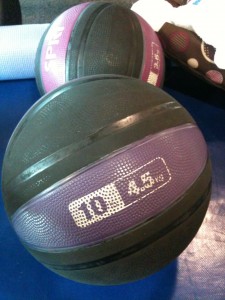 Gym Stats:
Time: 49 minutes
Calories Burned: 278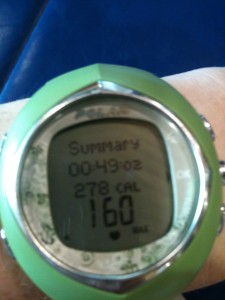 We finished up just in time for the yoga class. Confession: I SO did not want to be in that class. Mentally,  all I could think was "Is it over yet?" I was distracted and not into yoga (I struggle with this a lot–which is why I don't go to classes much) but about 20 minutes into the class I finally found my groove and it felt good.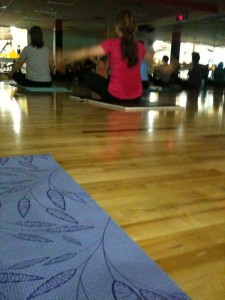 It's funny because every time I've gone to the yoga class I was usually in need of something–some part of my body was tight or injured or sore–and the teacher's instructions are always perfectly timed. Tuesday night was no different. It was like she read my mind and did a ton of calf stretch poses. It felt soooo good!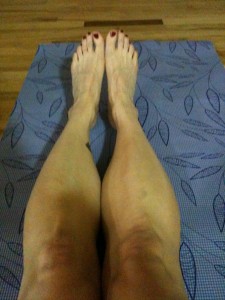 My monkey toes had to work really hard to keep me balanced too. Six months of no yoga meant I lost almost everything I'd gained in terms of flexibility and balance. I lost my balance many times but I was still doing the poses. Miraculously I was able to conquer the Tree Pose (my favorite pose) so that made me happy.
Yoga Stats:
Time: 56 minutes
Calories Burned: 154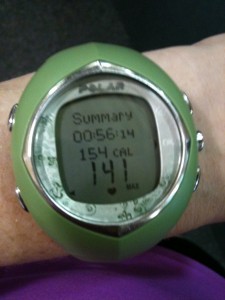 By the end of the yoga class I felt strong, centered and completely relaxed. So relaxed that when we were doing the meditation at the end I felt myself floating away as I listened to the soft music and rain. It was nice. And so so needed. When I got home Michael was making chicken salad and guacamole. I prepped the salads stuffs and devoured every last bite.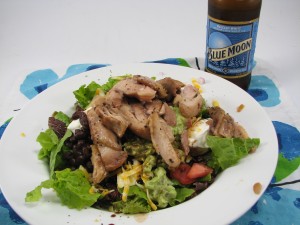 I enjoyed my one Blue Moon Ale, my spicy taco salad and the Tour de France. When I woke up the next day my calf muscle felt a million times better! Yay!
QUESTION: Do you have any Bad News/Good News to share? What's your favorite yoga pose?