When you have zucchini growing in your garden like weeds that cannot be controlled, you get creative with ways to use up the zucchini. Michael's family was in town visiting for a few days last week and we were so busy I neglected the garden for about four days.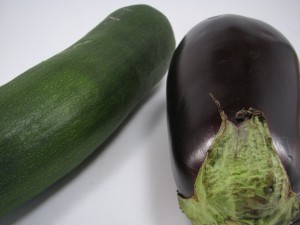 When I finally found the time I discovered that the tiny zucchini that had been growing had more than quadrupled in size. Ooops.
Eggplant and Zucchini Napoleon

Nutrition Facts: Serving Size: 1 (351 g)    |     Servings: 6     |    Calories 432

Ingredients

1 large eggplants

3 medium zucchini

1/2 cup olive oil

2 tablespoons fresh thyme ( chopped)

2 tablespoons fresh oregano ( chopped)

1/2 tablespoon garlic ( minced)

12 ounces mozzarella cheese ( sliced)

2 cups marinara sauce
Directions

Preheat oven to 400F & cut eggplant + zucchini into lengthwise slices.

Combine olive oil, thyme, organo + garlic & mix well. Lightly brush eggplant & zucchini slices w/oil mixture.

Heat lrg non-stick skillet over med-heat. Cook vegetable slices 30 seconds on ea side.

In an 11 x 7-in baking dish, layer eggplant, zucchini, 1 1/2 cups of the tomato sauce + the cheese. Repeat layering as needed.

Bake 10-15 min or till heated through. Cut into 6 servings (approx 3×2 in) & serve immediately w/approx 1 tbsp of the remaining 1/2 cup marinara sauce atop ea serving.

NOTE: Feel free to sub for the marinara sauce w/another tomato-based & meatless spaghetti or lasagna sauce of choice.
The recipe seemed easy enough and I had all the ingredients needed except for the eggplant. I clipped some fresh herbs from my garden. I didn't have thyme so I used rosemary and I added some fresh basil because I have sooo much of it!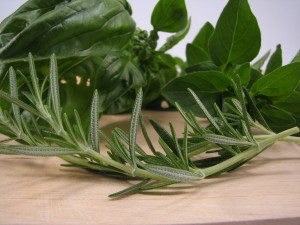 I chopped the herbs and minced fresh garlic.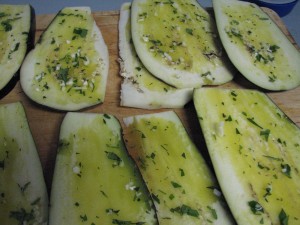 I brushed the oil herb mixture on the slices of zucchini and eggplant. It was pretty messy.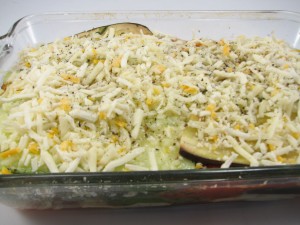 I layered the sauce and slices of fresh mozzarella, then topped with shredder Italian Cheese mixture.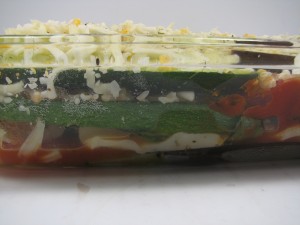 While it was baking for about 20 minutes or so, I made us salads. Fresh lettuce from the garden with broccoli and oil and vinegar.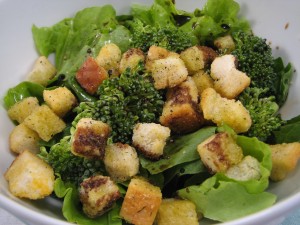 Dinner was ready and it looked good. The cheese was melted and a bit crunchy on the top.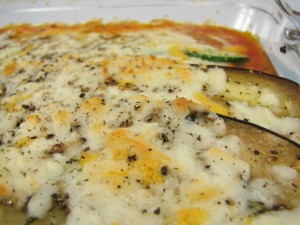 As I divided it into six servings I could tell it was going to be a MESS and totally not photogenic food. I was right. It kind of ended up in a slop on the plate, so I apologize for that.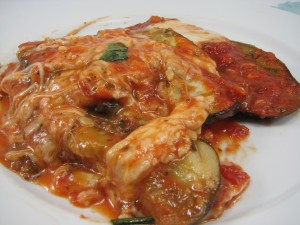 It was kind of a mess. But it tasted all right. If I was going to make this recipe again I would change a few things: it needs more garlic. Maybe the slices of eggplant and zucchini need to be smaller so it's easier to cut. And I thought a topping of bread crumbs might be a good addition too.

After dinner we enjoyed two scoops of ice cream. It was a nice treat at the end of a long weekend.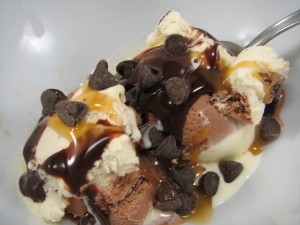 Do you ever change a recipe before making it? Or do you try it first and then figure out what needs to be improved?
QUESTION: What is your favorite zucchini recipe?