Remember my 90/10 Rule? The motto by which I live my life as a person in Maintenance Mode after losing over 100 pounds? Well these past few days I've been living in the 10%.
Michael's father and stepmother were visiting us from Texas and so we were playing tour guides for all things Oregon. It's an annual trip. Last summer we took them to the beach, wine tasting and hiking in Hood River, and ate at lots and lots of good Portland restaurants (boy do I see those extra 10 pounds in last year's photos!!). G and G (dad and stepmom) LOVE Portland restaurants and love eating seafood when they visit.
I was fully prepared for this visit to be another Orgy of Food. It usually is. I went into the visit prepared to splurge and indulge but to try and remember to do it in moderation.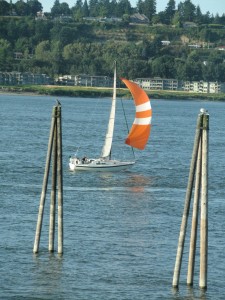 Wednesday night we picked them up from the hotel downtown and headed out to Marine Drive for dinner. You may recognize the name Marine Drive because that's one of the routes that Michael and I bike on a lot. It was rather strange being out there without the bikes! I had reservations for Salty's on the Columbia River.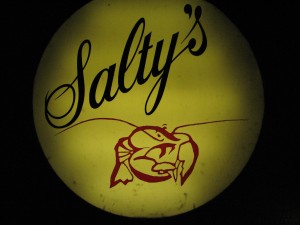 We had a lovely table right by the window looking out at the boats and water. I ordered a glass of the Pinot Gris and they brought yummy sourdough bread to the table.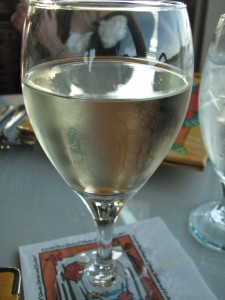 The four of us split the order of calamari (with spicy jalapeno dipping sauce). The calamari wasn't as good as Jake's but the sauce was killer.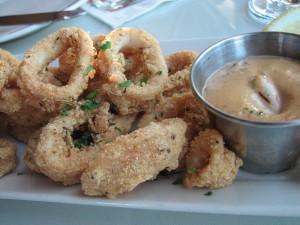 For my entree I ordered the Cornmeal Dusted Trout with potato hash. The trout appealed to me because when I was a kid I used to go fishing for trout. I don't eat it very often, so I decided to give it a try. I didn't realize that "cornmeal dusted" basically meant breaded. 🙁 That was the only disappointing part. The spicy garlic aioli sauce on top of the fish was good.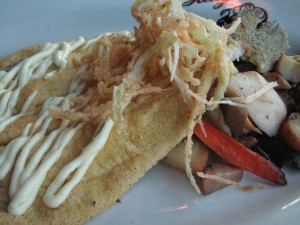 Michael got the Ahi Tuna with Hawaiian sticky rice. I had a bite and it was pretty good but I like our Ahi Tuna steaks (blackened) much better. G and G both ordered the halibut (their favorite in Oregon).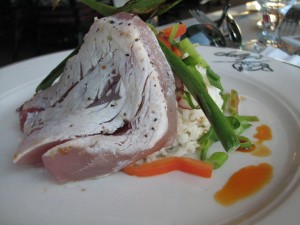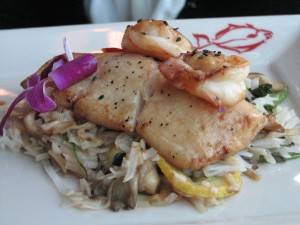 Everyone was happy with their dinners. What did I think of the food? It was good but not the best seafood I've ever had. Salty's had mixed reviews on Yelp–I thought it was good but nothing I'd be gushing over like some other meals I've had (The Blue Pig or Laurelhurst Market comes to mind).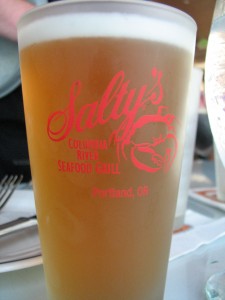 I had a second glass of wine with my entree (probably could have stopped with just the one) and then they all wanted dessert. I was pretty stuffed but I said I'd split something with Michael. We ordered two pieces of Key Lime Pie for the table and Michael and I split it. The Key Lime was tart with just right amount of sweetness. After the day I'd had at work though I wasn't thinking about the calories one bit. I was seeking comfort.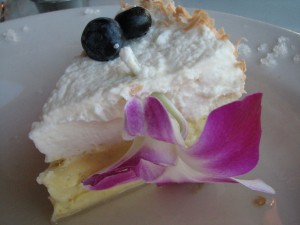 It was nice seeing Michael's family. The four of us stayed well passed dessert just chatting and catching up and then we headed home.
Thursday – Meriwether's
The next morning (Thursday) I woke up a little early and went swimming before we started our day as tour guides. For lunch we headed to Northwest Portland for Meriwether's.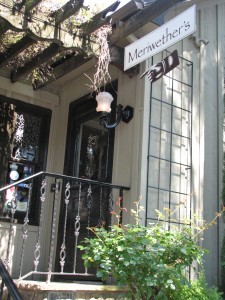 The plan was to hopefully sit in their garden patio outside because it was such a nice day. It was almost noon on a Thursday but apparently we needed reservations?!?! The patio was booked up for almost 2 hours so we sat inside. 🙁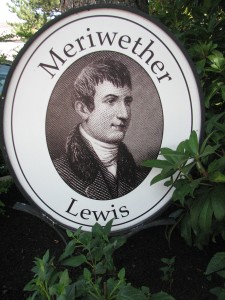 I ordered the Scallop & Hazelnut Crumb Salad with hummus, tahini yogurt, and farm greens. It was basically seared scallops with the ground up hazelnuts used as a crust. Oh. My. God. The scallops were perfect and the hazelnut crust was crunchy and subtle. They melted in my mouth and although the hummus and tahini sounded like a strange combination with seafood it went perfectly.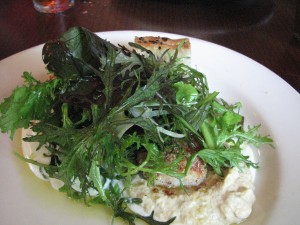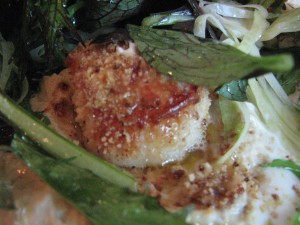 I practically licked my plate clean, I kid you not. The hunk of salty, oily foccacia bread was my second favorite thing on the plate beside the scallops. Magnificent. I think my lunch was a smart move calorie/health wise. There were 2 scallops on the plate, hummus is healthy and it came with greens and fennel. I think it was a pretty good choice for a "light lunch."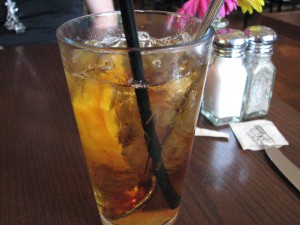 Michael ordered the bacon cheeseburger and said it was "just okay." He said it tasted good but the bun was a little tough. That was one of the things I didn't like about the Gruner burger–having to saw through the bun with my teeth!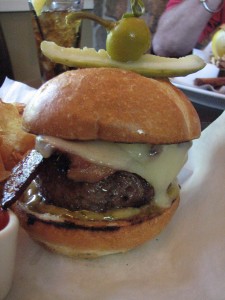 The homemade chips that came with the burger were stellar though. I don't think I've ever had homemade chips that good. We had a lovely lunch, even though we didn't get to sit outside. I was happy that the place I suggested was such a hit with our guests–they raved about what they ordered.
The food orgy doesn't stop there, though….
QUESTION: How do you order smart in restaurants?