I love chili. It's healthy and hearty and it's a filling meal. I used to have an amazing chili recipe for the crockpot but lost the recipe. All attempts to locate that recipe have failed and I've never been able to recreate it. That being said, it hasn't stopped me from trying other recipes. I got this one in the mail with my Fred Meyer coupons (Kroger for the rest of the country I think). I had all the ingredients on hand so I tried it this past weekend.
Pumpkin Turkey Chili

Serves: 4-6    |   Calories: about 257 depending on serving size

Ingredients:

1 TB vegetable oil

1 cup chopped onion

1/2 cup chopped green bell pepper

1/2 cup chopped yellow bell pepper

1 clove minced garlic

1 lb ground turkey

1 can diced tomatoes

2 cups pumpkin puree

1.5 TB chili powder

1/2 tsp ground black pepper

1 dash salt

1/2 cup shredded cheddar cheese

sour cream

Directions:

1. Heat oil in a skillet over medium heat. Saute the onion, peppers and garlic until tender.

2. Stir in turkey and cook until evenly browned.

3. Pour meat mixture and veggies into crockpot.

4. Mix in tomatoes and pumpkin and add seasoning.

5. Cover and set on low. Cook 4-5 hours.

6. Serve with shredded cheese and sour cream.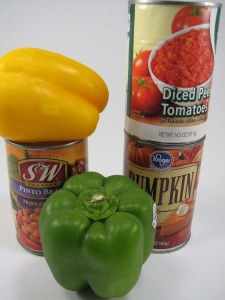 I did make a few alterations to the recipe. First, I added a can of pinto beans. The recipe did not call for that but I think chili needs beans. And I am so glad I added them! They were a great addition.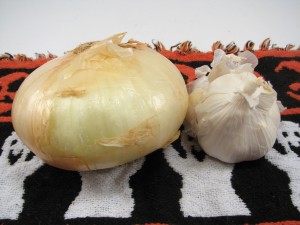 I used a Walla Walla sweet onion and one small white onion from my garden. As for the garlic, it called for 1 clove minced. Well, I tend to think that most recipes are too light on garlic so I added three cloves (and that honestly wasn't enough).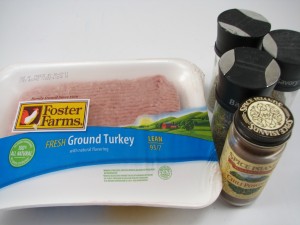 I used lean ground turkey from Costco. We usually have some on hand in the freezer (great for making tacos, enchiladas and turkey burgers). Another change to the recipe: I added more spices than what was called for.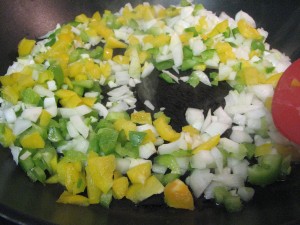 There's no better aroma than cooking veggies. Yum. While that was cooking in the skillet I dumped the beans, tomatoes and pumpkin into the crockpot.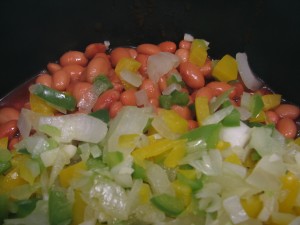 When the veggies were done I added them to the crockpot and then cooked the turkey separately. My skillet wasn't big enough to do it all at the same time. I added the ground turkey meat to the crockpot, mixed everything and added the spices. The extra spices I added: a dash of basil, rosemary, "savory" and onion powder.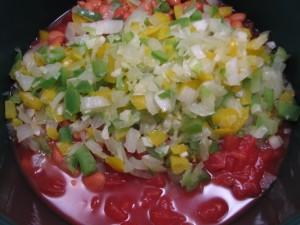 I also added a splash of cabernet. Just a splash because I didn't want to overpower the original flavors with the wine. I cooked it for about 5 hours in the crockpot.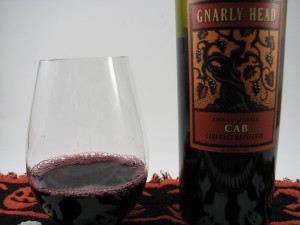 When dinner was ready, I toasted Michael and I some bagel thins with cream cheese to go with dinner. It just felt like a comfort food kind of night.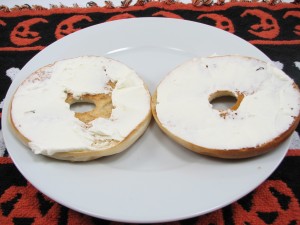 I love bagel thins. They satisfy my bagel cravings without busting the bank on my calories. I also had one glass of wine with my dinner (seen above). We'd spent the afternoon catching up on American Horror Story, The Walking Dead and during dinner we watched Dexter!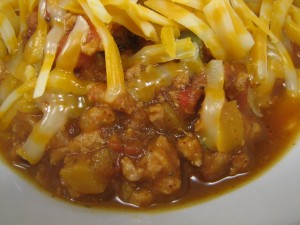 The chili was served! I added some shredded Colby Jack cheese and a dollop of sour cream on mine. The chili was really thick, not too liquidy at all despite the above photo. But it wasn't too thick either. Just right.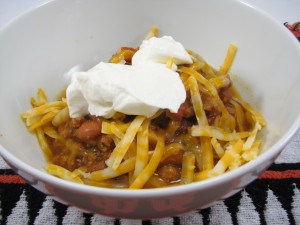 I think one of the reasons I like chili so much is because it's yet another thing I can add sour cream to (addicted!). 🙂 The even better news: Michael HATES chili. With a passion. He won't eat it, he hates the flavor and textures. It's on his list of "never eats" (along with oatmeal) yet he had a bite and really liked it! So he had some for dinner. I was so happy that he liked it and was able to eat it.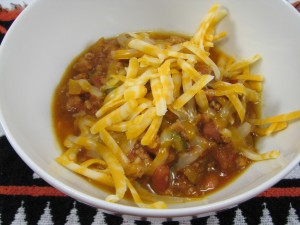 You would think that the chili would be really sweet because of the pumpkin but it wasn't sweet at all. It was delicious! Definitely a winner.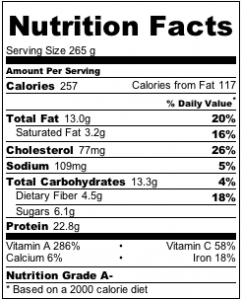 The above calculations do NOT include the cheese or sour cream. It's calculated from the recipe but also not including the beans I added. So if you add beans to the recipe I'd add about 50 calories to each serving. My brother the cook suggested I add whiskey to the recipe. Next time.
I'm excited that I have yummy leftovers for lunches this week!
QUESTION: Do yo have a favorite chili recipe? What about your "will not eat" list? What's on that?