The first two aren't really recipes. But I wanted to share them because they were really good. 🙂
Dinner #1 – Stuffed Mexican Peppers
Stuffed peppers are fun. I've made them a bunch of times and usually do a mixture of meat with rice or quinoa. But it's not necessary and easy to make it keto-friendly.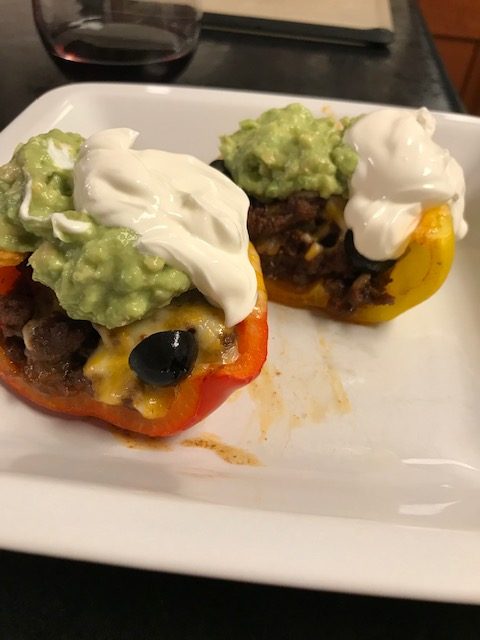 Browned ground beef with taco seasoning then stuffed it in peppers. Topped the peppers with cheese and baked it for about 20-25 minutes. Topped with black olives, sour cream and homemade guacamole. Delicious! A little higher in carbs because of the peppers and the taco seasoning, but really good and scratches that itch for Mexican food when you can't have things like burritos and enchiladas.
Dinner #2 – Cobb Salad
We went to  my in-law's house for a belated birthday dinner and she made a delightful keto salad. She used rotisserie chicken, hard boiled eggs, black olives, bacon, grape tomatoes, avocado and homemade blue cheese dressing (she makes the best dressing). It was so so good!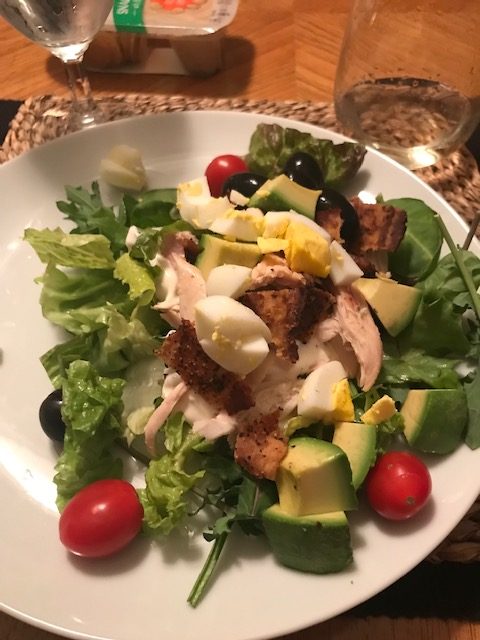 Dinner #3 – Zucchini Pizzas
I tried these once before and decided to do them again but make them in a slightly different way. This time I pre-baked the zucchini boats before putting the toppings on it. Then I baked it again for about 15 minutes. It worked well that way!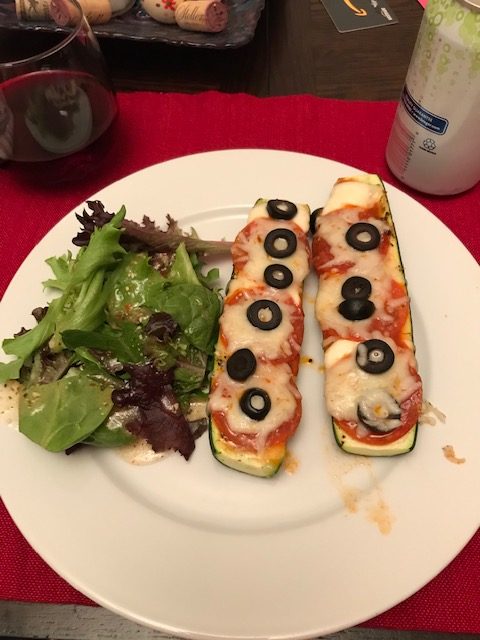 Dinner #4 – Keto Egg Roll in a Bowl
Ingredients
1

 

lb 

ground pork/beef/chicken

12

 

ounces

 

cabbage

 

(we used a ready made cole slaw mix)

1/4

 

cup

 

liquid aminos (or soy sauce)

2

 

tbsp

 

chicken broth

1

 

tsp

 

minced garlic

1

 

tsp

 

ground ginger

2

 

tsp

 

Sriracha

1

 

tbsp

 

Sesame Oil

2

 

tbsp

 

minced green onion

1

 

tsp

 

Sesame Seeds
Instructions
Heat a large skillet to medium-high heat. Once hot add in the ground pork. Using a spatula break up the chunks of meat and cook all the way through.

Add in the liquid aminos, and chicken broth and stir to combine.

Add in the minced garlic, ground ginger and sriracha and combine. Allow to cook for 1-2 minutes as the liquid reduces.

Add in 12 ounces of cabbage (we buy plain cole slaw mix) and stir to combine coating all the cabbage in the liquid and seasonings. Once the cabbage has wilted to your liking remove from heat. For more crunch combine and immediately remove from heat, for less crunch cook down for 2-3 minutes.

Drizzle with sesame oil and garnish with minced scallions and sesame seeds, if desired. Enjoy!
Calories: 
310
kcal
 | 
Carbohydrates: 
6.75
g
 | 
Protein: 
23
g
 | 
Fat: 
20.5
g
 | 
Fiber: 
2
g
Note: The less cabbage you use, the lower the total and net carbs will be!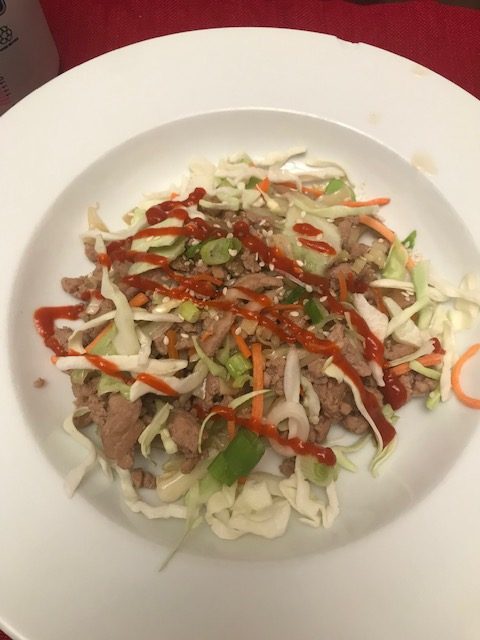 I had all the ingredients to make a different recipe and wasn't feeling it so I looked around and did this one instead. It turned out pretty good and it was super fast!
Whole30 Spanish Chicken And Cauliflower Rice
Servings: 4
Calories: 201
Carbs: 5 net
1

 

teaspoon

 

garlic powder

2

 

teaspoons

 

paprika

2

 

teaspoons

 

ground cumin

1

 

teaspoon

 

sea salt

1/2

 

teaspoon

 

Italian spice blend

1/2

 

teaspoon

 

red pepper flakes

3-4

 

boneless, skinless

 

chicken thighs

1

 

tablespoon

 

olive oil

 

for cooking
Rice
16

 

oz

 

cauliflower rice

1 1/2

 

cup

 

chicken stock

lemon juice

 

from 1/2 lemon

fresh cilantro

 

for garnish

marinated tomatoes

 

for garnish
Instructions
In a small bowl mix together the spices for the chicken, then rub half of it on chicken (reserve half for later)

Heat a skillet over medium heat then drizzle with 1-2 tablespoons olive oil and cook chicken until golden brown on each side (about 2-3 minutes on each side- you will finish cooking it later). Then remove and set aside.

Fill skillet with cauliflower rice, stock, lemon juice, and the other half of the spice mix. Stir the cauliflower rice then set chicken thighs over rice, cover with a lid, and cook on medium/low heat for 20 minutes until chicken is cooked through.
Garnish with chopped cilantro and lemon wedges (optional).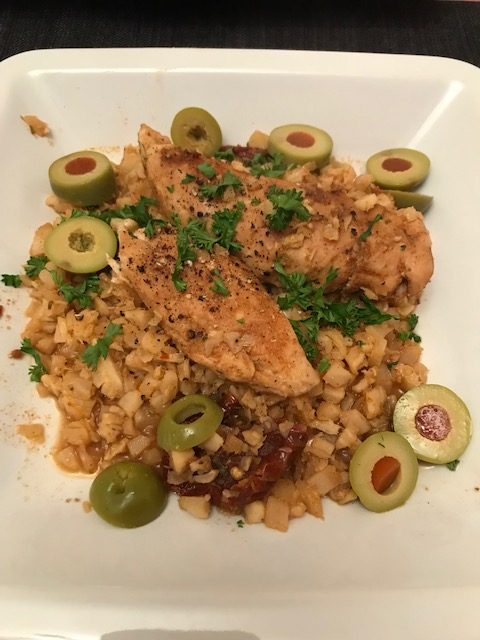 I added some Spanish olives and topped it with fresh parsley (we didn't have fresh cilantro). I liked the recipe a lot. It would be WAY better with real rice, of course, but for a low carb keto recipe it's pretty great! I would also say use a little less chicken stock. There was a lot leftover in the skillet that didn't cook off.
Dinner #6 20 Minute Shrimp and Sausage Skillet Paleo Meal 
I used
this recipe from PaleoNewbie
. It wasn't necessarily keto–it wasn't high fat but it was low in carbs, so that was good for me.  (I had some leftover
keto cheesecake
for dessert so I was good on fat for the day!)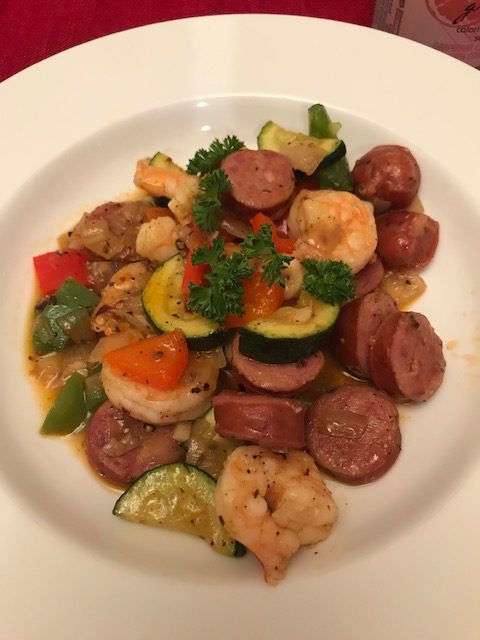 This recipe was absolutely delicious! Super flavorful. And pretty quick. I would definitely make this dinner again.