Friday night after I got home from the pool, Michael took one look at me and gave me a hug. I needed it. After a few minutes of hugs we headed downtown to see the Portland Twilight Criterium. What is the Criterium? Cri*te*ri*um (krI'-tir-E-&m), noun [Latin]: A bicycle street race. Competitors must complete the most laps in a set period of time. Very fast. Very exciting.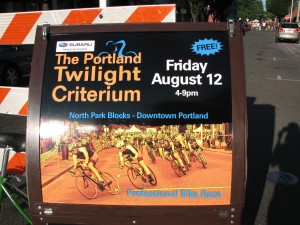 And it was very fast. And very exciting! When we first got downtown to the Park Blocks the amateur cyclists were on the course first.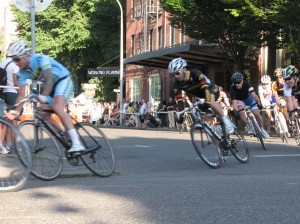 The cool thing about the course is that you can get really really close to the action! Plus there were food carts and a beer garden set up. We planned on heading to the beer garden but never made it there.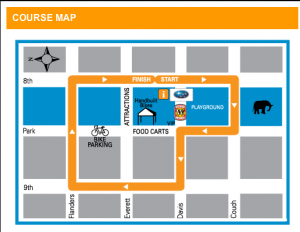 The amateurs were pretty fun to watch–there was even a girl participating, which I thought was fantastic. The bikers were going pretty fast but nothing compared to the professional cyclists we were about to see!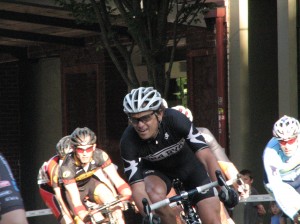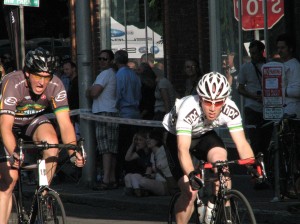 We hung out watching the amateurs for awhile, walking around the Park Blocks course to see everything.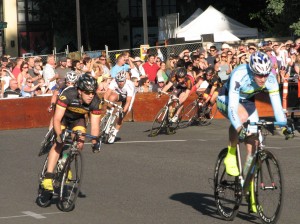 After the amateur riders there were the Roller Derby girls that did a few laps around the course. The Roller Derby girls are pretty popular in Portland but I've never been to a show before.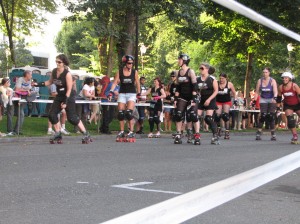 Michael and I were hungry (I was famished after barely eating all day and then swimming) so we walked down to the food carts to find some dinner. At 7pm on a Friday most of the food carts were closed. There were two Mexican stands, a Korean BBQ and a fish cart open. I really wanted a burrito.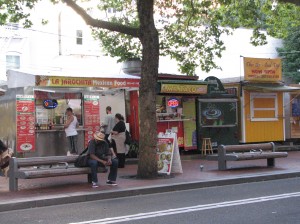 So Mr. Taco it was!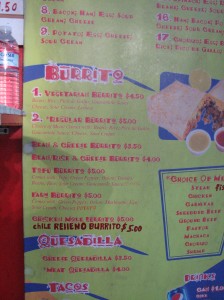 I got the bean, cheese and rice burrito. Michael got the bean and cheese burrito. We walked back to the Park Blocks to sit down and eat dinner while we watched the race. My burrito was freakin' awesome! It was big and delicious.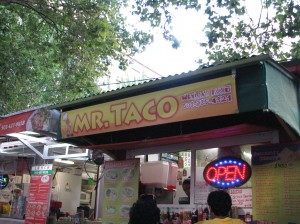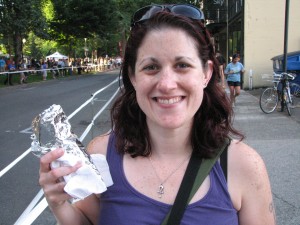 (Man do I look awful. That's what crying all day looks like.) The professional cyclists were about to start! After we were done eating we walked around a bit more and I ran into one of the professional riders who was stretching and getting ready for the race. I asked if I could take his picture and he agreed. We chatted for a few and then I wished him luck. This is Joe: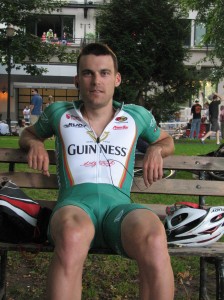 Good luck Joe! The professional riders were amazing to watch! They were remarkably faster than the amateurs and it was so awesome to see them up close. These are the guys that will someday make it to the big races like maybe the Tour de France!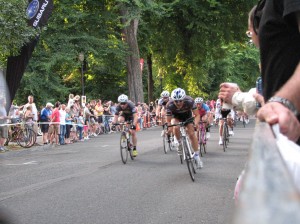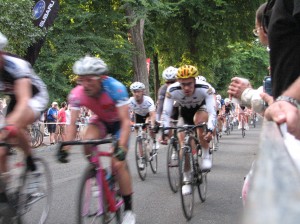 These cyclists were so fast that most of the pictures were blurry–even using Sport Mode on the camera!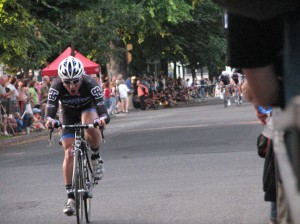 If you want to see some amazing professional photos of these races, you can see the review of the race here. There was one crash near us. It was right around a corner from where we were standing. We heard it but didn't see it. We heard from someone else that one cyclist crashed coming out of the corner, another cyclist hit him and the bike jumped over the downed cyclist! Luckily everyone got back up and continued on the race.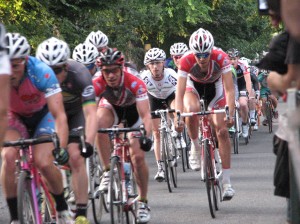 I'm not sure how many laps they had to do. I didn't see that there was a lap counter until about half way through the race I think.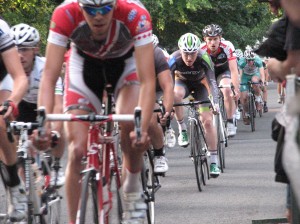 Another example of how fast these guys were going–they created a tremendous amount of wind as they rode by. So much wind that sometimes it was cold and people's hair would spin wildly.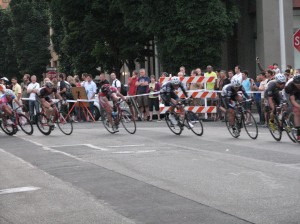 There was a front runner of the race for most of it. I'm not sure names but we recognized the leader and the crowd would go NUTS whenever he went by. He had a decent lead on the peloton. Michael was counting the time when the pack leader went by us and when the peloton passed us. At one point it was 14 seconds, then 11 seconds, then 7 seconds. Then the peloton caught up to the leader and passed him. The next time he came around he was in the middle of the pack! 🙁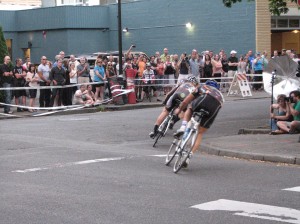 The race came to an end and they all did one last victory lap. The winner looked really stoked. It was such a fun event to go to, and it was free! We'll definitely be going next year.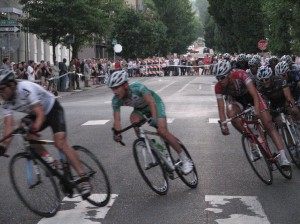 The bikes the racers had were impressive and expensive. Everyone biked their heart out and it was cool to experience. It definitely got me excited about The Portland Century! The race was over and we walked down to Voodoo Donuts (Michael wanted a donut) but the line was so long we decided to head home instead. That's when we stopped at Krispie Kreme. 😉
QUESTION: Have you ever been to a professional race before?