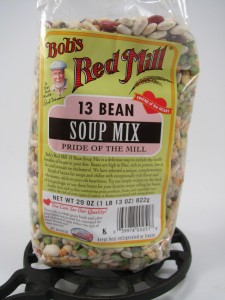 When I was at Bob's Red Mill on Saturday I saw this bag of soup mix and it looked so delicious I had to pick one up. The recipe on the back seemed really simple.  I had all the ingredients on hand so on Saturday night I soaked the beans in water.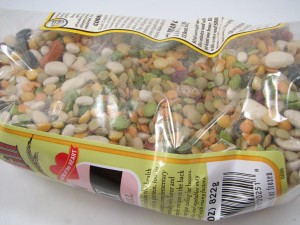 13 Bean Soup

Cooking Instructions:

1. Wash 2 cups of Bob's Red Mill Soup Mix, then soak overnight.2. In the morning, drain, rinse, and bring 2.5 quarts of water to boil with the beans and ham hock.

3. Reduce heat and simmer 3-3.5 hours.

4. Add 1 cup chopped onion, one 15 ounce can tomato sauce or 1 tomato, 1.5 teaspoon–1 tablespoon chili powder, 2 teaspoons garlic powder OR 2 cloves minced garlic.

5. Simmer 30 minutes.

Makes 8-10 servings.

Serving Size: 1/2 Cup      |    Calories: 270     |       Carbs: 49g     |        Fiber: 15g    |       Protein: 18g


I added chopped up Black Forest Ham (the sliced kind from Costco) because I didn't have ham hock, I didn't want to go to the store again, and I needed to use of the deli meat asap. It worked out nicely. I also had about a cup of chicken stock leftover I wanted to use up so I added that into the soup and a little less water. I let the beans simmer on the stove for a few hours Sunday while I ran errands and did some writing. By the time I got home, the water had burned off and it was ready to add all the yummy ingredients.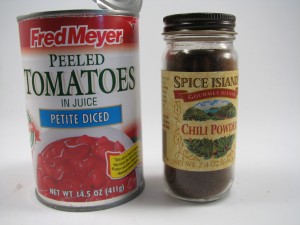 I didn't have tomato sauce so I used the canned diced tomatoes and they worked really well. In fact, I probably could have used more than just the one can.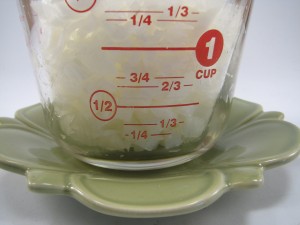 I added the chili powder to taste. I think maybe 2 teaspoons? I didn't want it to be too spicy, or to suddenly taste like chili, so I went easy on it. I let it sit for about 15 minutes before I added the second teaspoon. I added the minced garlic, salt and pepper.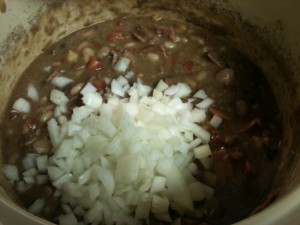 I was really happy that the soup thickened up like it did. The first time I ever made bean soup it was really watery and not quite the way I wanted it to taste. This time was so much better! It was hearty and thick.
It made so much! I probably could have used half the bag and saved the rest for another time but this way it's all made for the week. There should be enough for 8 separate meals (lunches or dinners) and I might freeze some of it for another week.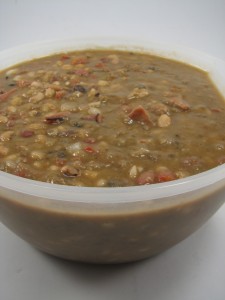 Besides the yummy flavor, I love how it's pretty low in calories and so high in fiber and protein. Even if I wasn't on a diet it would be a great soup for any healthy lifestyle! I love Bob's Red Mill! I can't wait to try the Israeli Couscous I bought! Now I'm wondering what other goodies I could have put into the soup. Maybe chopped carrots next times! I wonder what other seasonings I could use too?
QUESTION: What do you like to put into your bean soup?