Last weekend I had the pleasure of meeting some of the sweetest, gentlest, cutest dogs I've ever encountered! Michael and I had planned on going to the greyhound fair at the Sellwood Dog Supply store but  Michael had to take care of something last minute so I went by myself. I am so glad I did. My heart was stolen by two of the dogs I got to meet!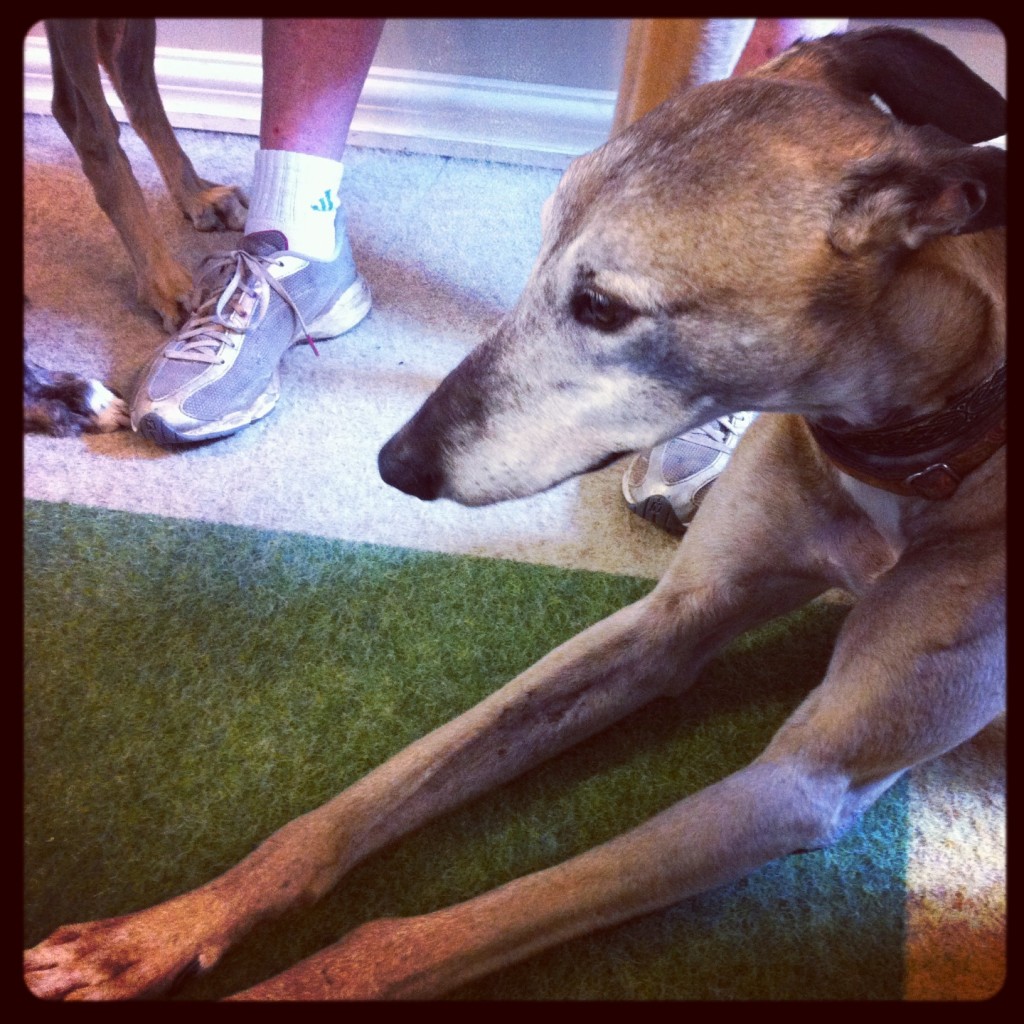 The Oregon Greyhound Adoption team was there with a bunch of dogs that are need of loving homes. There were about five dogs at the fair and unfortunately none of them were cat-friendly otherwise I would have left with one of them! I fell in love with two of the dogs I met that day.
The first was Dean. He was a gorgeous brindle greyhound. Dean is 75 pounds and 3 years old. He was probably the sweetest, most lovable dog I've ever encountered. He struck me as the kind of dog that just wants lots of cuddles, kisses and hugs. He was glued to my side and would nudge my hand for pets just like Fat Kitty does!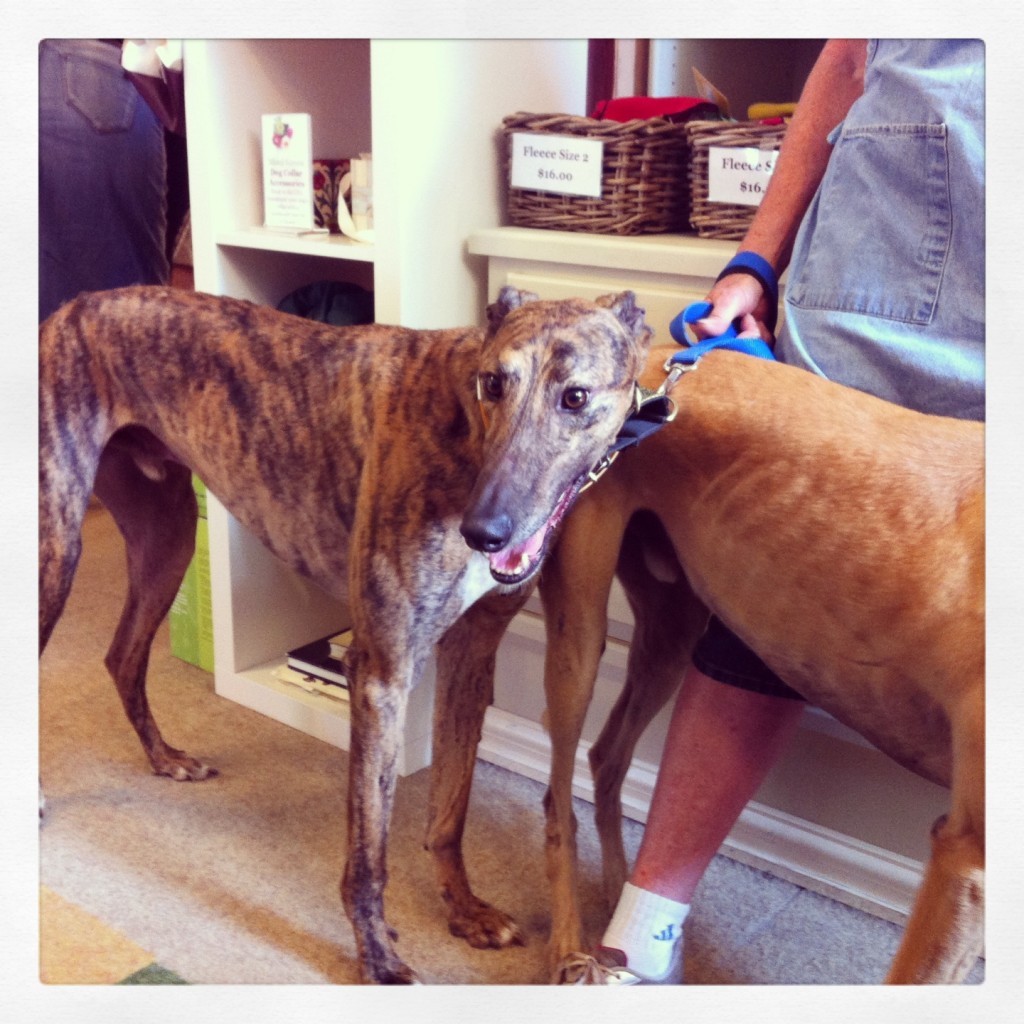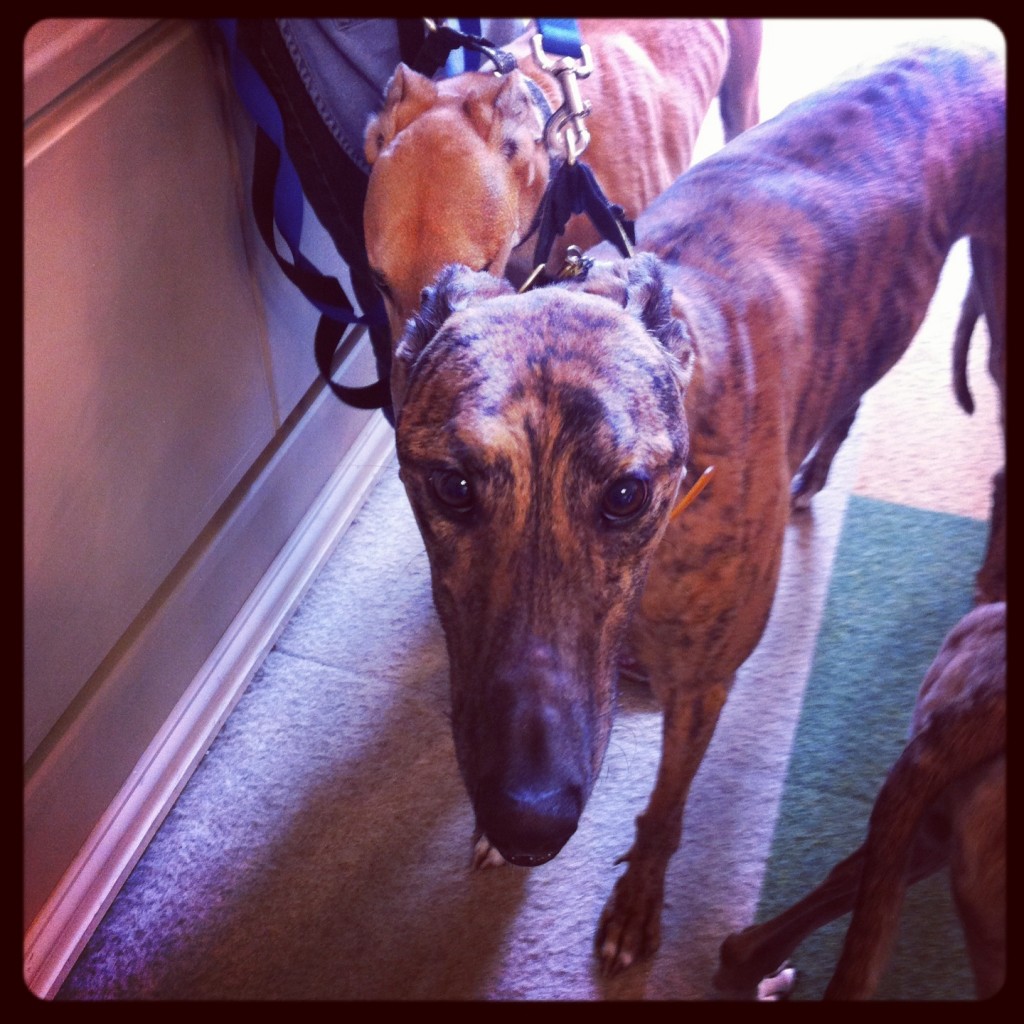 Look at that face! How could you NOT love that face?!
The other dog was Jered. Jered was another sweetie but about 8 years old or so. Jered was a little grumpy when the other dogs got too close to him but he was still very sweet. I think he is just the kind of dog that needs to be the only animal in a house and gets undivided attention from his humans.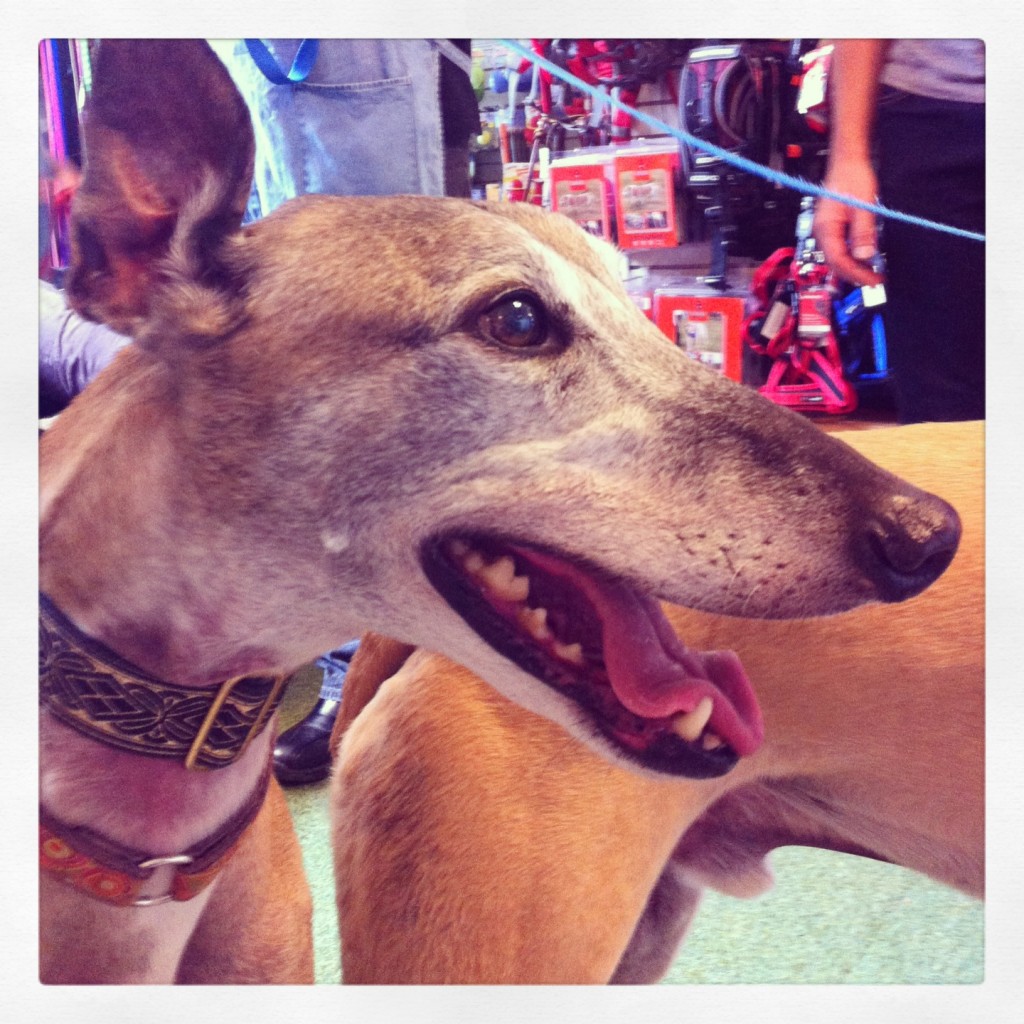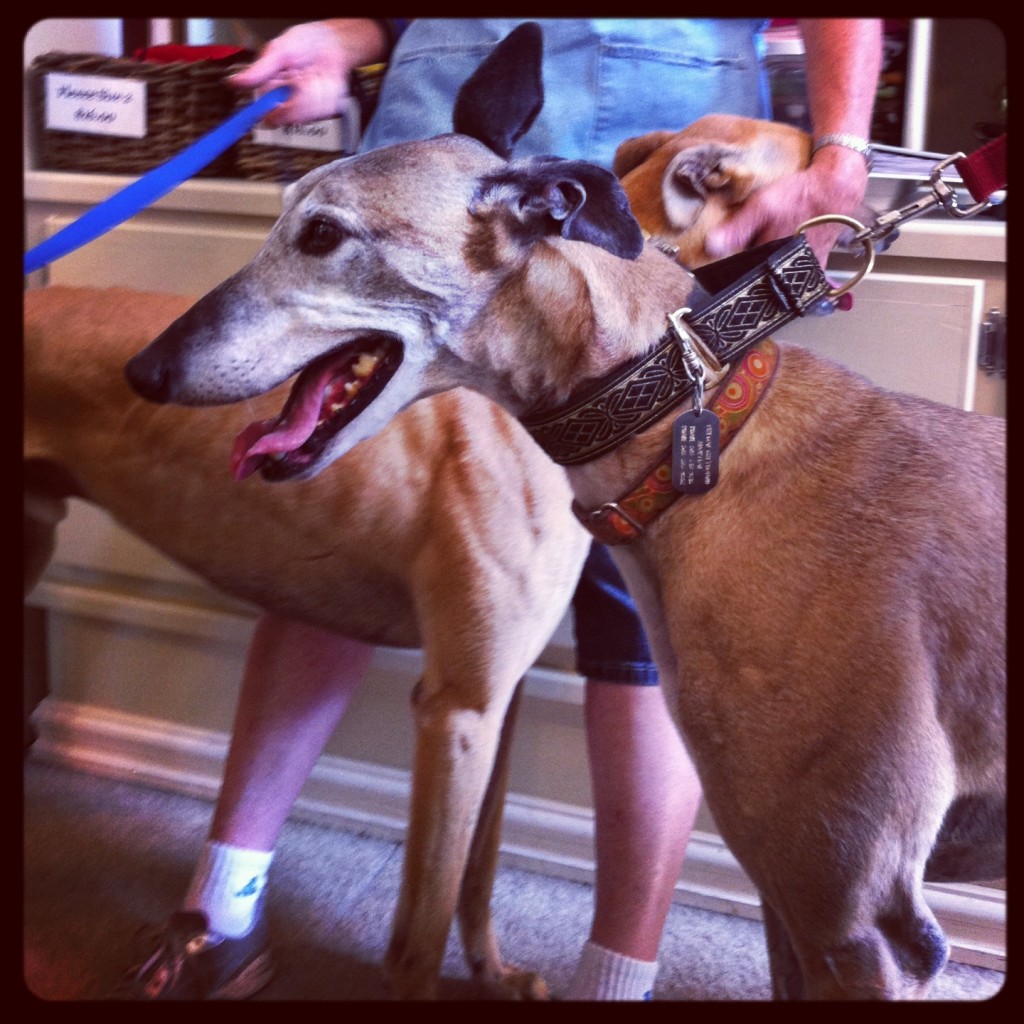 Jered never got sick of me petting him and scratching his ears. He was so cute. I was at the adoption fair for over an hour. I asked a ton of questions and got to spend time with the dogs. I didn't want to leave! According to the adoption counselors greyhounds are giant couch potatoes. After they are "retired" from racing they don't want to run like they used to. I asked how often I need to take them outside to run and she said once a day for like 10 minutes. Seriously, they are couch potatoes. They sound more like cats than dogs!
Some of my concerns are about our lifestyle. We're looking for a dog that can go hiking with us and they said a greyhound was a maybe on that. She wasn't sure what kind of endurance they have–which makes sense because when they were racing, it wasn't like they were running 30 miles at a time. Not that Michael and I hike for super long distances, but I'd be concerned about the dogs. Also, she wasn't sure if they'd be good dogs to run with me (even if I'm only doing a few miles at a time).
So with the lifestyle concerns on top of being worried about my kitties, I'm starting to wonder if they would be the right breed for us. I haven't crossed them off the list entirely, but I have serious doubts. When Michael and I get back from vacation I want to go to the humane society and see a bunch of different dogs all at once and see what kind of feelings I get then.
When I was done checking out the dogs, I went home and made pesto with the basil from my garden. I wanted to do that at the end of every summer that we've had a garden and just haven't gotten around to it. I finally did! And I'm so glad. It's delicious.
I found a few different recipes online and decided to try this one. It was great! I had TONS of basil I needed to use.
[amd-zlrecipe-recipe:75]
It didn't take long to make this recipe. I doubled it so I could freeze most of the pesto for this winter. After making the pesto I made lunch–a turkey and pesto sandwich on gluten-free bread Michael bought at Costco (it's surprisingly good).
Awesome sandwich! And I used up 90% of my basil. Mission accomplished. The only downside to making pesto is that it is REALLY high in calories. I use it sparingly. I love to use pesto on sandwiches and in pasta dishes but again, it packs on the calories so it's not something I eat often.
YOGI CLOTHING GIVEAWAY
Finally, I wanted to announce the winner of the Yogi Clothing giveaway. Using Random.org it chose #16-Ashley C! Email me asap with your mailing information. Thanks again!