Michael and I had a different kind of date night recently. In my quest for free, or cheap, things to do in Portland while he's unemployed, I found out that Portland State University offers free lectures. I picked one that sounded interesting and we made a date night out of it.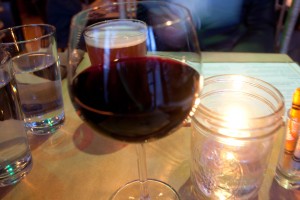 First, we went to East Burn for dinner. I had a Groupon deal for the restaurant so dinner out and one round of drinks only cost us a tip for the waiter! It was a great deal. We both ordered the burger. It came with applewood bacon on it and in ciabatta roll.
The photo of the burger did not turn out, unfortunately, but trust me when I tell you it was fantastic. They do burgers right! I enjoyed a glass of the happy hour house red wine and our seats were in these funky chairs that were suspended from the ceiling. It was sort of like eating dinner sitting in a hammock.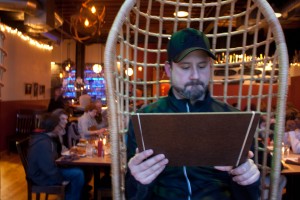 After our amazing dinner, we headed downtown to PSU for the lecture. It was at Shattuck Hall and the lecture room was huge. I didn't get a photo of the whole room, but there were probably about 100 people there for the lecture.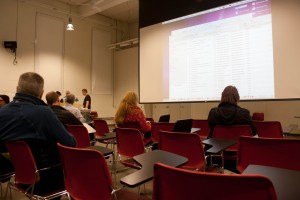 The lecture was one of the most fascinating lectures I've been to in awhile–despite the technical difficulties in the beginning. (I turned to Michael and said, "artists must always have a tech guide with them" and it's totally true. 🙂 )
"Jim Goldberg is a Professor of Art at the California College of Arts and Crafts and a member of Magnum Photos. He has been exhibiting for over 30 years and his innovative use of image and text make him a landmark photographer of our times.

His work is in numerous private and public collections including NYMOMA, SFMOMA, Whitney, Getty, LACMA, Corcoran, MFA Boston, Hallmark Collection, The High Museum, Library of Congress, MFA Houston, National Museum of American Art, and the Art Institute of Chicago."
Goldberg has lead an interesting life and has done some really innovate things with photography. He started the slideshow with his early work in the 1980's where he did a project photographing people living in a group home in San Francisco. It was for transients–homeless, prostitutes, you name it. He used a hotel guest book and he took a black and white photo of the person and then had them write something in the journal next to their name. The photos were rudimentary but their starkness really came through and you could see how hard these people's lives were. Here is one quote: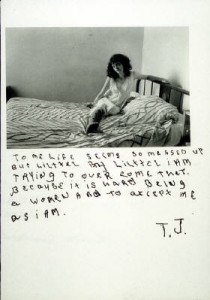 "I keep thinking where we went wrong. We have no one to talk to now. I will not allow this loneliness to destroy me. I still have my dreams."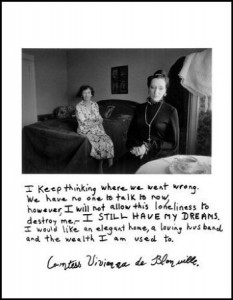 This began his "Rich and Poor" series. He spent time documenting the poor and then did the same with the rich in San Francisco. One of the "rich" photos was this stodgy looking man in a mansion with his butler standing behind him. The quote was "I project a picture of contentment! Everything looks happy!" The questions he asked the rich were different too, and their answers were longer and about power. There was one really funny quote from the "Rich": it was a photo of a couple that had been married a long time. On top was a quote from the husband, "My wife is acceptable. Our relationship is satisfactory." And then the wife's quote below was gushing and romantic. It was rather comical to see the difference!
After the "Rich and Poor" series, he did "Raised By Wolves" which followed a few street kids. This was really interesting because most of these kids have had some sort of trauma in their lives that lead them to leave home. Watching the slideshow of the "Raised By Wolves" series made me wonder "where do they go wrong?" Of course there was abuse in many situations. But the tragedy that came through in the photos was disturbing. He focused on two specific kids–Junkie Dave and Echo–a young couple in love and addicted to drugs. He documented their love story, and Junkie Dave's demise.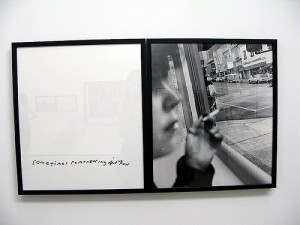 The next project, The Nursing Home Project, was rather sad. One of the quotes of the elderly ladies in the home was "I was beautiful when I was young." The photo was a happy-looking, smiling old lady and it just broke my heart.
This lead to him doing his Hospice book and he spent a year documenting his father's death. He just had a baby with his wife, too, so he was going through the whole dying of his father thing with the birth of his daughter. The pictures of the father and his baby together were touching and haunting. I wondered if doing the Hospice series helped him to deal with and prepare for his father's death. Or if stepping behind the camera was his way of disconnecting from the entire event and not getting emotionally involved. During the lecture, Goldberg choked up, so clearly he's still feeling the pain even years later.
After these series, he started doing work overseas in places like Nigeria, Dakar and other places. The photographs he took of the refugee camps were amazing and quite different from the photos he took earlier in his career. He brought along a translator that spoke the native dialects so that the refugees could tell their story. "All I want is a bed to sleep in. I make one dollar a day and I have despair."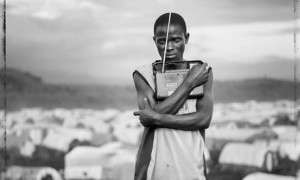 The work he did photographing the refugees is amazing. He said he wanted the invisible people to be "proof" that they existed. You can find out more at his latest project's website.
The lecture was moving and very interesting. We were both glad we went and it sparked conversations on the drive home. Michael wondered about how he stayed safe in countries like Nigeria where rebels were killing everyone. I wondered that too.
Something else I wondered about, but didn't want to bring up in front of the huge auditorium, was how Goldberg felt about the "Post Secret" project. Clearly Goldberg sort of created the whole concept back in the 1980's–writing phrases down on photographs. I wondered what he thought of the Post Secret project. The subject matter of the evening turned out to be pretty heavy and dark, but still important to see.
If you want to see some moving artwork and Jim Goldberg is in your city, check it out. I'm not sure if he has more lectures planned in other cities or if he's planning on taking his work to many museums but check it out.
QUESTION: Do you go to lectures (any subject)? In what ways are you trying to enrich your life by learning new things?