The celebrating started Friday when I picked Logan up from daycare. He made me a Mother's Day present at daycare! Footprint butterfly and a handprint on the bottom. 🙂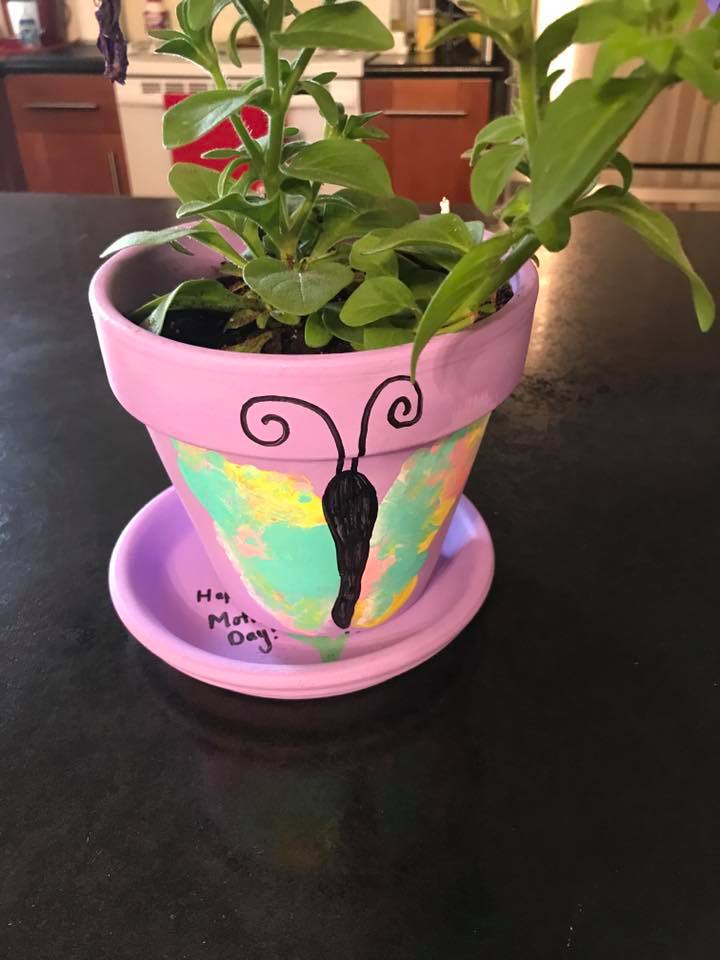 On Saturday we went to a friend's house for a little surprise birthday dinner for another friend. My friend Star and her boyfriend Larry made a feast! They made marinated chicken and veggie kebobs and grilled them up. There was also rice (I skipped that to save my carbs for dessert!). I made a spinach, kale and chard salad topped with carrots, strawberries and feta cheese.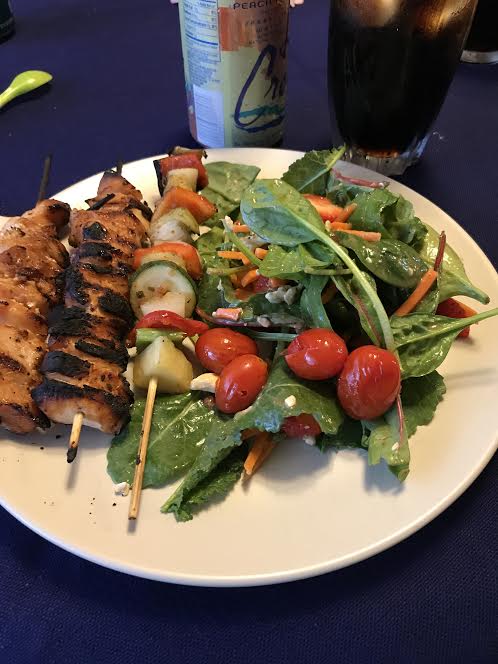 Yummy dinner!
Star made our friend Samantha a gorgeous Polish cake.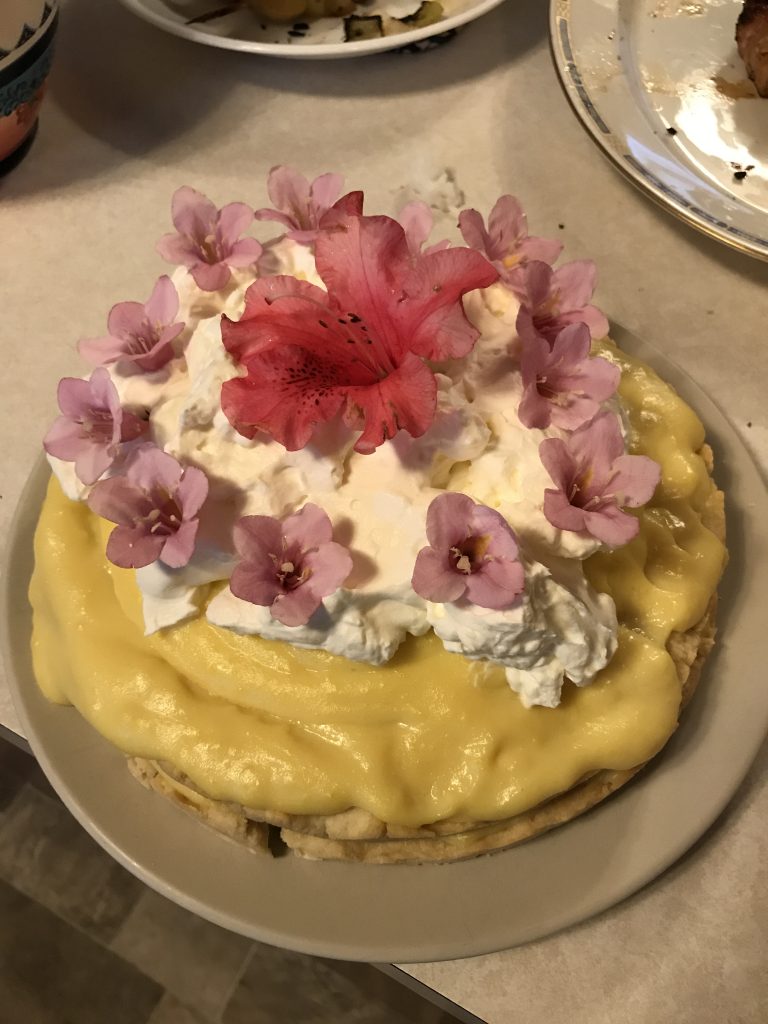 How beautiful is that cake? So pretty. It was really delicious, sort of like shortbread with custard and whipped cream. Logan ate some rice, chicken and strawberries and he LOVED the whipped cream. 😉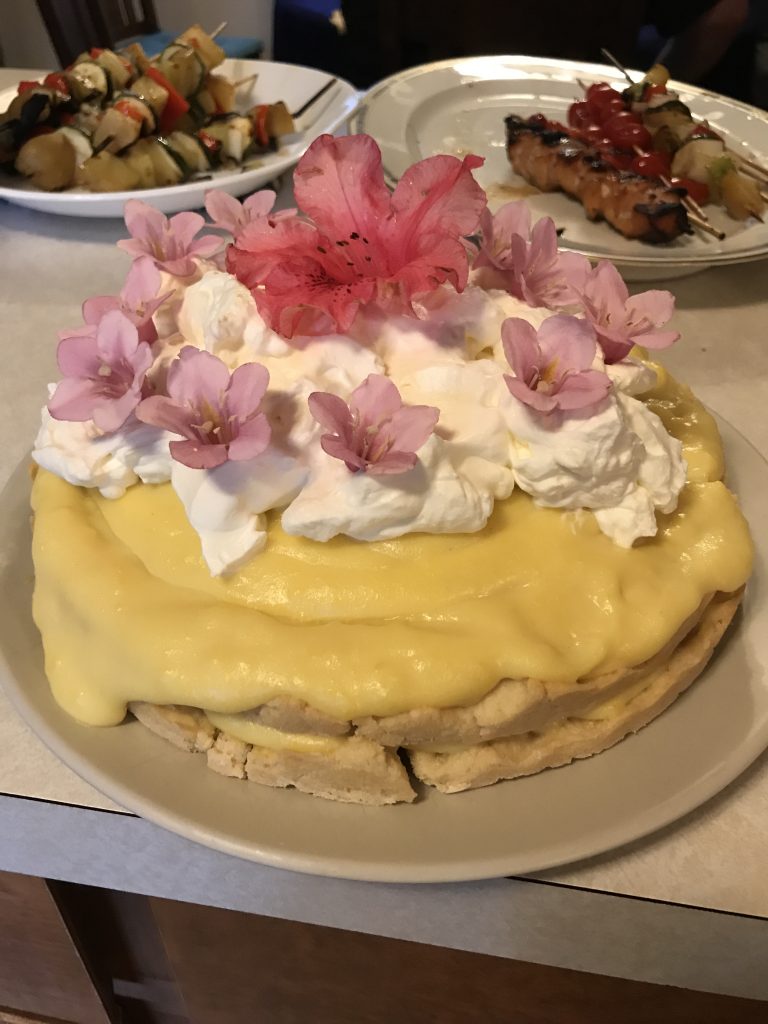 Here is the recipe:
From: http://www.europeancuisines.com/Poland-Polish-Kremowka-papieska-Papal-cream-cake-recipe
Ingredients
8 ounces butter
3 cups flour
3 tablespoons water
3 egg yolks
A pinch of salt
Custard cream:
2 cups milk
1/2 teaspoon vanilla extract
3/4 cup sugar
1/3 cup flour
A pinch of salt
6 egg yolks
Instructions
Grease well 2 8- or 9-inch baking pans / tins: coat with bread crumbs and set aside.
Cake mixture:
Cut the butter into the flour with a pastry blender.
Beat the egg yolks into the water: mix into the flour. Mix well.
Divide in halves and spread/press each half to completely cover the bottom of one of the baking pans.
Bake for approximately 30 minutes in a medium-low oven (325F / 160C): remove and let cool. Remove from pans when cooled.
Cream:
Scald the milk and vanilla. In a heavy saucepan, combine the sugar, flour, salt, and egg yolks. Stir until very well blended (ideally, whisk to make sure there are no lumps). Add milk gradually. Cook over low flame, stirring constantly, being careful to scrape bottom of pan.
Bring to a boil and continue boiling for 3 minutes, still stirring constantly. When finished cooking, remove from heat and pour cream into a bowl; allow to cool, stirring occasionally until cold.
When the custard cream is cold:
Whether you're using puff pastry or cake, spread the custard cream thickly over the bottom layer. (If the custard is at all runny, put one baked layer back into a baking pan of the appropriate size and then do the spreading.) Then top with the second baked layer.
Dust with confectioners' sugar. Cut and serve (possibly with thick whipped cream on top, if you like). A note about cutting: This is where calling this dessert a "cake" comes slightly into question, as it doesn't handle like a cake at all: the thick pastry cream center makes that impossible. The kremówka will always squish down somewhat when you slice it. However, it tastes so good that no one's going to care...
http://www.110pounds.com/?p=52143
The cake wasn't overly sweet. It looks like it would be really sweet and rich but it was light and summery.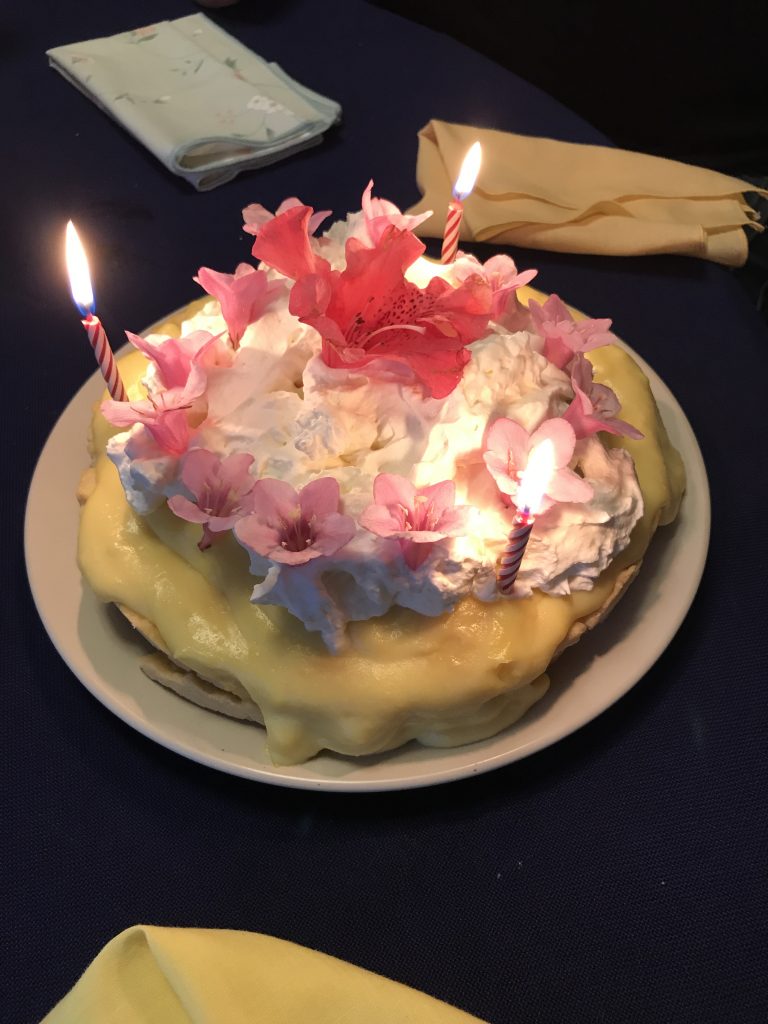 It was such a nice night! We had a great time and it was so lovely spending some time with friends.
On Sunday we celebrated Mother's Day by going out to breakfast. (But first Logan woke me up in the cutest way…I was still asleep and then all of a sudden Michael said "Wake up mommy! Happy Mother's Day!" and I open my eyes and see a big goofy grin on Logan's face and then he giggled and laughed and crawled all over me. It was probably the best moment of the day!)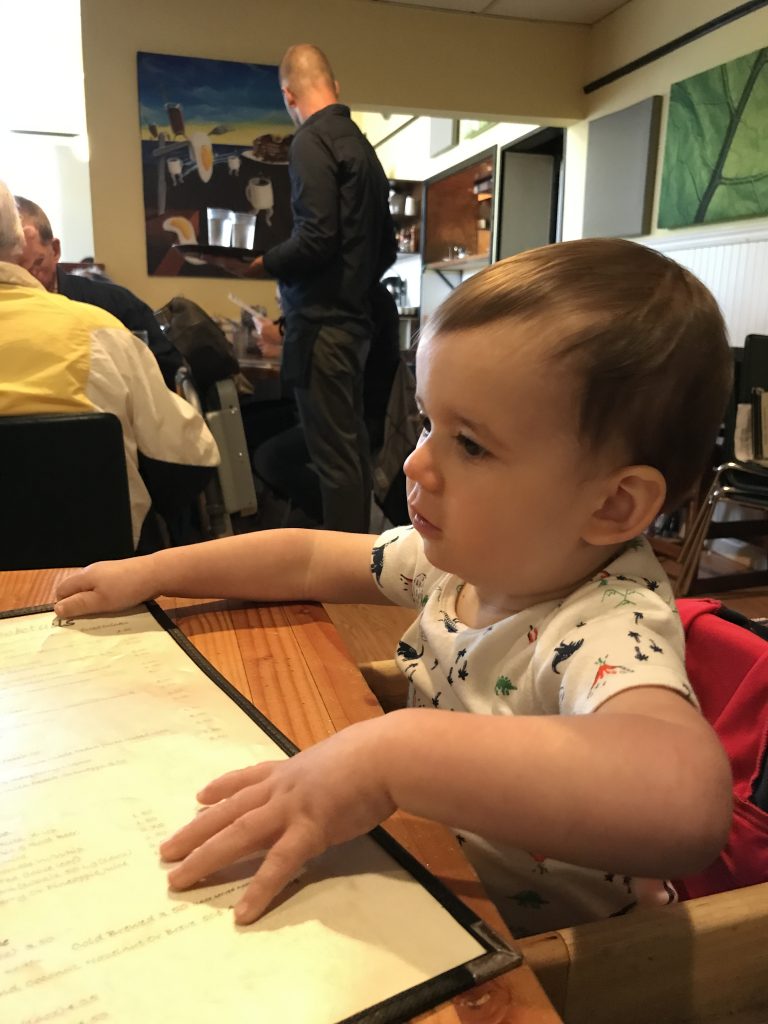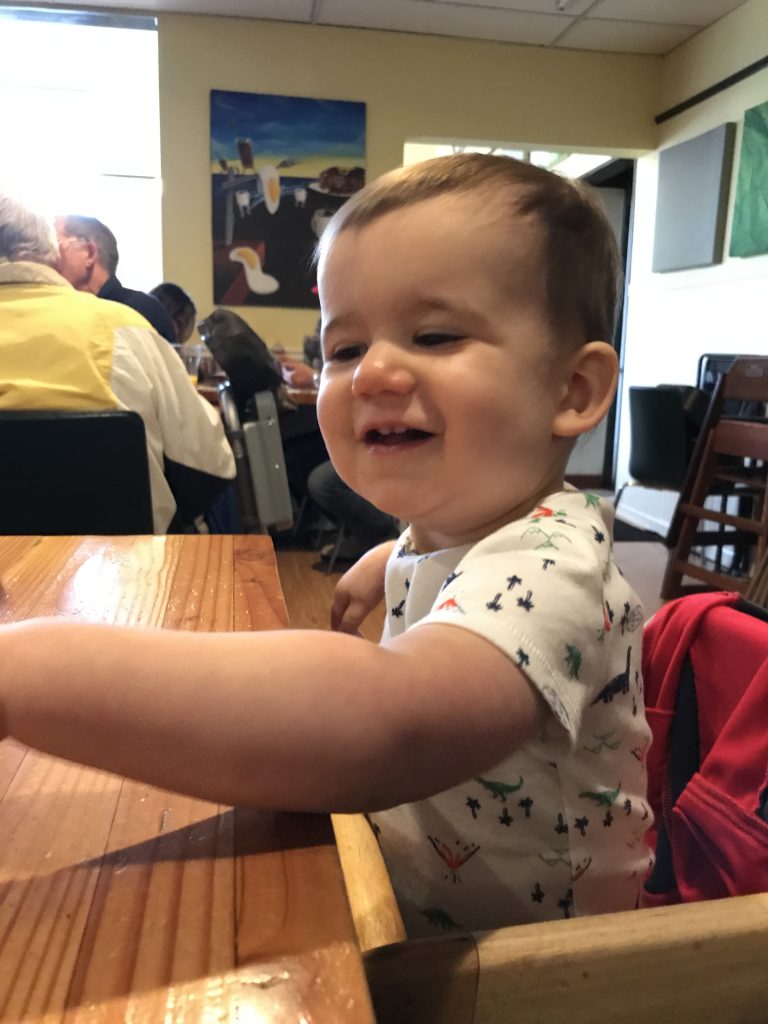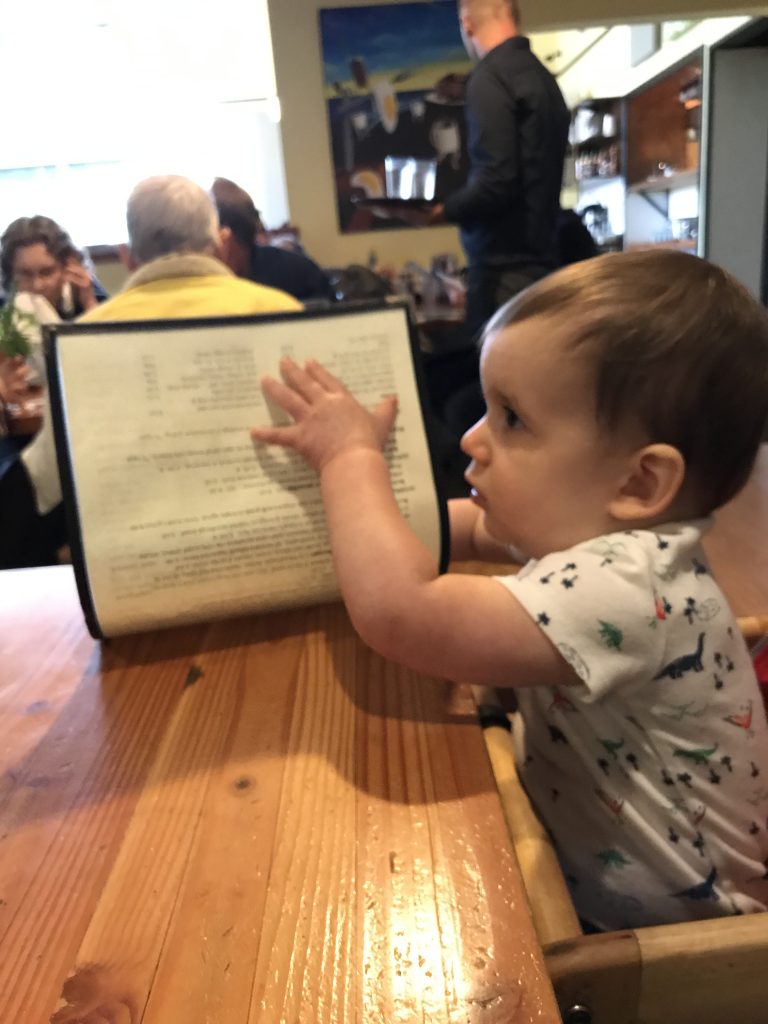 We went to Genie's Cafe. We got there early enough that we got a table immediately! That is unheard of in Portland!
I got a complimentary Mimosa for Mother's Day and a delicious mug of coffee (much needed). It was a busy morning but we got our food pretty quickly. I've been craving French Toast for about a month and kept putting it off. I decided to save it for my cheat meal for Mother's Day.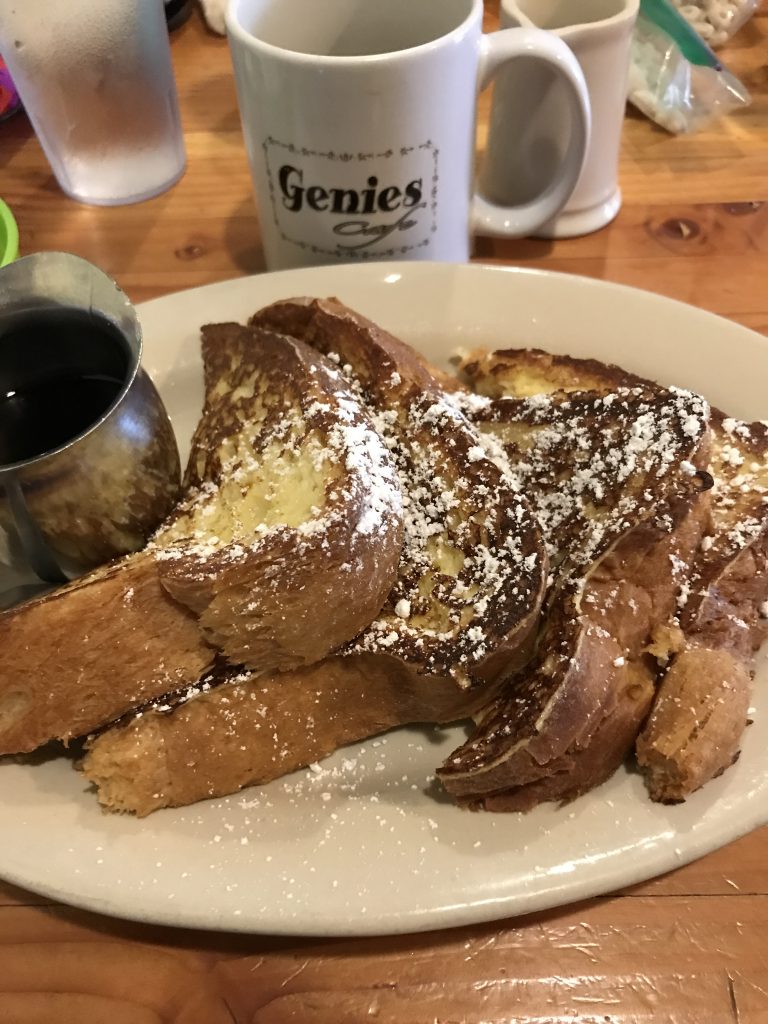 The French Toast was perfect and delicious and really satisfied my craving. The one downside to cutting out carbs is that when you finally do eat a bunch of them, they sit like a rock and make me really sleepy. I just don't like the way I feel after eating heavy carbs now. 🙁
Michael got the caprese hash and said it was really good: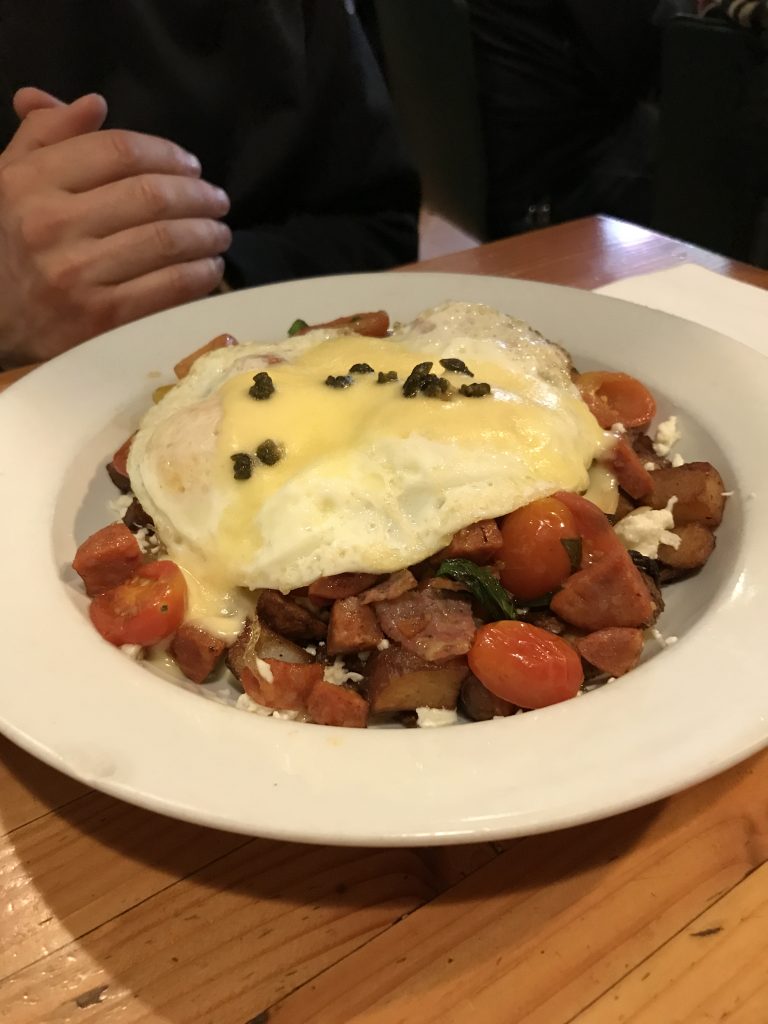 Logan had a bunch of my French Toast and he loved it. 🙂 First time having it and first time having maple syrup. He's a fan. Logan got me a gift (a new heart rate monitor–will review it soon!) and a card, which was very sweet.
After breakfast, Logan took a nap and I went swimming. It felt wonderful. Then we all ran some errands and went for a walk in between the rain showers. For dinner Michael picked up Pad Thai to continue my carb cheat day. It really hit the spot. Pad Thai is something else I've been craving for a long time!
It was a really lovely Mother's Day and I was glad I got to spend the weekend with some of my favorite people!
As for the diet: I am going to reign it in today and tomorrow and try and really cut the carbs and weigh in Wednesday. Although I'm not looking forward to it!
Happy Mother's Day to all the moms out there!